by the Christian Post
Prominent evangelical leaders whose advocacy efforts helped make Iranian pastor Youcef Nadarkhani into an international poster face for religious freedom are rejoicing over his recent release from prison but are now asking Christians to stay vigilant in supporting the rights of persecuted religious minorities worldwide. The leader of the largest evangelical group in the U.S. says Christians should "pray and press for more outcomes like this."

In a statement on Monday, the National Association of Evangelicals, which represents 45,000 evangelical churches in the United States, welcomed the encouraging news about Nadarkhani. NAE President Leith Anderson said he is praying for similar results in other countries.

"We are relieved for Pastor Nadarkhani, and pleased with this good decision of the Iranian government," said Anderson. "We watch as laws are increasingly being used by governments against religious minorities, and we pray and press for more outcomes like this."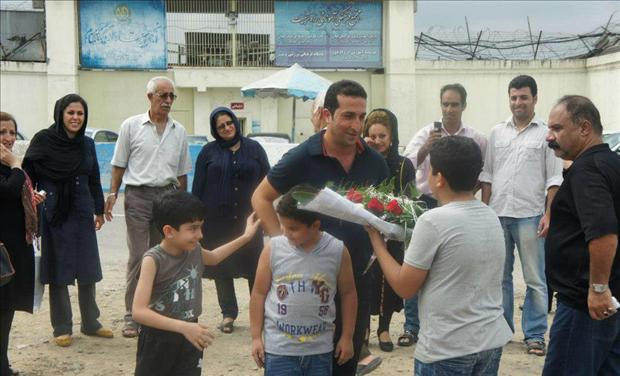 Pastor Youcef Nadarkhani is released from jail Sept. 8, 2012. The Iranian pastor was acquitted of apostasy.
Nadarkhani spent three birthdays or a total of 1,062 days in jail before he reunited with his family as a free man on Saturday. The evangelical pastor was released by authorities after the Iranian Supreme Court acquitted him of apostasy charges earlier that morning. He was found guilty of evangelizing Muslims, a crime that carried a three-year prison sentence, but was let go because he already served his time.

"This was an unexpected victory and again the Lord gets all the credit here," said Jay Sekulow, chief counsel of the American Center for Law and Justice, during his radio broadcast Monday. "We were all expecting additional charges."

The ACLJ was among the leading organizations that helped garner international attention to Nardakhani's plight. Through its "Tweet for Youcef" campaign, the Christian legal group was able to reach 3 million users from over 234 countries daily on Twitter. Celebrities including actress Patricia Heaton, a vocal Christian, also joined the Twitter campaign.
"It does go to show that when you have a global effort … it can make an impact. It's clearly, clearly significant," said Sekulow.

The World Evangelical Alliance, which represents 600 million evangelicals worldwide and advocates on behalf of persecuted Christians through its Religious Liberty Commission, also praised the release of Pastor Nardakani.

"We hope this is a positive signal from the Iranian Government and is a step towards greater human rights for all religious minorities," Dr. Geoff Tunnicliffe, chief executive officer/secretary general of WEA, told The Christian Post on Monday. "The WEA will continue to promote religious freedom for all, believing this provides a strong foundation for a healthy nation."

International pressure for Nadarkhani's release intensified last year after the Iranian Supreme Court upheld a lower court ruling that Nardakhani be sentenced to death by hanging for apostasy. The decision drew of slew of public condemnations from U.S. political leaders, including President Barack Obama and House Speaker John Boehner, evangelical leaders worldwide and international human rights groups.

The implications of the Nadarkhani case as it relates to international religious freedom and human rights were significant enough that it was one of the major issues discussed by the National Association of Evangelicals during a face-to-face meeting last October with President Obama. During the meeting, Anderson thanked the president and the U.S. State Department for speaking out on Nadarkhani's situation.

Nadarkhani was arrested on Oct. 13, 2009, after protesting the government's decision to force all children, including his two sons, to read the Quran. The pastor was initially arrested for protesting but was later charged with apostasy and evangelism to Muslims.

Nadarkhani won the hearts of many Christians around the world as he stood resilient in the face of persecution, repeatedly refusing to recant his Christian faith despite facing a looming death sentence.

"Pastor Nadarkhani's faithfulness under extreme pressure is an inspiration to all believers and challenges us to maintain our witness to the good news of Jesus Christ even in the face of opposition," Anderson said in the statement.

Following his 2011 conviction for apostasy, the 35-year-old pastor was ordered this summer to stand trial for new charges – this time for alleged crimes to national security. But following six hours of hearing on Saturday, Nadarkhani was cleared of apostasy and was found guilty of the less serious charge of evangelizing Muslims.

While evangelical leaders have hailed his story as a victory and inspiration, they say that more needs to be done for Christians and other religious minorities who face ongoing persecution for their faith, especially in Muslim strongholds.

In the Middle East, Christians have fled countries like Iraq and Syria after attacks by Islamic extremists, observed ACLJ.

Sekulow expressed outrage over the recent "genocide" of Christians in Egypt under the watch of President Mohammed Morsi, a leader of the Muslim Brotherhood, who declared that "conquest is coming." The evangelical lawyer also voiced disbelief that radical Islamists have crucified Christians in front of the presidential palace.

The ACLJ, which credits Nadarkhani's release to a combination of international pressure and economic pressure, is urging supporters to sign a petition that would ask the U.S. government to cut $1.5 billion in aid to Egypt to protest the persecution of Christians.

"We now got to stand with our brothers and sisters in Egypt," Sekulow told radio listeners.

Speaking to CP, Tunnicliffe highlighted several countries where Christians face persecution, including North Korea, where many Christians are jailed over their faith; Uzbekistan, where the government closed down Christian places of worship; and northern Sudan, where Christians experienced increased persecution after the South seceded in a referendum last year.

He is asking that Christians participate in the International Day of Prayer for the Persecuted Church (IDOP) which takes place in November.

"We hope that the Nadarkhani case will help Christians be attuned to the ongoing persecution of Christians and religious minorities. We ask for their prayers," said Tunnicliffe.

The ACLJ is asking for continued prayer for Nadarkhani's human rights lawyer, Mohammad Ali Dadkhah, who is appealing a nine-year prison sentence. Dadkhah, a Muslim, did a "phenomenal job," said Sekulow.

The Christian Post is a Global Partner of the World Evangelical Alliance. For more information, go to: www.christianpost.com.