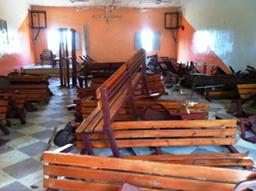 Inside of a Khartoum church ransacked by a mob on 21 April (Sudan Change Now)
Churches attacked in SOUTH SUDAN

April 23, Reports state that on 21 April, a 300-strong mob attacked a Presbyterian Church compound in Khartoum's Al-Jiraif District, torching parts of the Church premises.
The priest of the church, Father John Taw stated that "They burned the bible and looted possessions and money," adding that the attackers included women and children.
The priest further stated that, the imam of the mosque next door, who is known for his extremism, had incited people to destroy the church, claiming that the Church property belonged to Muslims.
It is also reported that 2 independent churches in the district were attacked by an extremist group. James Par Tap, the head of the Sudan Presbyterian Evangelical Church, said in a statement that the group had burnt, destroyed and looted everything in the churches and the Bible School.

Prayer points:
Pray for Christians in Sudan who are faced with a negative attitude from the public as well continuous harassment for their faith

Pray for God's protection and guidance over the Church in Sudan in this perilous time

Pray that the Christian response to these incidents would be Christ-like in nature bringing glory to the Kingdom