August 27, 2010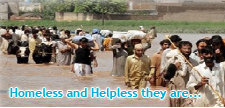 Dear Friends, prayer partners and all concerned love ones:
Greetings to each one of you in the name our Lord Jesus Christ
Floods in Pakistan turned much worse than first thought. Between 12-14 million people caught up in flooding in Pakistan. No one was prepared for a disaster of this magnitude. Every hour of the day brings new news of more devastation and the moon soon season continues.
It is very hard to cater to the various needs of Survivors. However, we need clean drinking water, sanitation materials and Blankets immediately. For which we need at least 10,000US$ to help people.
We have joined other Evangelical groups to extend help besides sitting set up a small centre for Shelter in Rawalpindi to accommodate Christian IDP's from Swat and Khayber- Phaktun Kawa Province. It is estimated that 500,000 people are affected by the floods in Charsada with a further 700,000 hit in Nowshera. Our own staff from the above mentioned area is badly affected.
We need help badly and immediately. Please pray earnestly and respond as the Lord leads you/
Any queries and comments are very welcomed
[email protected]
Yours Fellow Brother in Christ
General Secretary PO Box 1722,
Rawalpindi 46000 Pakistan
Tel 051‐5463162 / 051‐5851357 / 0300 518 365 7