National Christian Fellowship of Bangladesh (NCFB) (Bangladesh Evangelical Alliance)
32 Mollika Housing Society, Milk Vita Road, Mirpur 7, Dhaka 1221, Bangladesh
Tel: 8802-8052426, 8802-8052456, Fax: 8802-8013031, Email: [email protected]
Annual Report 2008
Bangladesh is in 10/40 window and one of the most densely populated countries in the world with more than 150 million inhabitants in a small land of only 147,570 sq. km. The annual population growth rate is 1.8%. The total Christian population is less than 1%.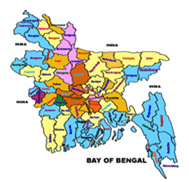 National Christian Fellowship of Bangladesh is known and functioned as Bangladesh Evangelical Alliance. It plays the role as a catalyst and is a movement of 19 denominations and 16 para church organizations for the purpose of encouraging and equipping Christians and the Churches in Bangladesh to pray, struggle, plan and work together for the evangelization of Bangladesh. The advancement of mission through the Churches in Bangladesh is the ultimate vision of NCFB, which is being carried out through various seminars, workshops, consultations and conferences to revive and renew the vision of the Churches to fulfill their task for the Lord.
Member bodies are scattered every corner of the country, North to South, East to West, They are working in mountains, forests, coastal areas, reaching the gospel to almost every ethnic groups.
ccording to the 2008 Denominations' statistic reports, the total number of NCFB member body churches are 4,051 and total number of population is 350,116.
MISSION & EVANGELISM PROGRAMS
The Board of Mission & Evangelism during the period of January to December, 2008 conducted the following activities.
Barefooted Pastors Training Program: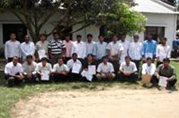 Pastors from remote rural and mountains areas have been trained with a basic understanding of the Bible and Christian theology so that they can at least perform the Christian rituals and can provide basic care to the new believers. During the year 5 sessions of training were conducted. 25 Pastors get training of each session of 30 days long.
The following shows more details of the training
Dates
Denominations
Venue
April 1-30, 2008

Bangladesh Lutheran Church
Church of God Lalmanirhat
Bangladesh Northern evangelical Lutheran Church
Churches of God (SCMSS)
Free Christian Churches of Bangladesh
Talitha Kumi Evangelical Churches

Evangelical Lutheran Church in Bangladesh.
NCFB Training Center
May 1-30, 2008

Bangladesh Tribal Association of Baptist Church
Evangelical Christian Church
Evangelical Church of Bangladesh
Bangladesh Baptist Church Fellowship
Bangladesh Northern evangelical Lutheran Church

Churches of God (SCMSS)
NCFB Training Center
September 1-30, 2008

Bangladesh Free Baptist Churches
Church of the Nazarene Int.
Talitha Kumi Evangelical Churches

Free Christian Churches of Bangladesh
NCFB Training Center
October 1-30, 2008

Bangladesh Northern Evangelical Lutheran Church,
Bangladesh Lutheran Church

Evangelical Lutheran Church in Bangladesh
NCFB Training Center
November 1-30, 2008

Bangladesh Northern Evangelical Lutheran Church,
Bangladesh Lutheran Church

Evangelical Lutheran Church in Bangladesh
NCFB Training Center
Urban Church growth Seminar ( 16 May, 2008 )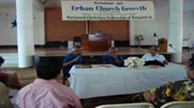 All the districts and divisional towns are filled up by new huge number population coming from remote rural areas. All these people are jobless, unskilled, landless and having larger family. The port city and the capital city are the most populated cities of the world. People are entering from every corner of the city. The type of people is very different. Literate and illiterate are living side by side (high rise building and slum). These are the massive area to evangelize, putting gospel into their hands, bringing them to Christ. Preaching in the country side and preaching in the cities are different. Evangelizing in the cities need different preaching tools. Pastors and evangelists working in the urban areas were invited to attend the Urban Church Growth Seminar (Consultation) on the 16th May 2009. More 70 Pastors and Evangelists participated at the consultation. They shared their experiences and ideas and had been given a short training on urban evangelism.
Weeklong prayer for all Christian Denominations and Evangelism (18-25 January 2008)
A week long prayer was called to all churches around the country. All churches pastors and evangelists and laymen gathered together in a small group basis. It was so encouraging to see that how believers are putting tearful prayer on the feet of Jesus Christ for their neighbors to bring them to Christ. The prayer then moved to mission works. In the urban areas there were big prayer gathering during this period.
Special Prayer for Nation
After a hard political crisis, strikes, demonstrations, killings, burnings, damaging national economy, on the 11 January 2007 the country went under the emergency ruling. During all these hardships all Churches are requested to hold a special prayer. During the emergency period, series of prayer movement were held for a smooth transition to a political government and peaceful running of the country. Before the General Election more 55 pastors and evangelists gathered together at the Gethsimani Baptist Church in Dhaka conducted a special prayer for the political leaders, Election Commission, Administrative Departments to see a better Bangladesh.
YOUTH & RENEWAL PROGRAMS
In the year 2008 the Board of Youth and Renewal focused on the youth leaders capacity building and spiritual formation to create enthusiasm in moral and spiritual courage among the youth. In collaboration with the local youth leaders a Youth Leaders Submit and two Regional Spiritual Formation Seminar were held during the year.
CFB Youth Leaders' Summit: (06-08 August 2008)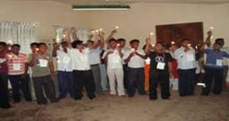 70 Youth Leaders participated at the National Youth Leaders Summit 2008 held on 6-8 August 2008 at the BBCF Convention Center. The "Arise Bangladesh" YL Summit was prepared for building leadership capacity and to take the future challenges of Churches' leadership. Specially in the face of growing religious fundamentalism and Terrorism.
Regional Spiritual Formation Seminar
The Youth Commission organized two Regional SF Seminars during the year 2008. One in the North-Eastern and other in North-Western part of the country. These seminars addresses the issues of unemployment, Drugs and religious terrorism.
Regional Spiritual Formation Seminar: North-East
The Board of Youth and Renewal organized a regional Youth conference and was held in Sylhet at Brahmonbazar Christian Hospital Conference Center on September 11-13, 2009. More than 100 youth coming from different church denomination of this area namely Sylhet Presbyterian Synod, Church of God-Lumdonbok, Bangladesh Baptist Church Fellowship, Garo Baptist Convention participated in the Spiritual Formation Seminar. Majority youth participants are from indigenous community. The participant simultaneously had been revived / courage's listening powerful messages from different Church Leaders on Our Body and Christ, Holy Spirit, Growing up with Christ, Christ-like leader, relationship before marriage, organize of Practical Youth Ministry, Anti Drug awareness. It also helped them to develop program and youth activities by themselves regionally.
Regional Spiritual Formation Seminar: North-West
The second regional youth spiritual formation seminar was held in Birgonj under district Dinajpur on ( 17-19 November, 2008 ). The participants were about One hundred twenty youth from Bangladesh Lutheran Church, Bangladesh Northern Evangelical Lutheran Church, Churches of God, Church of the Nazarene, Talitha Kumi Evangelical Churches, Bangladesh Assemblies of God, Church of God - Lalmonirhat and Free Christian Churches of Bangladesh. Dr. Joseph Tan from Singapore led almost all sessions. He explained all the practical part of our youth time and preparation for the future of our life and answered questions of emerging social issues of unemployment, Drugs and religion fundamentalism etc to the participating youth.
WOMEN AND HOME MOVEMENTS PROGRAMS
The Board of Women and Home Movements organized a number program to encourage them to create a prayer movement in the country and play a role of model spiritual mother at home and at works. It also participated in some global prayer and women days to bring awareness among church women.
Urban Prayer Movement
In the Year 2008 the following three urban prayer conferences were held by the commission.
| | | | |
| --- | --- | --- | --- |
| Dates | Area | Venue | # of women participated |
| 11 April 2008 | Dhaka (Capital City) | Assembly of God-Dhaka | 60 |
| 22 August 2008 | Chittagong (Port City) | Shion Baptist Church(ABWE) | 190 |
| 19 September 2008 | Dhaka West | Shion Free Baptist Church | 140 |
Women from different denominations both evangelical and ecumenical participated at these prayer conferences. Women speakers from different denominations and theological colleges enlightened all prayer devotees to lit fire of prayer at home and at churches. It was the first in the Port city, women from all churches gathered together to worship the Lord in one voice. They are looking forward to continue this initiative.
Regional Women Conferences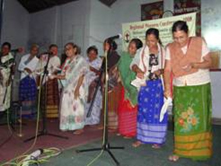 Two regional conferences were organized for the indigenous churches working in the mountains and forests. Garo Baptist Convention, Bangladesh Tribal Association of Baptist Churches, Evangelical Christian Church and Evangelical Churches of Bangladesh. All these denominations are working among the different ethnic groups in the deep forests and mountains. They hardly get an opportunity to have greater fellowship and to know other believers. Both the regional conferences were held in the remote area complying their cultural movements and spiritual teaching. It was great inspiration and spiritual encouragement for them. Women speaker from theological institutes taught in different sessions. Women ministers spoke at the every evening revival meetings.
| | | | |
| --- | --- | --- | --- |
| Dates | Area | Venue | # of women participated |
| March 27-29, 2008 | Greater Chittagong Division | Malumghat Baptist Church | 140 |
| October 29- November 1, 2008 | Greater Mymensingh District | Rangrapara Garo Baptist Church | 130 |
Seminar of Christian Couple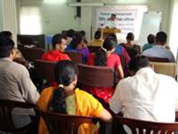 Though there is not any perfect or acceptable data of separation in marriage life Bangladesh but it could be mentioned without any doubt that the separation is increasing in the Christian families. Children are choosing drugs and avoiding spiritual life because of parents are busy with other jobs rather than Christ. A teaching and sharing sessions was held for 20 Christian Couples on 16 June 2008.
International Women Day of Prayer
The women believers of Bangladesh joined together with global families in prayer on the 7th March 2008. All Churches of Bangladesh observed the prayer week on 6-12 March. A translated booklet was delivered to all denominations to distribute among churches to follow the prayer week. Special offering was collected during this period.
International Women Day (8 March 2008)
and Mother Day observation (May 11, 2008)
In Bangladesh women are vulnerable. Women are not given respective rights and honor. As Christian we can hardly avoid our cultural background. It takes time to be completely transformed with Christian cultural values. It is important to show our women that Christian values towards the women are respective and caring. All the churches were encouraged to deliver special message on women in the Bible and to involve women in every activities and managements.
EDUCATION AND LITERATURE PROGRAMS
The Board of Education and Literature operated two seminars apart from the regular publications and college students education supports. Seminar on Human Rights was for pastors and church leaders. Seminar on Evangelism and Education was organized for education supports recipient and their college friends.
SAMAS Publications

SAMAS is a quarterly publication of NCFB. We publish 4 issues during Christmas, Easter, Pentecost and Mission. Writers of different Theological colleges and Denomination leaders and pastors write on Biblical perspectives. Updates on persecutions and human rights situations and on contemporary important national issues are regularly take place in this publication. It reaches churches to the remote area where they don't have access of newspapers and other publications.
Christian Leadership Assistance Program (CLAP-Loan)
CLAP loan program is assistance to the Christian poor students studying different universities and colleges. Students fulfilling certain criteria can receive this financial support to continue their higher studies. During the year 2008 nine students of higher studies received this loan. These CLAP Loan receiver are also used as volunteers for different seminars and conference.
Workshop on Campus Evangelism
During the Regional Youth and Women Conference, two workshops were conducted for university students. CLAP Loan recipient students are the key people to take the challenges of campus evangelism. Personal witnessing and evangelism through friendship are some good tools to reach campus students.
Seminar on Human Rights
The Board of Education and Literature organized a seminar on Human Rights on the 24th of October 2008. 72 university students from different churches and different ethnic group attended at the seminar. Human Rights activists spoke in this seminar. They have been given a glimpse of a local and global human rights situation. A booklet on the Human rights has been provided to each participant.
CHURCH GROWTH IN LAST FIVE YEARS
Bangladesh is an Islamic country and 88% are Muslim. The Government of Bangladesh has identified 32 Islamic terrorist groups though there are more than hundred Islamic Militants organizations. We thank God disregard of threat, life threats, physical tortures, member bodies are boldly spreading the gospel and message of Christ to the un-reached people. Everyday, some where in the country at least a new church is planted.
Following is the graphical display of last five years church growth of NCFB member denominations.
Our vision for the 21st century and beyond is for a growing Church. We dream of a praying Church. We are striving for a maturing Church. We are promoting a sharing Church. Seeking to work together in the proclamation of the gospel and the extension of God's Kingdom. Finally we are building a serving Church.
We seek your continuous PRAYER for running all programs and activities to achieve our above GOALS