Dear Prayer Partners
Greetings from National Christian Fellowship of Bangladesh.
We express our gratitude for your prayer for the Urban Women Prayer conference held on May 29, 2009 at the Free Christian Churches of Bangladesh Dhaka Center. We praise God for the conference and all the women who joined there. Please find the attached brief report of the conference.
Please know that Dhaka Pastors' Workshop is coming up on this Saturday (11 July, 2009). All the pastors of Dhaka are gathering together to discuss some specific challenges our young people are facing now and how our pastors can help them. Please pray for the Workshop.
Your prayer is the key strength of NCFB.
In Christ
James Saberio Karmoker
General Secretary
National Christian Fellowship of Bangladesh
32 Mollika Housing Society
Milk Vita Road, Mirpur 7, Dhaka 1221
Bangladesh
Tel: 8802-8052426, 8802-8052456
Fax: 8802-8013031
www.ncfbangla.org
(National Christian Fellowship of Bangladesh is the Bangladesh Evangelical Alliance and a member of World Evangelical Alliance and Asia Evangelical Alliance)
National Christian Fellowship of Bangladesh
Report on Urban Women Prayer Movement
Date: May 29, 2009
Venue: Free Christian Churches of Bangladesh, Farmgate, Dhaka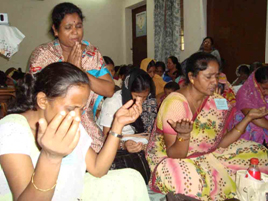 Urban Women Prayer Movement is an interdenominational Prayer initiative of NCFB Women Commission for all churches. Believer women living in different cities of the country pass a busy life. Most of them are busy with job and at the same time they look after their families. They wake up early in the morning, prepare breakfast, make ready children for schools, prepare home for the day and then run to their working places. They maintain Christian reputations at their respective non-Christian offices/factories. After accomplishing their assigned jobs/woks in the office/factories, with a tired mind and body they return home and start again the house hold works. This is an ongoing lifestyle. Those who works in the physical laboring sectors like garment factories or in any industries, they hardly get a weekend for rest or to participate in any church activities or to meet any fellowship.
Considering the above city life of believer women, NCFB organizes a day long prayer conference frequently in different cities. NCFB Women Commission's prayer team joins together with them with scriptures and prayers. They get relief of their burdens and drop tears on the feet of Jesus Christ with prayer. They pass hours in prayer for their own family, churches, church pastors, mission works, nation and contemporary issues.
On the 29 May 2009, NCFB organized the Urban Women Prayer Conference at the FCCB Center in Dhaka. 76 devotee women from 8 denominations and 2 para Church organizations joined together in scriptures and prayers. Rev. Judith Milita Das, the Chairperson of the Women Commission, shared from scripture and Ms Jasmin Mitra Khan, Commission member spoke on various challenges of women living in cities. Bishop Dr. Albert P Mridha, the former president of NCFB encouraged them.