The Costa Rican Evangelical Alliance has played a key role in not only securing pivotal values and principles through legislation - values homogeneous to the wider global Christian evangelical community, but also protecting and shaping the country's future by actively impacting the general Costa Rican society.
WEA: What are the vision and objectives of the Alliance?
Calvo: To defend and confirm the gospel and present Christ Jesus to all men. Our desire is to unite the evangelical church in Costa Rica and represent it in a dignified and professional manner to civil society, the mass media and the government of our country.
WEA: What alliance-related work or news can we thank God for in this last month or year?
Calvo: We thank God for the strong and firm stance we have maintained against various bills that threaten life and family values; both the same-sex marriage or civil-union bill and the In Vitro Fertilization bill (IVF) in which we prevailed. We are negotiating over the "Regulations for Temples and Worship Locations" bill with the central government for better legal conditions for the operation of our church locations. The abortion bill is paralyzed at the moment.
We also thank God for a recently held "Ministerial Summit, Life of Prayer" gathering which drew more than five hundred ministers and ministerial workers to encourage and motivate them in our daily encounter with God.
We are also working for the re-evangelization of our country consisting in projects with cross-country impact.
WEA: Could you share some examples of the positive impact the Alliance is creating in your region?
Calvo: We have strengthened the Movement of Prayer for Revival of Costa Rica, which has had a presence throughout the country for the past eight years. This is a program that enacts a daily prayer chain in all of the country radio stations.
We continue our presence in Parliament presenting new bills and actively voice out our opposing opinions on bills that attack the family and life.
We are also carrying out a 10 year-long project to claim and conquer our country for Christ in this decade and change its course that will unfortunately direct itself towards destruction if we don't stand and fight together.
WEA: Could you share some examples of the involvement and commitment to the public in your local community?
Calvo: We work to protect the concept of a natural family and secure it so that it may not be influenced by the homosexual movement. We fight for pro-life by opposing abortion, the morning-after pill, in vitro fertilization, and other issues such as: the commercialization of organs and human beings, the freezing of humans, the commercial surrogacy, etc.
We steer the Church into a life of prayer, life of integrity, holiness, righteousness, where the messenger is consistent with the message he preaches, and towards evangelization and re-evangelization of our country.
We are present in the most important discussions on the philosophical and political projects of our country.
WEA: What are some of your prayer requests you have for Costa Rica and the national alliance?
Calvo: We would like to request prayers for our society, so that our management may positively impact it and so that the "combo of death", what we call the set of bill against life and the natural family, does not meet the light of dawn in our country. We request prayers so that the Lord may bring the greatest revival our country has ever had and so that Costa Rica is covered by the shadow of the Almighty and so that God allow gangs, drug trafficking, corruption to leave the country; last but not least, so that the church may grow in unity in order for more people and souls to come to Christ, consequently before the Lord's feet.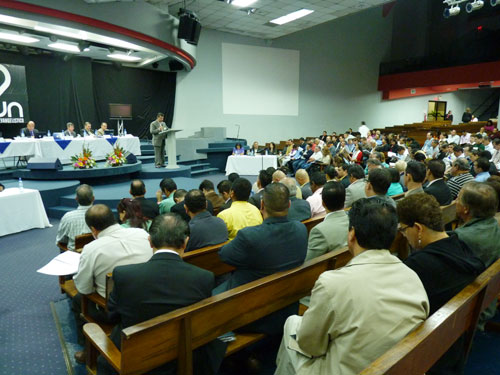 Costa Rican National Alliance General Assembly October 2011.



From Left to Right: Lic. Oscar Guevara (Board Member), Rev. Ronald Vargas (Secretary), Rev. Marco Castro (Board Member), Dr. Jorge Gomez (Board Member), Rev. Ruben Cordoba (Vicepresident), Lic. Juan Luis Calvo (President), Rev. Irving Hernandez (Attorney General), Rev. Luis Zuniga (Treasurer).