Join us as we pray for:
Egypt
Australia
---
A country on the verge of change – Joel News International : 762 | 2 FEBRUARY 2011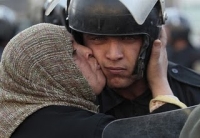 In Egypt massive protests against President Hosni Mubarak's authoritarian regime have been gathering momentum over the past week. The growing unrest might end in a revolution, with radical Islamists capitalizing on the crisis to seize power. Also in a few other countries in the Middle East there is a growing mood and momentum for radical change. Commentators have warned of a domino effect from Tunisia across the Arab world, as instability grows in Algeria, Lebanon, Yemen and Jordan.

The protests in Egypt follow targeted attacks against the country's Christians, most notably the suicide bombing at a church in Alexandria on New Year's Day that killed at least 21 worshippers. Christians took to the streets in protest over the lack of protection and justice for their community. They are second-class citizens in their own country and suffer severe discrimination in education and employment.

However, the believers in Egypt are praying and trusting God. "Christians in Egypt need our immediate practical help and prayer support as they find themselves embroiled in this unfolding crisis," says director Patrick Sookhdeo of Barnabas Aid. "We must also pray that as Egyptian citizens seek freedom from an autocratic leader, they will not fall into the hands of a strict Islamic regime that will only further oppress its people, especially Christians." Also, these shifts could change the global international relations in significant ways.

Prayer pointers:
· That stability will soon be restored in Egypt and that the outcome of the current crisis will bring greater fairness, freedom and peace for every Egyptian citizen.
· That Egyptian Christians will know the Lord's protection, presence, peace and provision during this tumultuous time.
· That the Gospel will be advanced throughout the Middle East.
Source: Barnabas Aid and various news sources
For more prayer information for Egypt : Click HERE
---
The largest Cyclone (hurricane) in Australia's History is about to hit...
David & Melise Hannaford, Area Leaders for Global Day of Prayer wrote earlier today:
Category 5 with 300klm hour winds. We are still cleaning up from storms and floods 2 weeks ago leaving our state in a disaster area 4 times the size of Hurricane Katrina.
For the next 24 hours the winds will be around 280 km per hour.
Our prayers are with the people of North Queensland. There is a lot of anxiety as the cyclone is now coming with a high tide as well. The storm system is huge.
The cyclone now, in mass, is nearly the size of North America.
The updated ETA of arrival of this cyclone is midnight tonight. 4 hours away from now. Weather stations out to sea have been destroyed. Most people have evacuated although many did not get out in time and are in their homes.
For more Prayer information for Australia click HERE