A Christian leader remarked recently that, "a wave is swelling....I hear people speaking of living generously at every turn." We see this wave moving across the world. Generosity was a key theme at the Kingdom Advisors conference from 18-20 February 2015 in Orlando, USA. Most every speaker mentioned generosity and giving in the plenary presentations. Generosity was also the main theme at the Indian National Generosity Network where 38 Indian Christian leaders met from 20-21 February 2015. These leaders now plan 6 regional generosity consultations to catalyze a culture of Biblical stewardship, generous living and Kingdom focused giving across India. The 40 Acts campaign of Stewardship in the UK shares incredible stories of generous living over a 40-day period. And in Africa an African mission giving fund called the Missions Africa Trust Fund is in the process of being launched. These are just a few examples of a global movement of generosity catching fire in the body of Christ.
Unfortunately generosity is still too often misunderstood as only the 'West giving money to the rest' or the reason to raise money for a new church building. However, Paul says in 2 Corinthians 9:7 "So let each one give as he purposes in his heart, not grudgingly or of necessity; for God loves a cheerful giver." Scripture is clear that generosity and giving should be part of the life-style of every follower of Jesus Christ. This is the central message of, 'Christ-Centered Generosity: Global Perspectives on the Biblical Call to a Generous Life', the exciting new publication by the Global Generosity Network (an initiative of the World Evangelical Alliance) and Kingdom Life Publishing.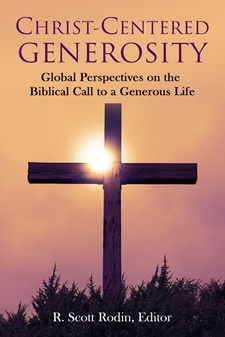 33 Christian leaders from 22 countries are united in proclaiming Christ's call to stewardship, surrender, and generosity in this publication. There are five core contributors from the USA, India, Kenya, France and Brazil as well as small group discussion questions, stories and reflections from business people, pastors, ministry leaders, network leaders, theologians, professionals, a student and 2 children from Ghana. We are very pleased that a generosity story from Dr Wilf Gasser, WEA Associate Secretary General, is also included.
The book has six sections. The first five each start with a theological piece on the theme of Christ-centered generosity and include questions for individual reflection and discussion in small groups. They are followed by three stories of generosity and one reflection, which goes deeper into this important topic. The last section is a Seven Day Generosity Challenge that we pray every Christian will take. It encourages readers to put into practice in practical ways what has been shared throughout the book. There is also a list of resources that will help readers go further in their generosity journey.
Some of the stories tell of quite remarkable outcomes when generosity is practiced, such as what can happen when competing churches in Mexico come together and reconcile as a result of a commitment to act generously. Or the impact of the sacrificial generosity of a school teacher in Ghana. Or the American family who adopted disabled children from China. Or the Chinese woman who gave her only possession, a tree, in a selfless act generosity for her church. Collectively, it is hoped that the reflections and stories will inspire the worldwide body of Christ to live out the transformative power of generosity. The ultimate call to readers is to:
• Learn how to live as joyful givers …
• Practice joyful giving ….
• Teach others to live as joyful givers …
We invite Christians to buy the book and walk along with the authors, hear their stories and take the challenge. We pray that the Spirit will work in readers as they and people around them develop a heart that is rich toward God that becomes reflected in a more generous life-style. In this way the movement of global generosity will continue to spread in the hearts of individual Christians, families, churches and communities.
Here is what respected leaders are saying about the importance of the book:
"In this book deep biblical theology and down to earth practical application marry to something that could re-shape the face of Christianity. The contributors from all continents prove how a global spiritual concept can and has to be adapted in any given local situation."
Thomas Schirrmacher, PhD, ThD, Dr. Phil; r f e Thol n f d l , de, teal y fr n s
"Our God in love created space for humans and the world to exist as a dependent reality upon Him. As humans we are interdependent upon one another and on God's beautiful creation. God is not a demander, but a giver. We are His guests and recipients of divine provision. The word of God was the chief actor in all that was created (John 1:3). However, when the word became flesh, we crucified Him (John 1:11–14). We were not at all hospitable to the One who is our ultimate Host. Aren't we human beings constantly building walls, shutting people out, slamming our front door in the face of other people and other creatures? We treat creation as an object to dominate. In our consumer-driven culture, things are valued for their usefulness to humanity rather than for what they are as creations of God. This book reminds us that being generous is the very purpose of our creation and redemption in Christ."
Rev Dr Richard Howell; General Secretary, Evangelical Fellowship of India, General Secretary, Asia Evangelical Alliance
"Many of us in the Majority World have gratefully experienced the generosity of our sisters and brothers in the West. This book will enrich the global church by showing that stewardship and generosity are not to be confined to a certain culture but are characteristics of an authentic Christian lifestyle. The editor and publishers have done a marvellous job by weaving in biblical and theological truth with real life stories from around the world. I do hope that this book will become a required reading for theology students who are preparing to serve God's Kingdom."
Revd Riad Kassis, PhD; International Director, International Council for Evangelical Theological Education
"'Christ-Centered Generosity' is a fascinating book......a broader perspective than any I've seen on the subject. Great illustrations and examples without losing or compromising the principles. Well done! Congratulations! From the first pages of the introduction to the last pages of the seven day generosity challenge, this work teaches and illustrate, by principle and example, that generosity is not what we DO, but who we ARE. Filled with stories from all over the world of much and little, young and old, rich and poor environments, the examples of joyful obedience and the unmeasurable blessings that follow serve to encourage and motivate the Christian reader to greater acts of generosity --- the manifestation of a transformed life."
Bob Doll; Chief Equity Strategist, Nuveen Investments
Our passion is not to sell a book. Our passion is a global Christian culture of Biblical stewardship, generous living and Kingdom focused giving. This should be reflected in the global evangelical community represented in the World Evangelical Alliance as well. We strongly believe that God can use 'Christ-Centered Generosity: Global Perspectives on the Biblical Call to a Generous Life' to catalyse such a culture. It can be used individually, in churches, in small groups, during conferences, in Evangelical Alliances, Christian networks, in theological teaching and as resource on generosity.
We invite Christians around the world to order the book at https://kingdomlifepublishing.com/product/christ-centered-generosity/. Since we believe the book can have such an impact, also in and through the WEA community, we will greatly appreciate if the different Evangelical Alliances, WEA networks, WEA Global Partners, WEA Associate Members and WEA Church Networks/Denominations could encourage the reading of "Christ-Centered Generosity" as foundational evangelical resource on stewardship, generosity and giving. The book can also be purchased in bulk at reduced cost and then be distributed in different countries.
Though published in April, the book can already be pre-ordered from the website from March. When you do, please share with us how God speaks to you through its message. We believe that reading this book can be a life changing experience. We know it changed our lives as we prepared it!
Dr Sas Conradie, Coordinator Global Generosity Network ([email protected])
Dr Scott Rodin, President, Kingdom Life Publishing ([email protected])