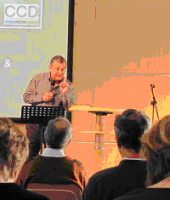 The CCD Network was set up in 2003 with a vision of creating a platform for missionaries, aid workers, students and local churches to have the opportunity to network, discuss and learn about the theory and practice of holistic community development. The CCD is currently under the auspices of the German Association of Evangelical Missions (Arbeitsgemeinschaft Evangelikaler Missionen) and supported by a group of missions and Christian Aid Agencies.
The Theme for the April 2010 Conference was Conflict Transformation and Reconciliation.
Over the five days the following topics were covered.
Day One:The Root of Conflict and Broken Relations: Exploring how our individual and corporate broken relationship with God impacts all we do
Day Two:Conflict Amongst Communities: exploring how we need to be a Holy Nation amongst our communities and all that entails
Day Three:Conflict with our own Identify: exploring our identify as the Church and what roles we can / should have in society
Day Four:Living in Conflict with Creation: exploring our responsibilities to and for the world around us, evidenced in how we live our lives
Day Five:Conflict Amongst Churches and Teams: exploring how we function as a body and what we need to improve on as we transform into a missional church
The plenary sessions were led by Professor Johannes Reimer and Roy Hange, with five tracks being run in the afternoons covering topics such as:
Track One and Two: Fundamentals of Christian Community Development
Track Four: Working where conflict may be an issue: Conflict sensitive design and management interventions (Do No harm Approach)
Track Five: Addressing Conflict; designing and managing interventions that deal with conflicts
Track Six: Missional Ecclesiology meets Holistic Ministry.
For those who did not make it to this amazing conference, don't despair! A CD is available with the plenary sessions recorded and with the materials produced in the tracks: Go to:www.ccdnetwork.de/ for information on how to get hold of this.
CCD will hold their next Conference from 23rd - 28th April 2012 , at the Christian Conference Centre Schönblick in Schwäbisch Gmünd, Germany.
Micah network is pleased to be a part of the planning team for this Conference.
The fifth annual A Passion for Mission will take place on Tuesday 15th June 2010 at the Chinese Church in Hammersmith, London. This year the topic will be social justice in the context of global mission. The title Just Mission is drawn from – "as the Father has sent me…" When Jesus quoted Isaiah 61, he suggested that social justice was an essential aspect of God's mission.
The afternoon will include a discussion on how social justice concerns should compliment evangelism and social action. Examples of how involvement in social justice has dramatically changed one agency and a church will be shared. The question is raised about whether our commitment to mission can ignore or overlook the need to transform the unjust structures of societies in the areas where we work. Joel Edwards, of Micah Challenge will be the evening speaker.

A historic gathering from across the globe will take place in Scotland's capital this year in June. Participants will be drawn from 250 mission leaders from the Protestant, Roman Catholic, Orthodox, Evangelical and Pentecostal churches, including Archbishop, Dr John Sentamu, who will deliver the keynote address.
This five-day international, multi-denominations summit, which commemorates the 1910 World Missionary Conference, seeks to reflect on and work out a common vision for mission in the 21st Century. The last day of the summit is open to visitors to join in the worship.
For further information and to join in the discussions go to www.edinburgh2010.org