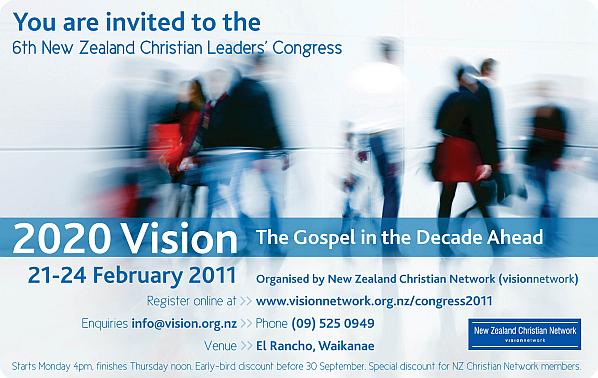 Greetings in the name of Christ
You may have received through the post or by hand a copy of the invitation to the 6th New Zealand Christian Leaders Congress, or you may have seen details in v-Zine. If we haven't caught up with you yet, please accept this as your invitation.
Congress is from 21–24 February 2011 (Mon 4.00 pm to Thurs 1.00 pm) at El Rancho, Waikanae, near Wellington.
Below is our first Congress update. Please read it as it contains important information.
Congress is the only gathering of its kind in New Zealand and takes place every three years, providing a unique opportunity to build vision and relationships across the broad spectrum of leadership in the Church. The theme for this Congress is 2020 Vision – The Gospel in the Decade Ahead. Our hope is that through this time of information sharing, relationship building and prayer, the Church will move closer to the unity which Jesus prayed for and be more effective in its mission in New Zealand and beyond.
Between now and then we will be sending out updates with important information about registration and the programme.
Congress Update #1 – 30.09.10
Who is Congress for? Leaders of denominations, ministries, church networks, city networks, parachurch groups, local churches, and individuals in vocational areas of society, who are keen to see the Gospel spread in New Zealand and beyond.
Registration is now open, but later than expected. The early-bird date has been extended to 31 October. Standard registrations continue until mid-February.
Click on http://nzchristiannetwork2011.eventbrite.com to register online.
Email

[email protected]

or phone (09) 525 0949 if you have any questions.
Venue – El Rancho has been upgraded since the last Congress in 2008. There is now Internet access for the whole site and a cafe for relaxing and chatting.
Transport - Discount price airfares are usually available if you book well in advance.
TIP - It's worth signing up for free email updates on Air New Zealand's Grabaseat specials.
Shuttles will be arranged between Wellington Airport or city and El Rancho, Waikanae. Details will be provided nearer the time.
Communication – Email updates will be sent out with important information you will need to know. Please check that your email filters do not block these emails. Copies of these updates will be available also on the www.nzchristiannework.org.nz website.
TIP – Print or save this page and keep in your Congress file.
If you know of other Christian leaders who should be invited to Congress, please let them know and encourage them to attend. There is no other event such as this for leaders to connect across such a wide forum.
We look forward to being together and to encouraging each other so that the whole Church will take the whole Gospel to the whole of this country and beyond in the decade ahead.
Glyn Carpenter
For the Congress Planning Team