FLOOD HITS KASUR BORDR 2011.
Bethel church team is going to Bhikki wind, Chanda Singh Wala, Dhup Sarri, Sehjra, Ballan Wala , Fatoee Wala , Haveli Dogran and Haku Wala for survey of flood.
Many villages have been hit by floodwater of River Sutlej and people are going out of their homes in search of shelter.
Among these affected 500 Christian families have also been affected who need FOOD PACKAGE on urgent basis. These Christian brethren were all laborers and being affected by flood they are looking for food, clothes etc
Bethel Church donations for food package for the affected. Let us save the lives of these poor brothers Flood Relief Service requests to send us in this hard time.
Affected villages of Kasur by the flood and more than 300,000 people displaced
Flood-affected People of Village Dhup Sarri declared disaster hit Kasur .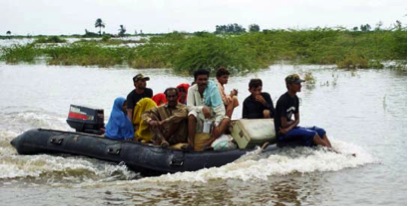 FOOD PACKAGE FOR KASUR DISTRICT AREA.
Praise be to the Lord we reached the villages where flood hit badly. We distributed food items among the affected people. In small villages flood water damaged many things and we gave the distressed Christians different eatables. We want to give them more and more items in this hard time. We pray to God for providing us more items for distribution.
We request you for Emergency Needs
Affected in flood-hit areas.
Village Chanda Singh Wala, Village Mastey Ki Village Haku Wala,
Village: Bhikki Wind

Gypsy camp affected by flood helplessly.
(Gypsy Church ) Gypsy Church, Bucheki ,Patto ki , Khunda More and Jaranwala.
In many village & Gypsy Camp there are many Christian families who are in flooding.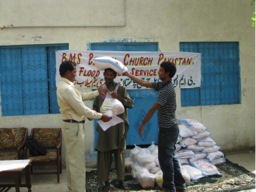 Pastor Saleem Raza distributing food items.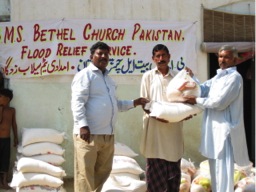 Pastor Saleen Raza distributing food items.
Treasurer Yaqoob & Eva.Burnabas distributing food items.
River Sutlej
River Sutlej is another major river in Pakistan. It is longest of the rivers that give Punjab (meaning "Fiver River") originates in west side of Tibet in the Kailas mountain ranges. It Flows from Northwest and West – South West through Himalayan valleys; it crosses Himachal Pardesh (India) and come into the Punjab plains in Hoshiarpur district, Punjab state. Sutlej River is also known as the Red River.In Pakistan, it enters on the border of India Pakistan at Ganda Singh Wala.The peope dwelling on its banks are affected whenever heavy rains or water overflows in India. It is only 12 kms. away from Kasur. City of Kasur is safe due to dams and canals, however the people living on the banks of the river hit by flood badly.
Total length – 1450 km
Length in Pakistan – 526 km
They need the following:-
We request you for Emergency Needs.items bag need for many families.
3: Clothes. 4: Food 5: Drinking water
Kindly transfer amount into my bank account that is
(1) Title of our Bank Account : SALEEM RAZA
Account number: 01036772501
STANDARD CHARTERED BANK Pakistan Limited.
Branch RAIWIND, Lahore. BRANCH CODE: 127
(Swift Code SCBLUS33)
Please help these families who need to be helped in flood.
Let us join hands for providing the food to these helpless fellows.
Your brother in Christ,
PASTOR SALEEM RAZA
Director. B M S Flood Relief Service Team
The Evangelical Alliance Lahore