Regional Roundtables Ignite Dialogue and Action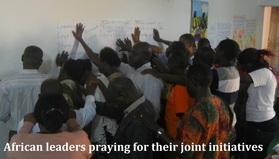 This year has seen a substantial ramp up in the RHP strategy of holding regional Roundtables, connecting and catalyzing key leaders who are working among the forcibly displaced.
The 6th annual North American Roundtable, held in late July, welcomed several hundred leaders from faith-based organizations and churches engaged in refugee ministry throughout Canada and the USA. Attendees discussed best practices, shared resources, ideas, and encouragment during the meeting held in Phoenix. To read the summary report from the Roundtable, click here.
The South Asia Refugee Consultation was held in Chennai, India, May 20-23 with key leaders representing or working among the Tibetian, Chin, Tamil, Pakistani, Bhutanese, Nepali, Persian and Afghan refugee and asylum seeker communities. Many project recommendations were made and a core leadership team appointed for a regional refugee network. The full report is here.
The Africa Refugee Highway Roundtable was held in Kampala, Uganda, April 24-26 with over 50 leaders from 24 nationalities attending. The gathering focused on the theme "Convening to Collaborate" as the goal was to re-establish an ongoing regional network of refugee minstries. Ongoing task groups were established for children, database information, church mobilization, and a regional leadership group was appointed. Read the full report here.
At the begining of 2014, the European Roundtable led the way. It was held in Berlin and focused on the theme "Important Resources for Building Refugee Ministries." Nearly 60 leaders representing 13 European countries participated. Read the full report on the RHP Europe website.
World Refugee Sunday Spreads!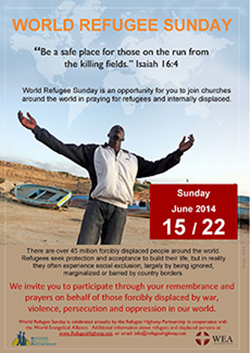 An increasing number of people are participating in the annual World Refugee Sunday (WRS), held this year on June 15 or 22. Consider the following examples:
The WRS 2014 promotional flyer was available in over 15 languages - a new record! More m

aterials were available on the RHP website (such as media presentations, speaking resources, and prayer

points

).

In Africa, WRS was observed in many churches for the first time with the avaiability of information in the Swahili language. Desinated prayer events were held in Rwanda, South Sudan, Nigeria, Kenya, Ethiopia, South Africa, among other countries. In the Nakivale Refugee Settlement of Uganda, five refugee churches came together for a joint prayer service.

Through our friends at Lutheran Immigration and Refugee Service, WRS materials were developed, promoted, and distributed for the nearly 7 million attendees of the Evangelical Lutheran Church of America and the Lutheran Church-Missouri Synod.

In India, along with churches participating in Chennai, Hydrabad, and Bangalore, Afghan refugee churches came together in Delhi for WRS commemoration.
If you have a report or a story to share about World Refugee Sunday, please send it to us!
The next WRS is scheduled for June 14 or 21, 2015. Today you can set next year's event up for success by:
Supporting the event by "liking" the

WRS Facebook page

-- and inviting your Facebook friends to do the same.

Getting the word out by passing the information along to others in your network of relationships. You can just forward this e-newsletter!
We Need Your Help! RHP Training Initiative
Global Member Care Conference
RHP Focus Groups
Upcoming Global Summit