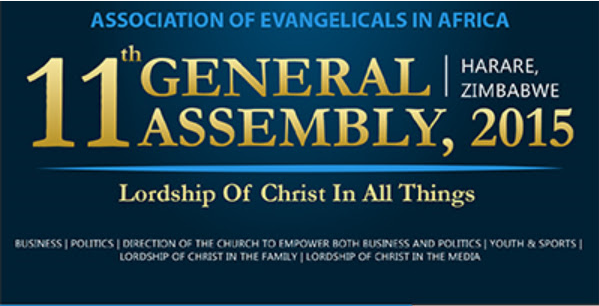 The theme for this year's General Assembly of the Association of Evangelicals in Africa is "Lordship of Christ in All Things. The Evangelical community is aware of the effects of postmodern relativism and globalization on evangelical truth. The desire for integration, political correctness and interconnectedness is adversely affecting the "truth" of the gospel. Truth is no longer absolute, it no longer defines our relationships and the way we live as Christians, it is no longer the entity that one may spend their entire lifetime pursuing.


The devastating consequences of this on the Church and the society cannot be contested. In relation to the Church, we observe that most Christians who are supposed to be the custodians of truth are living contrary to that truth in their professions, family relationships and personal lifestyle.


Realizing that the mission of the Church is to proclaim the Lordship of Christ in all things, we implore all Christian leaders herein gathered, to create the environment where Christians of all gender, especially women and youth, can develop their leadership skills and live as 'salt and light', cultivating the mind of Christ in all things and acting in ways Christ would have acted in all matters of faith, life, profession and relationships.


Realizing that the mission of the Church is embedded in the mission of God, we implore the Church of Christ to demonstrate the missional impetus of God in reflecting the nature of God's compassion and love in redeeming and reconciling all things to himself. As a missional agenda, the Church shall give authenticity to the task of evangelism while creating a sense of urgency to the task of social gospel in our society that badly needs humanitarian assistance.


Realizing that the truth of Christianity is not only under attack but the very lives of Christians practicing this truth are under threat of persecution in Nigeria, Kenya, South Sudan, and other regions of Africa and beyond; we perceive this threat as a violation of the fundamental rights of the victims as enshrined in the United Nations Human Rights Declaration – the right to religion of choice – we implore the African Union, our national governments to protect the rights and lives of Christians and to create an environment where they will worship God in truth and in spirit in absolute peace and safety.


Realizing the family is critical to perpetuation of the humanity, we resist any attempt to destroy the very fabric of societal existence in the form of same sex marriages and unions, and undue termination of life at all stages of its development. We therefore implore our partner members to uphold the sanctity of marriage as defined by Scripture and to create safe environments where children are conceived, freely born, nurtured and allowed to grow as the Lord would want them.


We continue to appreciate and applaud the governments and political systems that have provided a conducive environment for our members to practice their faith unhindered. We also continue to appreciate and applaud those governments and Theo-political systems that are upholding the traditional and biblical definition and practice of marriage and family and implore them to resist all attempts at encouraging alternative, non-traditional and non-Christian views and practice of marriage. With these systems, the Association of Evangelicals in Africa stands shoulder high as we uphold them in prayers.
About AEA:
The Association of Evangelicals in Africa (AEA) was formed on 26th February 1966 at Limuru, Kenya, during a meeting of 102 evangelical Christian leaders from 23 African nations and missionaries from other countries. The meeting had been convened as a result of the felt need by the evangelicals for a permanent association which would help build a united movement of the Body of Christ that would promote evangelical unity, fellowship and Christian witness in Africa.
In its 49 years of existence, AEA has grown into a continental family of over 100 million evangelicals comprising 36 National Evangelical Fellowships that are made up of numerous local churches. There are 34 Associate Members who consist of Para-Church organizations, and 11 Special Members representing local Churches in countries where there are no National Evangelical Alliances.