In his book 'The Origins of Politics', renowned political scientist Francis Fukuyama puts forward that of all elements of modern nations just legal institutions are the hardest to achieve. Perhaps people only realize that this is true in times and places where they are lacking. The United Nations (UN) has established human rights institutions to examine how states serve their citizens. The World Evangelical Alliance (WEA), representing evangelical communities in the nations around the world, is engaging the UN and voices the concerns that are raised from grass roots.
With the generous support of the Swiss Evangelical Alliance, the WEA has been able to establish a liaison office in Geneva, the city where the UN human rights bodies are centralized. One of the office's aims is to share experiences and promote a better understanding of political and legal institutions among the WEA's constituency. It has now launched a new series of brochures that will serve Evangelical Alliances and churches by sharing best practices and pointing to relevant research into just government.
"It is only little known that faith has a giant share in establishing and maintaining structures that guarantee human freedom and equality," said Albert Hengelaar, Advocacy Officer in Geneva. "We have named the brochure series after Henri Dunant, whose life and work proves how Christian faith impacts society at large. Born and raised in Geneva, Dunant was the evangelical leader who founded the Red Cross and formulated the first Geneva Convention in 1864, which is still considered a corner stone of human rights."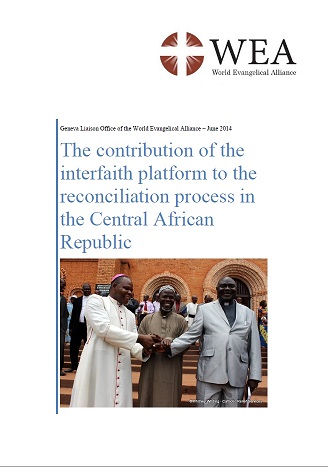 The first issue deals with the innovative activities of the interfaith peace platform in Central Africa. In the midst of total disappearance of a state the religious leaders of the country rallied intensely and in harmony to keep the country together. They promote what military and administrative actions cannot achieve: appeal to people to live together in harmony and respect each other.
"At the Geneva Office, we received the platform members and noticed that the U.N. was applauding their efforts," Hengelaar said. "With the brochure we wanted to record this story, so that faith leaders in other countries can learn from the principles and apply them in future situations."

Download the first issue of the Henri Dunant Series: The contribution of the interfaith platform to the reconciliation process in the Central Africa Republic
Also read the Interview with Rebekka Fiedler, Author of the First Issue of the Henri Dunant Series on the Central African Republic