Read in French: Le secrétaire de l'Alliance évangélique mondiale rencontre le Pape : il entrevoit une "nouvelle ère dans les relations entre évangéliques et catholiques romains"
New York, NY - November 6, 2014
A delegation of the World Evangelical Alliance (WEA) met with Pope Francis and representatives of the Pontifical Council for Promoting Christian Unity (PCCU) today to talk about areas of potential collaboration to address global issues of common concerns to both, the evangelical community and the Roman Catholic Church. In his address, Dr. Geoff Tunnicliffe, Secretary General of the WEA, outlined specific action steps for the two world church bodies that could lead to a 'new era in evangelical and Roman Catholic relations'.
"We acknowledge the differences between our traditions, yet also affirm the common tasks we have shared in the past and pray that we can build on those," Dr. Tunnicliffe opened his speech. "Evangelicals are a very diverse group that includes peoples and churches from Pentecostal traditions, Reformed, Baptist and independents. We share a common faith in our Lord Jesus Christ and a desire to serve God's kingdom, we have a heart to encourage personal spiritual renewal and transformation and a passion to make Jesus known around the world.1 As we seek to obey Christ, we see this time as a new era in Evangelical/Roman Catholic relations."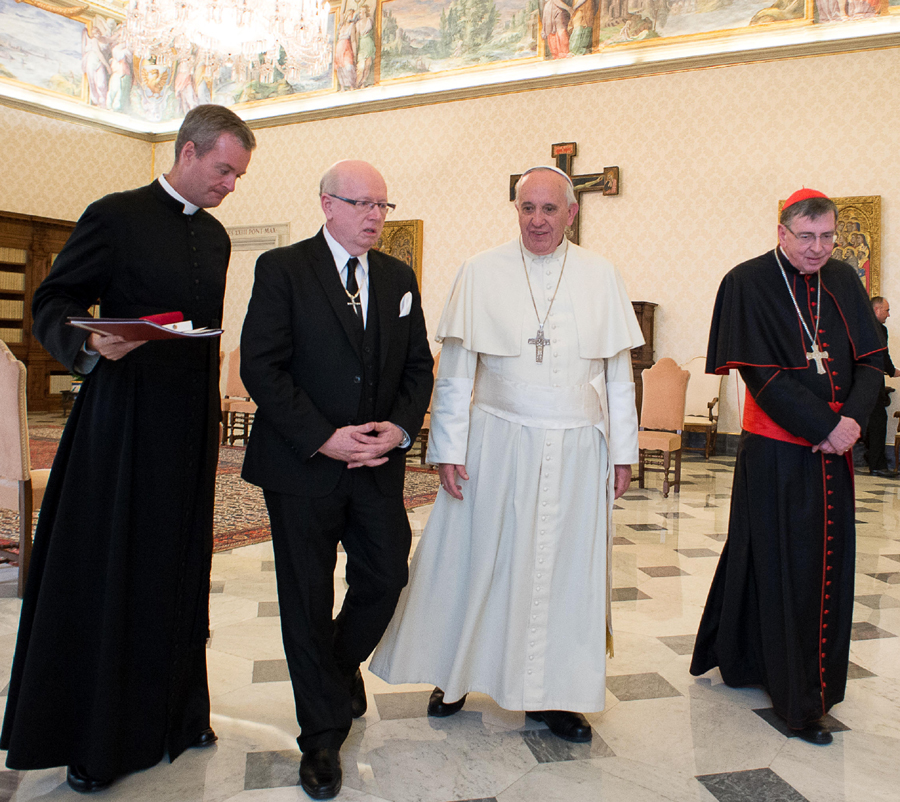 Dr. Geoff Tunnicliffe (2nd from left), Secretary General of the WEA, with Pope Francis at the Vatican.
Dr. Tunnicliffe highlighted that within the WEA's constituency of 7 regional and 129 national Evangelical Alliances, there are many countries where believers of both communities work together.
"It is important that the world knows that there are many localized partnerships between Catholics and Evangelicals, which are developing into large-scale collaborations in response to tragic social problems," he said. "For example, we know that in many cities around the world, Evangelical and Roman Catholic Christians are cooperating to respond to human trafficking, while at the same time Evangelical and Catholic scholars and activists have begun collaborating to analyze and respond to the terrible problems of religious persecution."
At this meeting, the WEA suggested the Cradle of Christianity Fund2, nuclear weapons disarmament and seeking justice for the extreme poor as some of the specific areas of possible collaboration between the WEA and its partners and the respective offices of the Vatican.
While there is significant potential in increased cooperation on global level, there are theological differences between the two bodies that have historically been an obstacle to collaboration even in areas of common concern. Therefore Dr. Tunnicliffe also suggested that discussions about theological commonalities and differences be part of this new approach.
"A new era of Evangelical/Roman Catholic cooperation responding to people in need should raise questions about what we believe in the manner described. Therefore, we propose that it be accompanied by a new level of public discussion of our core beliefs, on matters where Evangelicals and Catholics both agree and where we differ," Dr. Tunnicliffe said.
"Deeper levels of joint love of neighbors should be accompanied by higher levels of public discussion of fundamental theology and ethics between Roman Catholics and Evangelicals. This will have educational value for our own church members; it will provide answers for seekers who are interested in the Christian faith, whose interest and questions may have been awakened by our shared love of neighbors; and it sets healthy patterns for principled public discussion in a multi-religious world," he stated.
The WEA and its partner First Step Forum also presented Pope Francis with the Shahbaz Bhatti Freedom award for his tireless commitment to build a more peaceful and reconciled world.
Apart from visiting Pope Francis, the WEA delegation is meeting with other Catholic representatives to discuss topics such as religious liberty, peace building, family, and Islam. The series of meetings followed an earlier private visit of Dr. Tunnicliffe and several other WEA representatives with the Pope in June, where the conversation was focused on personal relationship building.

> Read Dr. Tunnicliffe's full speech in English or in Spanish.
1 read more at: WEA Theological Commission Offers New Statement on Evangelism
2 The Cradle of Christianity Fund works to rescue, restore, and return Christians– as well as other ethno- and/or religious people in the Middle East – to a home where they can live and practice their faith free from fear.

###

MEDIA CONTACT:
[email protected]
+1 212.233.3046


Over two billion Christians in the world today are represented by three world church bodies. The World Evangelical Alliance (WEA) is one of those, serving and representing more than 600 million evangelicals. Launched in 1846 to unite evangelicals worldwide, the WEA continues to be a dynamic movement with 7 regional and 129 national Evangelical Alliances, and over 150 member organizations. WEA's mission is to speak as a trusted voice, to equip members and leaders for global impact and to connect its members and others for common action in the furtherance of God's reign. For more info e-mail at [email protected] or go to Worldea.org.