New York, NY – October 15, 2012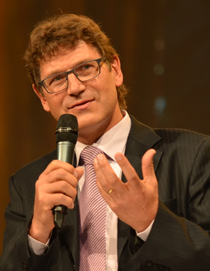 The World Evangelical Alliance (WEA) is pleased to announce the appointment of Dr. Wilf Gasser from Switzerland as its second Associate Secretary General. He will further strengthen the WEA core leadership team in representing and serving its global constituency and bringing cohesion to WEA's service arms.
"I am delighted that Wilf has joined our team. His rich experience and his passion for building Christian unity, along with his desire to increase Kingdom impact, will make him a tremendous asset for WEA and the global church," says Dr. Geoff Tunnicliffe, Secretary General of the WEA.
Dr. Gasser, born in 1957, is a medical doctor, trained in psychiatry, who worked for 15 years as a pastor and family therapist. After further postgraduate management training he has also been working as a business consultant. From 2005 to 2010 he was a Member of the Regional Parliament in Berne, and since 2008, he has been chairman of the Evangelical Alliance of Switzerland.
With his broad experience of life, including networking in different spheres of society, Dr. Gasser will strengthen the WEA constituency, alongside Gordon Showell-Rogers (who was appointed Associate Secretary General in 2010). Together they will serve WEA's commission and initiatives, its regional and national alliances, as well as its global partners, and associate member organizations.
Upon his appointment, Dr. Gasser said: "There is a huge amount of knowhow, talent and goodwill within the worldwide body of Christ. So many people who, because of their love for God, want to make a difference in this world. It excites me to be able to contribute to mobilizing that potential, facilitating collaboration and creating synergy within the vast and varied WEA constituency."
On Sunday, October 14, Vineyard Church Berne, in which Dr. Gasser served as pastor for 15 years, commissioned him to his new role. Click here to see photos of the service.

###

MEDIA CONTACT: [email protected]
Over two billion Christians in the world today are represented by three world church bodies. The World Evangelical Alliance (WEA) is one of those, serving and representing more than 600 million evangelicals. Launched in 1846 to unite evangelicals worldwide, the WEA continues to be a dynamic movement with 7 regional and 129 national Evangelical Alliances, and over 150 member organizations. WEA's mission is to speak as a trusted voice, to equip members and leaders for global impact and to connect its members and others for common action in the furtherance of God's reign. For more info e-mail at [email protected] or go to Worldea.org.