Thousands of Christians in South Africa are posting their photo to Facebook for a 'picture petition' campaign against the unnecessary deaths of mothers and children. Christians will email or Facebook their photo as part of a six-week 'promising Life', campaign against unfairness in the health system, society and the well-being of mothers-to-be and children.
Campaign organisers, Micah Challenge South Africa, are hoping to pressure politicians to take actions against shocking statistics that see some 310 out of every 100,000 new mothers die and 56 out of every 1,000 children not celebrate their 5th birthday. South Africa is one of dozens of nations involved in Micah Challenge's 'Micah Sunday' events across the globe on Sunday when at least 3000 churches will be exploring what the Bible says about poverty, injustice and corruption.
Margaret Jansen of Micah Challenge South Africa said: "South African mothers and children are dying, but most of these deaths are preventable. Inequality throughout South African society, a lack of transparency and accountability in the public health care system, and a lack of trained healthcare workers are the main indirect reasons for these deaths. This can be changed.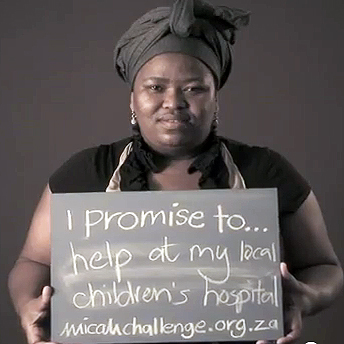 "Addressing upstream issues such as sanitation in poorer, particularly rural, communities and malnutrition will go a long way to save mothers' and children's lives. The fact that it is not adequately addressed at the moment is an injustice. That's what Micah Challenge is all about."
Campaigners are encouraging all churches to watch a video, reflect and pray, and then distribute a toolkit which includes the photo petition – which will be sent to local politicians to take action. Margaret added: "People could sign a petition and spread the news wherever they can. Our response can really make a difference."
Micah Sunday is an annual worldwide campaign to highlight the cause of Micah Challenge – a global coalitions of Christians of all denominations to advocate on behalf of the poor. Some 3000 churches have signed up for the 'Micah Sunday' events 'Light For My Feet', organised by Micah Challenge, to explore what the Bible says about poverty and corruption. With prayer, sermons and activities it is hoped that the events will trigger waves of positive action in local communities across the world in the months to come.
The events will be just days before International Poverty Day on 17th October and days after EXPOSED was launched this week, which for the first ever time seeks to bring 100 million Christians together to shine a light on corruption. Micah Challenge International Director Joel Edwards said: "The Christians in South Africa are an inspiration. The Bible is clear – we must speak up for those who don't have a voice."

Micah Challenge, an initiative of the World Evangelical Alliance, is a global movement active in over 40 countries whose aim is to encourage Christians to be committed to the poor, and hold governments accountable to the Millennium Development Goals, signed by 189 countries in the year 2000 which committed to halving world poverty by the year 2015. For more information, go to www.micahchallenge.org.