Christians in India have helped hundreds of children and adults by setting up weekend medical camps, as part of a campaign of advocacy. Around 300 people including Bengalis, gypsies, Moslems and local Punjabis flocked to two medical camps in Dwarka near Delhi with doctors giving up their annual leave holiday to see patients and give out health advice.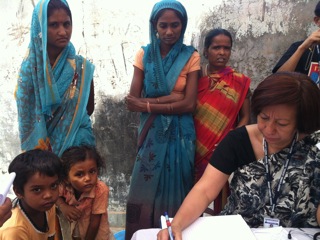 Medical Help: A local doctor helps women and children at a Micah Challenge medical camp in India
The medical camps were set up by Micah Challenge India which is campaigning for the nation to meet its Millennium Development Goals on poverty by 2015. David Jayakumar, Head of Micah Challenge India, and a local church leader, said: "The medical camp has taken lots of organising but it has been worth it. It's a practical way to show God's love. Often, the church in India is criticised for doing things only as an excuse for evangelism. But the camp allows us to demonstrate the gospel."
"One of the doctors was a Hindu, delighted to use a day's leave to see 176 patients. He dealt with infections, wounds and coughs caused by the unclean water and festering rubbish dump. There was also evidence of long-term poverty in the malnourished look of the children, Jayakumar continued. "This was a great success and we plan to do the same again, but bigger and better."
Amanda Jackson, Head of Micah Challenge campaigns across the world, spoke direct from the local church. She said: "Churches have been thinking of practical ways to show God's love and justice, taking church into the streets where the poorest live. This medical camp is one example of hundreds of projects taking place across the world to advocate for the poor."

Micah Challenge, an initiative of the World Evangelical Alliance and Micah Network, is a global movement active in over 40 countries whose aim is to encourage Christians to be committed to the poor, and hold governments accountable to the Millennium Development Goals, signed by 189 countries in the year 2000 which committed to halving world poverty by the year 2015. For more information, go to www.micahchallenge.org.