New York, NY – November 11, 2012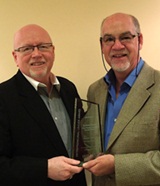 Graham Power, founder and Chairman of the Power Group in South Africa and initiator of the Global Day of Prayer, received the first Entrepreneurial Leader of the Year Award at the annual Entrepreneurial Leaders Conference in Vancouver, Canada. The award that is sponsored by the Entrepreneurial Leaders Organization (ELO) and the World Evangelical Alliance (WEA) recognizes an individual who has exemplified Christian ethical behavior in the marketplace and has had a significant impact not only in the business community but society at large, locally and internationally.
ELO and WEA established an annual Entrepreneurial Leader Award in order to acknowledge and celebrate the noteworthy and inspirational contributions of individuals to making faith-inspired difference in their communities.
A receiver of the award has to be an international stature with significant influence, who exemplifies the qualities of entrepreneurial leadership in a Christian worldview. A lifetime of achievement of influence in their chosen profession that is directly or indirectly related to Christian ministry and an outstanding reputation for integrity in terms of living out faith shall serve as role model to inspire other entrepreneurs to greater heights of significance.
Dr. Geoff Tunnicliffe, Secretary General of the WEA, presented the award to Mr. Power and said: "I have known Graham Power for a number of years and have observed his life, work and spiritual impact not only in South Africa but around the world. He is an ideal recipient for this first annual Entrepreneurial Leader Award. I believe that Graham's life is a wonderful example to others on how to use one's God given gifts to honor Christ and serve the world."
Power started his Cape Town-based company in 1983 with the core purpose "to improve the quality of life in Africa through infrastructure development." The Power Group that nationally engages in civil engineering, construction, and property development seeks to fulfill its social responsibility by getting involved in the communities they are working in, which are often located in very disadvantaged areas. Power says that "the people relationships in Power Group are very special, and love and care for each other is undoubtedly the key to our success."
In the year 2000, Power initiated a 'Day of Repentance and Prayer' in South Africa based on 2 Chronicles 7:14 that was first realized in a stadium in Cape Town in March of the following year. Soon spreading throughout the African continent, it then became the annual 'Global Day of Prayer' that is being held worldwide on Pentecost Sunday.
Power also founded 'Unashamedly Ethical' which is a campaign promoting ethics, values and clean living through local communities all over the world. The campaign is built upon three pillars, around which local communities form: A challenge to people to make a public commitment to 'good values, ethics and clean living'; an online directory of all signatories (organizations and individuals); and a presiding Ombudsman who holds all signatories accountable.
Upon receiving the award, Power said: "It is such an honor to receive this tremendous WEA / ELO award. I am truly humbled! All honor and glory to God, it was thru His grace that my life was turned around at the age of 43, and the visions He has given for the Global Day of Prayer and Unashamedly Ethical, were so clear that I merely needed to 'stick to His clear instructions'."
"There are so many amazing transformation testimonies about great entrepreneurs around the world, and I feel so inadequate and humbled by this award. I am reminded of the special scripture 2 Chronicles 7:14, a blueprint and promise – if we will humble ourselves and pray – and turn from our wicked ways – then God will hear from Heaven, forgive our sins and 'heal our land'. I thank Dr. Geoff Tunnicliffe and the leadership of WEA and Dr. Rick Goossen of the ELO for this special award."

See also:
> World Evangelical Organization To Spearhead Entrepreneurial Leader Conferences Globally
> Micheal Flaherty To Be Keynote Speaker For Entrepreneurial Leaders Conference on Nov. 8

###

MEDIA CONTACT: [email protected]
Over two billion Christians in the world today are represented by three world church bodies. The World Evangelical Alliance (WEA) is one of those, serving and representing more than 600 million evangelicals. Launched in 1846 to unite evangelicals worldwide, the WEA continues to be a dynamic movement with 7 regional and 129 national Evangelical Alliances, and over 150 member organizations. WEA's mission is to speak as a trusted voice, to equip members and leaders for global impact and to connect its members and others for common action in the furtherance of God's reign. For more info e-mail at [email protected] or go to Worldea.org.