New York, NY – March 28, 2013
The Ambassador for Human Rights of the World Evangelical Alliance, Dr. Thomas Schirrmacher, has challenged the media, governments, and churches to take a serious interest in the fate of the Christians being chased from their homes in Syria. He noted, "I know that many people in Syria are suffering, but Christians are seeing a repetition of the situation in Iraq, that they are largely wiped out between the opposing fronts, and once their survivors are driven out, they seldom have the opportunity to return."
The mass exodus of the 2.3 million Christians from Syria is not a secondary matter. Of the previous 60,000 Christians in Homs, less than 1,000 remain. Christians are being killed and tortured while their women are being raped and their churches destroyed.
Schirrmacher explains that the rebels see Christians as supporters of Assad, while Assad's loyalists do not trust Christians. Repeatedly refugees report that "terrorists" with green or black headbands beat up Christians and destroy their property while announcing that a similar fate awaits Christians who do not soon flee to other countries.
Some Christians are being used as human shields on the battlefields. Yet it is conspicuous that most Christians neither speak negatively about their Muslim neighbors nor mention the religious identity of the terrorists. Rather, they continue to hope that they can return to a peaceful condition in their homeland.
To get a proper overview of the situation, Schirrmacher communicated with leaders of the old eastern churches in Rome, Washington, Geneva, and Beirut. These people included Ignatius Zakka I, Patriarch of the Syrian Orthodox Church; Clemis Daniel Kourieh, Metropolitan of the Syrian Orthodox Church; Melkite-Catholic Metropolitan Cyril Salim Bustros; and Patriarch Gregory III Laham, head of the Melkite Greek-Catholic Church.
Schirrmacher also interviewed refugees in multiple countries, partly while traveling with a team from the German television network "ZDF," which interviewed refugees, church leaders, and the Grand Mufti of Lebanon while preparing a TV documentary.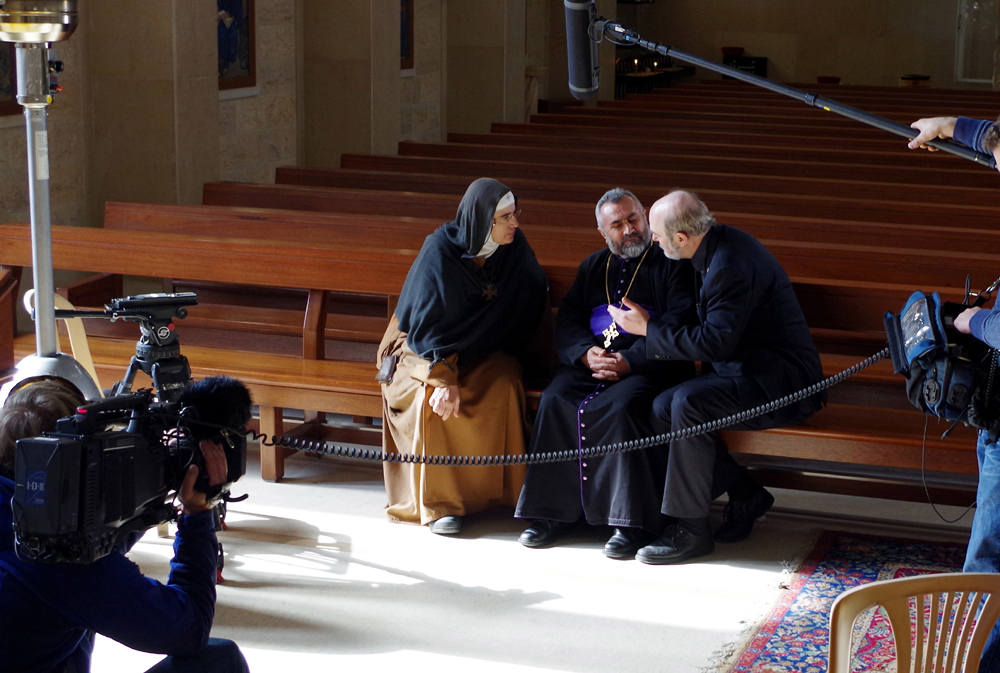 Many of the senior leaders of the Syrian churches have fled to Lebanon for safety, along with many of their church members. The Grand Mufti of Lebanon, Mohammed Rashid Qabbani, the most important Muslim theologian in Lebanon, has articulated his interest in and desire for peaceful life together among Muslims and Christians.
For many years several leaders in the ancient churches in the near and middle east have expressed their deep concerns about being driven out of the region and being forced to resettle in the west, leaving the middle east entirely Muslim. Many of them see this situation is a result of the lack of a separation between religion and government and of the imposition of Muslim law (sharia) on a multi-religious society in which millions of Christians have lived for centuries. The calls of the leaders of the ancient Christian churches for very serious Muslim-Christian dialogue arise from their desire to avoid a destructive clash of civilizations or even a war of religions.

Downloads:
· Photo 1: In Dialogue with the Metropolit of Lebanon Cyril Salim Bustors
· Photo 2: In Discussion with Syrian Refugees and Metropolit Clemis Danile Kourieh
· Photo 3: Dialogue with the Grand Mufti of Lebanon Mohammed Rashid Qabbani
· Photo 4: During shots in Lebanon
###

MEDIA CONTACT: [email protected]

Over two billion Christians in the world today are represented by three world church bodies. The World Evangelical Alliance (WEA) is one of those, serving and representing more than 600 million evangelicals. Launched in 1846 to unite evangelicals worldwide, the WEA continues to be a dynamic movement with 7 regional and 129 national Evangelical Alliances, and over 150 member organizations. WEA's mission is to speak as a trusted voice, to equip members and leaders for global impact and to connect its members and others for common action in the furtherance of God's reign. For more info e-mail at [email protected] or go to Worldea.org.