By Dr. Jeff Hammond, Abbalove Ministries, Jakarta, Indonesia
Also available in French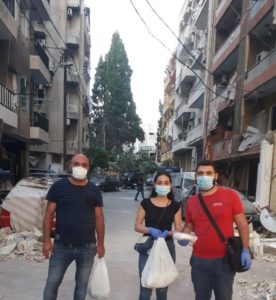 At the WEA Conference in Jakarta last year, Spiritual Care Teams, consisting of people from many countries, prayed with delegates and speakers. These teams believed in the power of prayer to positively change situations, attitudes and to prepare delegates and speakers to have an even more dynamic encounter with the Lord, His Word and His people at the Conference.
From early in the Covid-19 crisis and the ensuing lockdowns, the Abbalove Church, saw the need to expand the role of Spiritual Care Teams to be an active element of the church's ministry to make sure that no church member was left alone. Teams were organized to make sure that every member of the church was contacted, encouraged with Scripture and prayer, and their needs recorded and supplied. It was both powerful and effective. The fruit of this loving care was that teams expanded their care to the unreached. They sanitized homes, provided emergency food relief, prayed with the stressed and saw many coming to faith in Christ.
Today, after the massive bomb and destruction in Beirut, Lebanon, we have a new and exciting development of Spiritual Care Teams as they mobilize teams to minister to the people of the city of Beirut.
Let me introduce you to Pastor Chady El Aouad, the Senior Pastor of the Evangelical Abundant Life Church and Ministries, Beirut, Lebanon. I have witnessed the ministry of this church over a number of years and seen how they have cared for the suffering. I was invited to speak at a conference there during the Syrian crisis. It was moving to see the number of pastors who came from extremely dangerous situations and townships in Syria and Iraq that were being bombed. I asked one pastor where he would be staying after escaping Syria, and he replied, "No, I'm going back. The church needs their shepherds and the people need Christ more than ever." These pastors were inspired by the love and commitment of Pastor Chady, and so they endured the dangers to come and willing to face the dangers in returning again to Syria.
Now, a new crisis has emerged. This time not in Syria, but just two minutes drive from Pastor Chady's Church. By God's grace, Pastor Chady was not in his office when the bomb exploded. The devastating blast blew through his church causing extensive damage throughout the building. His office, where normally he would have been working was filled with flying glass that could easily have killed him. But it was his birthday so he had taken the day off. Thank the Lord for birthdays!!!
Pastor Chady immediately began mobilizing his members to minister to a devastated city. Two weeks before the blast Abbalove had decided to stand with and support Pastor Chady as they ministered to the victims of the Covid-19 pandemic, massive corruption and the economic collapse of the nation. Immediately after the bomb, Abbalove doubled our support for Pastor Chady and the Abundant Life Church. We believed in his integrity, passion, commitment and ability to mobilize in the face of this horrific disaster.
Pastor Chady sent me a report of what had happened and how the church was responding:
"On the afternoon of the 4th August 2020, two explosions occurred at the port of the city of Beirut, the capital of Lebanon. The second explosion was extremely powerful, and caused at least 210 deaths, 6,000 injuries, US$30 billion in property damage, and left an estimated 300,000 people homeless. 
The event was linked to about 2,750 tons of ammonium nitrate. The explosion was detected by The United States Geological Survey as a seismic event of magnitude 3.3; and was felt in Turkey, Syria, Israel and parts of Europe. The explosion was even heard in Cyprus, more than 250 km (160 miles) away. It is considered to be one of the most powerful non-nuclear explosions in history.
The Abundant Life Church building, being close to the explosion (2 minutes driving distance, around 4 km away) and our Church families' homes and properties suffered horrific destruction. Nevertheless, we decided that our first priority was to reach out and respond to the needs of our city.
We decided to move on as Elders, Pastors and Leaders of our Church and form teams with around 100 volunteers from our members as there was an urgent need to become the answer to the thousands of people that are affected by the explosion. Even now, many thousands are looking for help, answers, comfort, food, water and essentials for their daily life, after losing almost everything. For that reason we decided to move on four levels, prioritizing the needs of the people and valuing souls over our own Church Building devastation and catastrophe.
Level 1: The Devastated Community
We mobilized Spiritual Care Teams to go to the most devastated areas, with food, water and the New Testament, to comfort those families, give them food and water, pray with and for them and to see what other practical help we can provide them.
Level 2: Church Families
Another team began visiting our church families to help them repair their homes, properties, businesses and cars. Also, to pray with them and counsel them, especially as many are emotionally and mentally affected by the disaster.
Level 3: The Poor and Unemployed
We began to prepare boxes, parcels and hygiene that can sustain the poor and unemployed for one month,. So many were in poverty from the pandemic, corruption and economic collapse and after the bombing many more have lost their jobs and their means to support the lives of their families.   
Level 4: The Church Building
After focusing on the above areas, we have also begun to clean our church building from all devastation and destruction and to seek to repair all the horrific damage and get the sanctuary ready again to be used. We want to restart our church services and ministries to be better able to be a blessing to our capital, our nation and the Middle East.
So far we are seeing tremendous results from the thousands of meals and bottles of water that we have distributed and the so many hundreds of boxes of parcels that our SCT's have given away including thousands of New Testaments.
We are seeing so many coming to Jesus with tears, praying with us and asking for counseling. Many others even received healing once we prayed for them, and the amazing positive reports we are getting from our teams when they share the message of love and forgiveness with the most affected communities is so encouraging.
God is on the move and I really believe that Jesus is going to turn the aches into glory, the mourning into dancing, and the devastation into salvation. I am believing God for a spiritual awakening and a revival to be the result of this massive trauma and disaster. Jesus is still on the throne and I know He will make everything turn around for his glory, amen and amen.
Lebanon and the Middle East Shall be saved!"
Knowing Pastor Chady, I know these are not empty words. He has passion, compassion and faith that the Lord will continue to use them. He is a man of courage and vision with a great faith that their call is to share the Gospel throughout Lebanon and the Middle East.
Through this amazing ministry, and the mobilization of Spiritual Care Teams, many Lebanese are finding Christ. Let's pray for them and stand with them in this kairos opportunity that has been thrust upon them.
Do not let them stand alone!
]]>


<![CDATA[_en]]>
<![CDATA[field_5d8bb55cbfecb]]>


<![CDATA[es]]>
<![CDATA[]]>


<![CDATA[_es]]>
<![CDATA[field_5d8bb563bfecc]]>


<![CDATA[fr]]>
<![CDATA[

Dr. Jeff Hammond,  Ministères Abbalove, Jakarta, Indonesie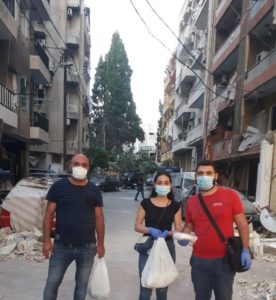 Lors de la conférence WEA à Jakarta l'année dernière, les équipes de soins spirituels, composées de personnes de nombreux pays, ont prié avec les délégués et les orateurs. Ces équipes ont cru au pouvoir de la prière pour changer positivement les situations, les attitudes et pour préparer les délégués et les orateurs à avoir une rencontre encore plus dynamique avec le Seigneur, sa Parole et son peuple à la Conférence.

Dès le début de la crise de Covid-19 et des confinements qui ont suivi, l'Église d'Abbalove a vu la nécessité d'élargir le rôle des équipes de soins spirituels pour qu'elles soient un élément actif du ministère de l'Église afin de s'assurer qu'aucun membre de l'église ne soit laissé seul. Des équipes ont été organisées pour s'assurer que chaque membre de l'église était contacté, encouragé par les Écritures et la prière, et leurs besoins enregistrés et satisfaits. C'était à la fois puissant et efficace. Le fruit de ce soin affectueux a été que les équipes ont étendu leurs soins aux exclus. Ils ont désinfecté les maisons, fourni une aide alimentaire d'urgence, prié avec les personnes stressées et vu beaucoup de gens arriver à la foi en Christ.

Aujourd'hui, après la bombe massive et la destruction à Beyrouth, au Liban, nous avons un nouveau et passionnant développement d'équipes de soins spirituels alors qu'elles mobilisent des équipes pour s'occuper des habitants de la ville de Beyrouth.

Permettez-moi de vous présenter le pasteur Chady El Aouad, le pasteur principal de l'Église et des ministères évangéliques de la vie abondante, Beyrouth, Liban. J'ai été témoin du ministère de cette église pendant un certain nombre d'années et j'ai vu comment ils ont pris soin de la souffrance. J'ai été invité à prendre la parole lors d'une conférence là-bas pendant la crise syrienne. C'était émouvant de voir le nombre de pasteurs qui venaient de situations extrêmement dangereuses et de cantons en Syrie et en Irak qui étaient bombardés. J'ai demandé à un pasteur où il logerait après avoir fui la Syrie, et il a répondu: «Non, je rentre. L'Église a besoin de leurs bergers et les gens ont plus que jamais besoin de Christ. Ces pasteurs ont été inspirés par l'amour et l'engagement du pasteur Chady, et ils ont donc enduré les dangers à venir et prêts à affronter les dangers en retournant à nouveau en Syrie.

Maintenant, une nouvelle crise est apparue. Cette fois, pas en Syrie, mais à seulement deux minutes en voiture de l'église du pasteur Chady. Par la grâce de Dieu, le pasteur Chady n'était pas dans son bureau lorsque la bombe a explosé. L'explosion dévastatrice a soufflé dans son église, causant des dégâts considérables dans tout le bâtiment. Son bureau, où il aurait normalement travaillé, était rempli de vitres volantes qui auraient pu facilement le tuer. Mais c'était son anniversaire alors il avait pris une journée de congé. Merci Seigneur pour les anniversaires !!!

Le pasteur Chady a immédiatement commencé à mobiliser ses membres pour s'occuper d'une ville dévastée. Deux semaines avant l'explosion, Abbalove avait décidé de se tenir aux côtés du pasteur Chady et de le soutenir alors qu'il s'occupait des victimes de la pandémie Covid-19, de la corruption massive et de l'effondrement économique de la nation. Immédiatement après la bombe, Abbalove a doublé notre soutien au pasteur Chady et à l'Eglise de Vie Abondante. Nous avons cru en son intégrité, sa passion, son engagement et sa capacité à se mobiliser face à cet horrible désastre.

Le Pasteur Chady m'a envoyé un rapport sur ce qui s'est passé et sur la réaction de l'église:

«Dans l'après-midi du 4 août 2020, deux explosions se sont produites au port de la ville de Beyrouth, la capitale du Liban. La deuxième explosion a été extrêmement puissante et a causé au moins 210 morts, 6 000 blessés, 30 milliards de dollars de dommages matériels et laissé environ 300 000 sans-abri.

L'évènement était lié à environ 2 750 tonnes de nitrate d'ammonium. L'explosion a été détectée par le Bureau d'Enquêtes Géologiques des Etats Unis comme un événement sismique de magnitude 3,3; et a été ressenti en Turquie, en Syrie, en Israël et dans certaines parties de l'Europe. L'explosion a même été entendue à Chypre, à plus de 250 kms (160 miles). Elle est considérée comme l'une des explosions non nucléaires les plus puissantes de l'histoire.

Le bâtiment de l'Eglise de la Vie Abondante, à proximité de l'explosion (à 2 minutes en voiture, à environ 4 km) et les maisons et propriétés de nos familles de l'Église ont subi des destructions horribles. Néanmoins, nous avons décidé que notre première priorité était de tendre la main et de répondre aux besoins de notre ville.

Nous avons décidé de passer à autre chose en tant qu'anciens, pasteurs et dirigeants de notre Église et former des équipes avec environ 100 bénévoles de nos membres car il y avait un besoin urgent de devenir la réponse aux milliers de personnes touchées par l'explosion. Même maintenant, des milliers de personnes recherchent de l'aide, des réponses, du réconfort, de la nourriture, de l'eau et des produits essentiels pour leur vie quotidienne, après avoir presque tout perdu. Pour cette raison, nous avons décidé de passer à quatre niveaux, en accordant la priorité aux besoins des gens et en valorisant les âmes par rapport à la dévastation et à la catastrophe de notre église.

Niveau 1: La Communauté Dévastée

Nous avons mobilisé les équipes de soins spirituels pour qu'elles se rendent dans les zones les plus dévastées, avec de la nourriture, de l'eau et le Nouveau Testament, pour réconforter ces familles, leur donner de la nourriture et de l'eau, prier avec elles et pour elles et voir quelle autre aide pratique nous pourrions leur apporter.

Niveau 2: Familles de l'Église

Une autre équipe a commencé à visiter les familles de nos églises pour les aider à réparer leurs maisons, leurs propriétés, leurs entreprises et leurs voitures. Aussi, prier avec elles et les conseiller, d'autant plus que beaucoup sont affectés  émotionnellement et mentalement par la catastrophe.

Niveau 3: Les Pauvres et les Chômeurs

Nous avons commencé à préparer des cartons, des colis et des produits d'hygiène qui peuvent soutenir les pauvres et les chômeurs pendant un mois. Beaucoup étaient dans la pauvreté à cause de la pandémie, de la corruption et l'effondrement économique et après les bombardements, beaucoup d'autres ont perdu leur emploi et leurs moyens de subvenir aux besoins de leurs familles.

Niveau 4: Le Bâtiment de l'Eglise

Après nous être concentrés sur les domaines ci-dessus, nous avons également commencé à nettoyer notre bâtiment d'église de toute dévastation et destruction et à chercher à réparer tous les dégâts horribles et à remettre le sanctuaire prêt à être utilisé. Nous voulons redémarrer nos services religieux et nos ministères pour être plus en mesure d'être une bénédiction pour notre capitale, notre nation et le Moyen-Orient.

Jusqu'à présent, nous voyons d'énormes résultats des milliers de repas et de bouteilles d'eau que nous avons distribués et les centaines de boîtes de colis que nos SCT ont distribuées, y compris des milliers de nouveaux testaments.

Nous voyons tellement de gens venir à Jésus avec des larmes, prier avec nous et demander des conseils. Beaucoup d'autres ont même reçu la guérison quand nous avons prié pour eux, et les incroyables rapports positifs que nous recevons de nos équipes quand elles partagent le message d'amour et de pardon avec les communautés les plus touchées sont si encourageants.

Dieu est à l'œuvre et je crois vraiment que Jésus changer les cendres en gloire, le deuil en danse et la dévastation en salut. Je crois en Dieu pour qu'un éveil spirituel et un réveil soient le résultat de ce traumatisme et de cette catastrophe massifs. Jésus est toujours sur le trône et je sais qu'Il fera tout tourner pour sa gloire, amen et amen

Le Liban et le Moyen-Orient seront sauvés! »

Connaissant le Pasteur Chady, je sais que ce ne sont pas des paroles creuses. Il a la passion, la compassion et la foi que le Seigneur continuera à les utiliser. C'est un homme de courage et de vision avec une grande foi que leur appel est de partager l'Évangile dans tout le Liban et au Moyen-Orient.

Grâce à ce ministère étonnant et à la mobilisation des équipes de soins spirituels, de nombreux Libanais sont en train de connaître le Christ. Prions pour eux et soutenons les dans cette opportunité de kairos qui leur a été offerte.

Ne les laissons pas seuls!

]]>


<![CDATA[_fr]]>
<![CDATA[field_5d8bb569bfecd