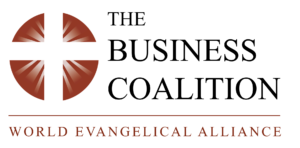 FAITH DRIVEN INVESTORS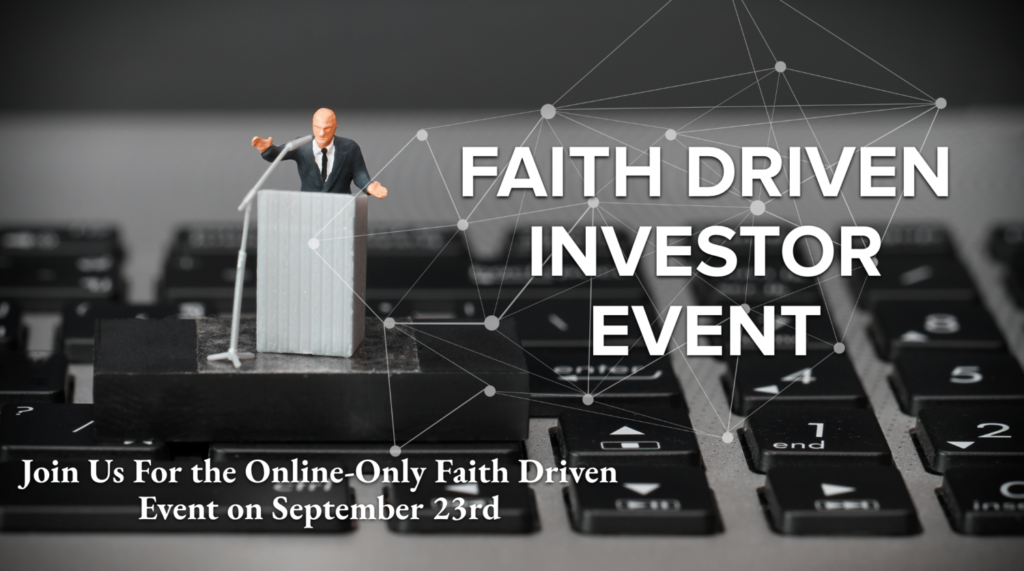 It's estimated that Christians manage over 150 trillion dollars, more than half the world's wealth. That's 200 to 300 times greater than what is given philanthropically each year. Capital has influence, yet many of us are content to let others determine our investment strategy. Even worse, we unwittingly fund companies that advance causes we hate like gambling and pornography. We're missing an enormous opportunity.
Faith-Driven Investors (FDI) plan to bring a collection of fast paced TED-style talks, interactive discussion groups on emerging topics, and a sort of ESPN Sportscenter style highlight of things happening in the movement.
Speakers like Ron Blue, Bob Doll, Aimee Minnich, Craig Deall, Reuben Coulter and many others will give valuable insights on Wednesday 23rd from 10:30 a.m. until 4:00 p.m. CST.
Please watch the sneak preview and get more information!
We also encourage you to join the Faith Driven Entrepreneur conference that will immediately follow on Thursday 24th at the same time.
I4E UNIVERSITY MENTORS


Impact4Entrepreneurship is currently in the process of founding a global start-up university based on Christian values.
I4E wants to invest in the new generation of entrepreneurs and train them in the best possible way:
During their studies, students will start their own businesses that generate sustainable profits and make the world a better place.
The students will be supported by professors, mentors and also their fellow students, who will help them find their vocation, accompany them on their way and ensure their success.
After graduation, students will have a healthy business, an academic degree, an international network and will make a measurable positive difference in society.
I4E believes that mentoring in particular will be a key factor in helping students find their vocation and mature both personally and professionally. They are therefore looking for partners who will invest in this vision and support them by helping to recruit and provide mentors.
For more information, please see here.
KINGDOM BUSINESS EXAMPLE:
WASTE MANAGEMENT IN PAKISTAN
Haryali Hubs are operationally self-sustaining community-based social enterprises initiated by PAK Mission Society that will serve an anticipated 3,000 households (21,000 people) each. These will safely collect, treat and recycle solid waste, including plastics. The Hub design is based on Waste Concern's Integrated Resource Recovery Centre, which is proven across Asia to reduce uncollected waste in informal settlements, thereby improving environmental and health outcomes.
Facilities will be located adjacent to the communities they serve, and will contain an office, washrooms, compost pits, recycling apparatus/machine and waste segregation spaces. The Hubs offer dignified jobs for marginalized members of local communities, particularly women. Those already informally collecting waste will be integrated, where possible, so the Hubs do no harm to existing livelihoods. appropriate uniforms, safety equipment (e.g. face masks, shoes and gloves) and living wages.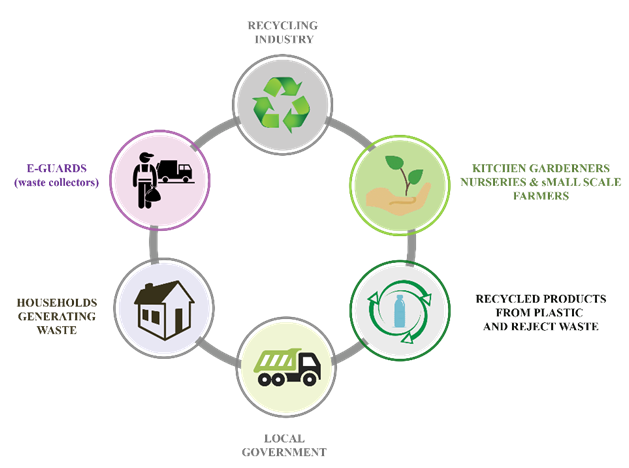 The Haryali Hubs solve this collective action problem by bringing together households, businesses, government and existing waste pickers to provide sustainable solid waste management.
The benefit to households is that they will no longer need to dump or burn their waste, thereby avoiding the environmental, social and health hazards of open burning and dumping of waste and the associated improvement of their overall health and wellbeing. This will also reduce ad hoc expenditures on waste-related health problems, and the loss of income due to ill health caused by waste.
Investment opportunity:
Haryali is a profitable social business project with an investment volume of 3.6 million USD, which is given as a (convertible) loan on 6% p.a. over 10 years. According to the financial plan the loss zone can be left from the 4th year onwards. More information are available at [email protected]]]>


<![CDATA[_en]]>
<![CDATA[field_5d8bb55cbfecb]]>


<![CDATA[es]]>
<![CDATA[]]>


<![CDATA[_es]]>
<![CDATA[field_5d8bb563bfecc]]>


<![CDATA[fr]]>
<![CDATA[]]>


<![CDATA[_fr]]>
<![CDATA[field_5d8bb569bfecd