Women and men from all parts of the world gathered in India in June to discuss what Women's Commissions can do to stop the terrible trafficking in human lives that has trapped 48 million girls and boys, women and men.
Women's Commission participants during the meeting.
It's a horrifying number that only hints at the exploitation, the emotional cost and the huge amounts of money that are involved in this global "industry".
The meeting involved the WEA taskforce on trafficking which is led by Christine MacMillan. We heard from Helen Sworn a leading researcher and advocate on trafficking who is based in Cambodia. Her work over many years helps practitioners across the world share information and best practice.
You can find more information about her work at Chab Dai and see ways to engage here Chab Dai has resources and ways to get involved that the Women's Commissions are keen to use and support and the 3 days in New Delhi helped women from Latin America, Europe, Asia, the Pacific and Africa to set out some strategies for the coming 18 months.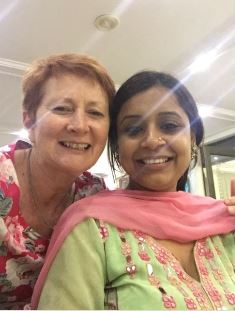 Amanda Jackson and Aashima
Aashima is a hero of faith and justice, offering hope in the nation that has the highest number of trafficking victims in the world (neighbours Pakistan and Bangladesh also feature in the top 10 nations for trafficking). The task is daunting but Aashima uses a team of trained volunteers to reach remote rural areas. It can be risky work because the team threatens a lucrative business. While we were meeting in Delhi, one of the team was badly beaten by a gang who do not want Christians disrupting the trade.
Christine MacMillan, head of Public Advocacy at the WEA, who helped to organise the meeting said, "The church can be a powerful force in prevention and in restoring victims. And women's voices are crucial because often in vulnerable places, women do not have access to power. The church can show that all people are valued and all people have a voice."