New York, NY – February 15, 2018
Participating in the United Nations' 9th World Urban Forum in Kuala Lumpur, Malaysia, the World Evangelical Alliance's (WEA) Creation Care Task Force (CCTF) highlighted the role of faith communities in general and evangelical churches in particular, when it comes to urbanization in the 21st century. At a press conference on February 12th, the CCTF presented the "Gospel and the future of Cities: A Call to Action", a statement coming out of a WEA-sponsored event held parallel to the UN's Habitat III conference in Ecuador in 2016.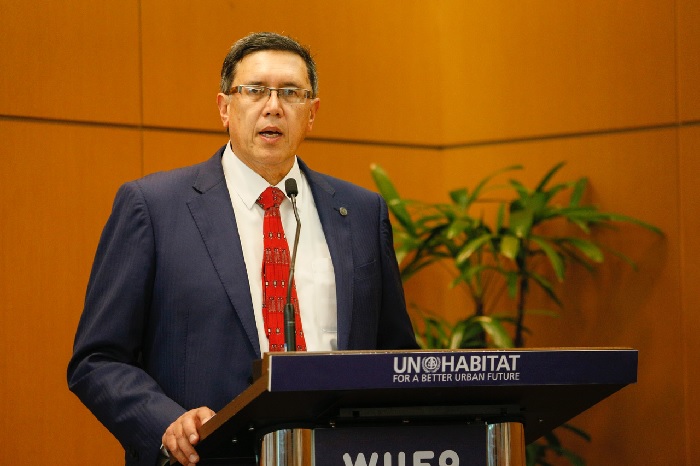 Dr. Chris Elisara speaking at a press conference at the 9th World Urban Forum in Kuala Lumpur. Photo Credit: Thomas Jeremias & © UN-Habitat
As witnesses to the enormous spiritual, social, economic, and environmental challenges posed by today's rapidly urbanizing world, where the world's population currently living in cities will grow from 50% to 70-75% within 20-30 years, the intent of the Gospel and the Future of Cities: A Call to Action statement is to motivate and activate the whole church to more deeply understand, love, and care for cities and their inhabitants from God's perspective, and to become better equipped and effective for urban presence, ministry, work, and witness.
"The Call to Action," Dr. Elisara, the director of WEA's CCTF, explains," is being released at UN-Habitat's 9th World Urban Forum in Kuala Lumpur to highlight the evangelical community's commitment to contribute to the common good and well-being of cities from our unique identity as Christians."
"The world is facing a period of rapid urbanization which is exacerbating serious social, economic, cultural, ecological, and spiritual challenges that must be addressed through integral urban mission in our generation," the statement reads. It then goes on to "call on evangelical leaders, national evangelical organizations, and all local churches to urgently understand, learn, and act at personal, community, national, and international levels to "seek the peace and prosperity of the city" (Jeremiah 29:7), or what we term urban shalom."
The call to action is also endorsed by Micah Global, The Lausanne Movement, Tearfund, the Christian Community Development Association (CCDA), the Congress for the New Urbanism Member's Christian Coalition, A Rocha International, and others.
WEA's CCTF is also associate member of the World Urban Campaign, an advocacy and partnership platform that is coordinated by UN-Habitat and aims to raise awareness about positive urban change in order to achieve green, productive, safe, healthy, inclusive, and well-planned cities. Faith-based organizations are key stakeholders given the fact that an estimated 84% of the world's population lay claim to a religious identity.
Read the Call to Action here [pdf]

See also:
– WEA Creation Care Task Force website
– Significant Outcomes Achieved at Historic World Urban Campaign Faith-Based Urban Thinkers Campus
– Evangelical Call to Action on Cities Includes UN-Habitat's New Urban Agenda

###

MEDIA CONTACT:
Timothy K. Goropevsek
Chief Communications Officer
[email protected]
+1 212.233.3046

Over two billion Christians in the world today are represented by three world church bodies. The World Evangelical Alliance (WEA) is one of those, serving more than 600 million evangelicals. Launched in 1846 to unite evangelicals worldwide, the WEA continues to be a dynamic movement with 7 regional and 129 national Evangelical Alliances, and over 150 member organizations. WEA's mission is to establish and strengthen regional and national Evangelical Alliances, who in turn enable their national Church to advance the Good News of Jesus Christ and effect personal and community transformation for the glory of God. For more info, e-mail [email protected] or go to Worldea.org.