We often see barri
ers being created. In the past three years, several factors allowed injustice to prevail in a rampaging spree in the form of exploiting the vulnerable and marginalized lives.

Responding to such barriers, [email protected] proactively mobilized economic empowerment and transformation programs in the District of Khunti, Jharkhand, forming a Self Help Group (SHG) and a Vocational Centre where youth and school dropout girls, who are susceptible of exploitation were enrolled for training.

Kripa, aged 21years, is a young girl from village Lupungdi and is the eldest amongst her 3 sisters. Her parents, seasonal laborers are not able to earn enough to support their daily needs. Through our awareness building meeting in the village, the young girl became a part of the SHG group engaged in the mushroom cultivation and joined our vocational centre which teaches stitching, embroidery and so on and is also linked with the government.

After coming to the SHG group, slowly her life began to transform, she began the cultivation work with the group and earned money. Gradually, through the SHG, Kripa learnt how to save money, and with the training provisions provided by us, she learnt stitching at the centre.

Further, she had saved some money from her mushroom farming, and availed a loan from the SHG group. With the saved money, she purchased raw material, and started stitching blouses and petticoats for the village women on orders.

Kripa shared with us, that she has seen many of her friends leaving the village in hope of earning some money and few of them have never come back to the village again. She herself wanted to leave with her friends due to lack of opportunities in the village, but fell sick and was unable to leave with them. Now, she considers herself to be the fortunate one because, through the SHG and the training centre, she is able to earn Rs. 1,500/- per month.

With joy she shared that she feels extremely confident and empowered, as earlier, they did not have money to buy warm clothes for winter, but now with her earning she is able to buy a new sweater for herself and her younger sister.
Into the safe hands:

Re-united with their father
J
alil Faraji, a lab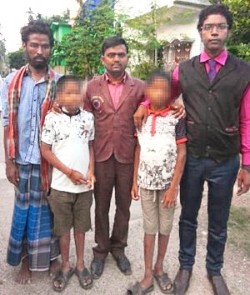 or, living below poverty line from Raghunathpur, Hogulbaria, West Bengal had two sons – Habib Faraji (13) and Jahur Faraji (11) who were studying in a nearby government school.

One day, after the father had left for work, the trafficker approached these boys and promised them a bright future with a good pay. The offer was a never-to-miss fortune, so they decided to grab the opportunity to make fast buck. Due to lack of awareness and no knowledge about the situation, they were trapped by the false promises of the trafficker and ended up at the Sealdah Railway station, Kolkata.

When their father came to know about his missing children, he called the [email protected] help line which was shared with him during one of the awareness programmes attended by him. The [email protected] team immediately communicated with the SDPO at Hogulbaria Police Station.

The Railway Police was alerted by SDPO, who in no time accompanied [email protected] team and hastened towards Sealdah Railway Station on the same day. The boys were finally rescued in the evening, however, the trafficker escaped from the scene on seeing the father and the joint team approaching them.

The boys were then produced before Krishnanagar CWC after which they were safely reunited with their father in the presence of [email protected] team.
Collective engagements…towards 21st century slavery


A state level meeting, for sixty Pastors and church leaders was organized in Patna, Bihar on February 16th, 2018. The urban and rural delegates proactively exchanged their experiences as one body on a common platform to effectively deal with child trafficking. It was interesting to observe the participant's zeal in detailing a systematic plan of strengthening, protecting and comforting the victimized communities in their respective areas.

[email protected], implemented this collaborative approach, and was successful in forming a network in Bihar called "Pastors Uniting to Stop Human Trafficking" (PUSH). Further, the network aims at identifying ways to become strong voice and share collective experiences and create a forum for raising challenges, bringing changes and recognizing our responsibility towards modern day slavery.

On the final day of the event, delegates pledged to serve with unified commitment to interact, connect with one another in reducing human trafficking in Bihar.