New York, NY – June 16, 2016
After faithfully serving the World Evangelical Alliance (WEA) as Associate Secretary General for the past six years, Gordon Showell-Rogers is leaving the WEA at the end of June to pursue new ministry opportunities. The WEA family is grateful for his contribution to building One Alliance and wish him and his family God's richest blessings.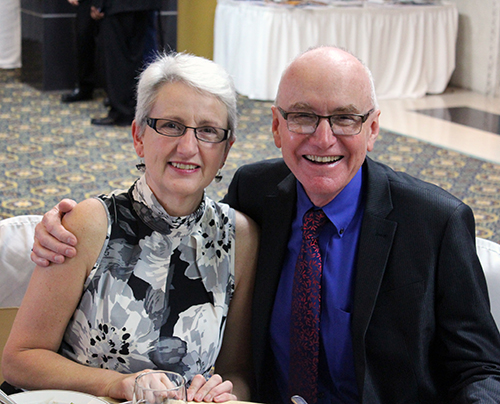 "Gordon has been a faithful servant of the WEA not only through his period of service at the global level, but also before that as General Secretary of the European Evangelical Alliance for eleven years. His commitment to our constituency of national and regional Alliances across the world has been exemplary," said Bishop Efraim Tendero, Secretary General of the WEA. "Many Alliances are in a stronger position now because of Gordon's encouraging and mentoring. We wish Gordon well as he pursues other avenues in God's service."
Rev. Ndaba Mazabane, Chairman of WEA's International Council, added: "Gordon has been a champion in the furtherance of the WEA's work worldwide and a stalwart in the organization throughout the time I have known him. He leaves behind a strong legacy of successful initiatives."
Mr. Showell-Rogers' responsibilities have included the building and strengthening of regional and national Evangelical Alliances. He made a major contribution to the initiation and launch of the Latin Evangelical Alliance in 2013 and laid foundations for a regional Alliance in the Middle East and North Africa as well as Central Asia.
He was instrumental in initiating the formation of WEA's United Nations team, coordinating the WEA's various different efforts to strengthen an evangelical voice and contribution to the UN in New York and Geneva. He has also led special projects such as the Bible translation review, the re-launch of the WEA Youth Commission and transitions in WEA's Women's Commission.
One of his main contributions, however, has been to lead the WEA constituency towards a vision of 'One Alliance, One Family', contributing significantly towards a closer integration of the different regions into the global leadership team, enabling regional and national leaders to understand their identity within a worldwide family of more than 600 million evangelicals.
Rev. Dr. Aiah Foday-Khabenje, General Secretary of the Association of Evangelicals in Africa, commented: "We will miss Gordon's friendship and encouragement in our service to the body of Christ in Africa and the rest of the world. He is a unifying, understanding colleague, embodying what we are all aspiring to be and do in serving the body of Christ. And I will miss him personally and wish him God's richest blessings for his future."
His wife, Jane Showell-Rogers, is also stepping down from her work for the WEA, having served as stage manager at the WEA General Assembly 2008 and in recent years having been an integral part of the WEA planning team for WEA International Leadership Forums globally and regional meetings in the Middle East.
Mr. Showell-Rogers comments: "The 1846-established Evangelical Alliance family is a key vehicle for evangelical unity, contributing significantly to effective Christian witness around the globe. We're very grateful for our years in the WEA, during which we have been privileged to work closely with many fine colleagues at global, regional and national levels. We warmly commend them all for their sacrificial service to a desperately needy world."
From July 1, Dr. Rob Brynjolfson will manage the responsibilities of the Alliance Development Department, until a successor has been installed.

###

MEDIA CONTACT:
[email protected]
+1 212.233.3046

Over two billion Christians in the world today are represented by three world church bodies. The World Evangelical Alliance (WEA) is one of those, serving more than 600 million evangelicals. Launched in 1846 to unite evangelicals worldwide, the WEA continues to be a dynamic movement with 7 regional and 129 national Evangelical Alliances, and over 150 member organizations. WEA's mission is to establish and strengthen regional and national Evangelical Alliances, who in turn enable their national Church to advance the Good News of Jesus Christ and effect personal and community transformation for the glory of God. For more info, e-mail [email protected] or go to Worldea.org.