New York, NY – May 31, 2016
Rev. Dr. John Oswald Smith, member of the International Council (IC) of the World Evangelical Alliance (WEA) and Chair of the Evangelical Association of the Caribbean (EAC), was awarded the prestigious Caciques Crown of Honor by the President of Guyana. He was honored for his 'long and dedicated service in the field of religion' on the occasion of Guyana's 50th Anniversary of Independence National Award 2016.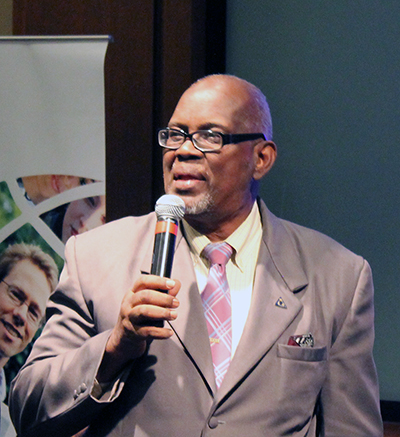 "I'm grateful to God for John's faithful ministry over many years in his nation of Guyana, the region of the Caribbean, and his global ministry as member of WEA's International Council," said Bp Efraim Tendero, Secretary General of the WEA, who congratulated Dr. Smith on this national recognition.
"This award testifies that his dedication to the Lord and his servant heart for the community was recognized not only by his fellow believers but by society at large. It is my prayer that God will continue to bless John and his family and use him as a role model in his country, his region and beyond."
Rev. Emerson Boyce, Secretary General of the EAC, said: "This is a fitting honor to Dr. Smith for his outstanding service of over four decades to the nation of Guyana: Pastor of Central Assembly; General Superintendent – Assemblies of God in Guyana, and in other areas of national service. "John", as he is affectionately called, is described as Guyana's Kingdom Citizen-at-Large. The Evangelical Association of the Caribbean salutes this highly respected Husband, Father, Church leader, Educator, and Kingdom diplomatic who builds relationships and partnerships to Empower the Church to Transform Society."
Upon receiving the award, Dr. Smith said: "I give all the glory to God for this National Award. I share this honor with my local congregation, Central Assembly, my national body, Assemblies of God in Guyana, the Guyana Evangelical Fellowship, EAC, WEA and the International Third World Leaders Association. I am humbled by the bestowal of this award and I thank all my friends and the many organizations that gave me the opportunity to serve. Most of all to my family, I share this award, for they have released me to function in the various capacities."

###

MEDIA CONTACT:
[email protected]
+1 212.233.3046

Over two billion Christians in the world today are represented by three world church bodies. The World Evangelical Alliance (WEA) is one of those, serving more than 600 million evangelicals. Launched in 1846 to unite evangelicals worldwide, the WEA continues to be a dynamic movement with 7 regional and 129 national Evangelical Alliances, and over 150 member organizations. WEA's mission is to establish and strengthen regional and national Evangelical Alliances, who in turn enable their national Church to advance the Good News of Jesus Christ and effect personal and community transformation for the glory of God. For more info, e-mail at [email protected] or go to Worldea.org.