"After 41 years of living inside a refugee camp along with his family, Pastor Nomani passed away in May due to a malignant brain tumor. The last years of his life were spent living in poor conditions of scarce water, food, medical aid and education. Home was a place he could hardly remember."
With these words, Tom Albinson, Ambassador for Refugees, Displaced and Stateless People, opened the first in a series of webinars hosted by the World Evangelical Alliance's (WEA) United Nations Team.
The free webinar that was open to the public dealt with the 'Global Refugee Crisis and The Local Church' and had a specific focus on Africa, the Middle East (Syria) and Western Europe. Speakers included Tom Albinson, WEA Ambassador for Refugees, Displaced and Stateless People, Rev. Aiah Foday-Khabenje, General Secretary of the Association of Evangelicals in Africa, Camille Melki, Director at Heart for Lebanon, and Valeria De Chirico from the Refugee Highway Partnership in Italy.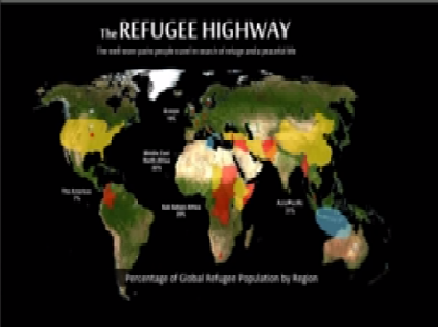 "Just like Pastor Nomani, thousands of refugees live in poor conditions, and most never get to see their homes again before passing away. The refugee crisis around the world has been a concern to the Church for many years," Albinson continued. "People who have settled in one of the many refugee camps suffer due to poor education availability, poor medical aid, no opinion on matters of their rights, scarce food and they are also frequently subject to violence."
86% of all refugees are found in developing countries and that if all refugees were added up, they would form the 26th most populous country in the world. However, local churches can help refugee communities and individuals through their hardships and make a difference in their neighborhoods.
"The growing global crisis of refugees is difficult to fully grasp and quite overwhelming for the United Nations and partnering organizations. With this challenging situation comes a tremendous opportunity for the Body of Christ to practice what we preach," said WEA Representative to the UN, Deborah Fikes.
"As I participated in the webinar today, I was reminded of Christ's parable about the Good Samaritan. As followers of Christ, we cannot cross over to the 'other side of the road' and ignore refugees along our way as the religious leaders did in this parable," she added and said: "Jesus gave us our assignment for the refugee situation which is to 'love them as ourselves' and my prayer is that the powerful network that the WEA has with churches around the world will change the world for refugees."
The Global Refugee Crisis and The Local Church Webinar was recorded and can be found at the following link.

Learn more about the WEA's Engagement at the United Nations here
Related Article:
> WEA Invites Churches around the World to Celebrate World Refugee