People of faith face serious threats in over 33 % of all countries worldwide. This figure of 2012 is a steep increase from 20 % in 2007. An event at the UN Human Rights Council, co-hosted by the World Evangelical Alliance (WEA), focussed on the situation in four neighbouring countries in South Asia, India, Nepal, Bangla Desh and Sri Lanka. These countries all have a dominant religion which is increasingly helped by the government. Especially India raises worries with the recent change to a Hindu oriented government. Christians are a small minority in all four countries and face threats.
Keynote speaker was Prof. Heiner Bielefeldt, U.N. Special Rapporteur for Freedom of Religion or Belief. He emphasized the need to promote diversity of belief. He underlined that violence often comes from non-state actors but that the State is responsible for much impunity. The countries should be reminded that the dominant religion is a threatened minority in the neighbouring country.
From India advocate Tehmina Arora of the event organizer Action Defending Freedom documented the rising influence of the Hindutva ideology which claims India is a Hindu nation. Christians and often also Muslims are suffering under nationalistic Hindu activism. Six states have enacted anti-conversion laws, which is a sure sign of persecution.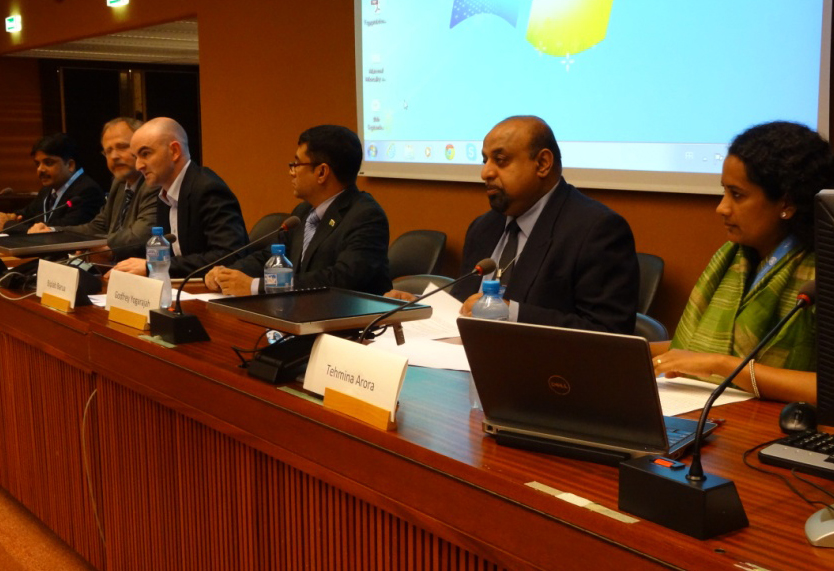 From left: Tanka Subedi, Prof. Heinrich Bielefeldt, Chairperson Matthew Jones, Biblap Barua, Godfrey Yogarajah, and Tehmina Arora. (Photos Courtesy of Adrian Hartmann, CSI)
From Bangla Desh came advocate Biblap Barua. He is the founder of a joint minorities lobby group in which Hindus, Buddhists and Christians joined hands. The relatively secular constitution of the independence after 40 years has been changed to the benefit of Muslims. The number of Hindu's has reduced dramatically from 25 % to 10 % of the population.
Nepal focuses the opposite threat. Pastor Tanka Subedi came from that country and sees serious threat for the constitution to be changed in favour of the Hindu's.
Rev. Godfrey Yogarajah, Executive Director of the WEA's Religious Liberty Commission and General Secretary of the National Christian Evangelical Alliance of Sri Lanka, informed the audience about Sri Lanka. The state officially takes the role of preserving Bhuddism. Evangelicals and Muslims face aggression and the state provides impunity for the Buddhist activists.
The event provided a powerful example of the inability of states to provide citizens fundamental Human Rights. In the name of harmony minorities are threatened while in neighbouring countries their fellow believers are at the receiving end. Anti-conversion laws or the plans to develop them play a key role in providing incentives for both state and non-state actors to clamp down on other religions.