Human trafficking is a complex issue that is picked by many: NGOS, the United Nations, criminal justice systems and the list goes on. Yet, increasing exposure through various media outlets, including social media, has people incensed.
At present, I work with Media Voice Generation as the Chief Operating Officer of a show called Context with Lorna Dueck. The show is produced out of the CBC building in downtown Toronto and features impacting societal issues. I also chair a Global Taskforce on Human Trafficking with the World Evangelical Alliance in New York as part of my role as Senior Advisor –Social Justice. All to say: three months ago I received a phone call from a young man wanting to fight human trafficking. We arranged a meeting, and he and his friend entered the office with longboards (a longer version of skateboards) under their arms.
Most people don't see the connection between long boarding and human trafficking. The two young men that proposed long boarding to raise awareness for those affected by trafficking found the link instinctive. A desire for change is passionately bridging that gap. Sparked by awareness, the two men responded to a call to action.
Passion to make a difference comes by being challenged in a variety of ways. Understanding how to cultivate awareness is important. Without having a feasible outlet or means of participating in change; it is easy to feel overwhelmed or slowly grow apathetic.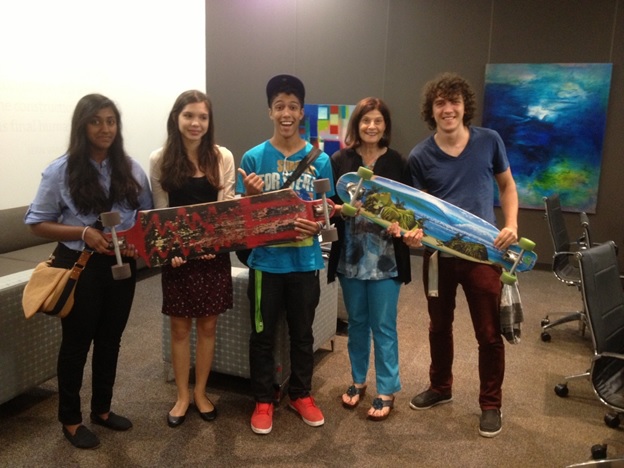 Commissioner Christine MacMillan (2nd from right) with young people eager to fight human trafficking with their longboards.
We are now establishing an organization with a mission statement which reads: "youth fighting human trafficking through longboarding." The premise of the campaign is to have longboarders ride from city to city, town to town, and as they enter the city precinct they are followed by children and youth on skateboards getting on board figuratively and literally. Imagine rallies of hundreds of youth where longboarders find their soapbox.
This simple platform, bursting with enthusiasm and life, does not neglect the complexity of the issue. It aims to take action that appropriately addresses human trafficking. Realizing that this is a multi-dimensional issue with large cause and effect factors; the resultant campaign is an awakened response. Core goals include the prevention of victimization of slaves and the unification of people to stand against trafficking.
This energy and desire could be seen as naïve but the power of harnessing the passion of this grassroots movement is crucial in promoting global action. Human trafficking is in the main stream of society. Defeating human trafficking may take more people using the lens of their passions and gifts to tackle the issue.

Commissioner Christine MacMillan is Senior Advisor for Social Justice at the World Evangelical Alliance and also chairs the WEA Global Human Trafficking Task Force.