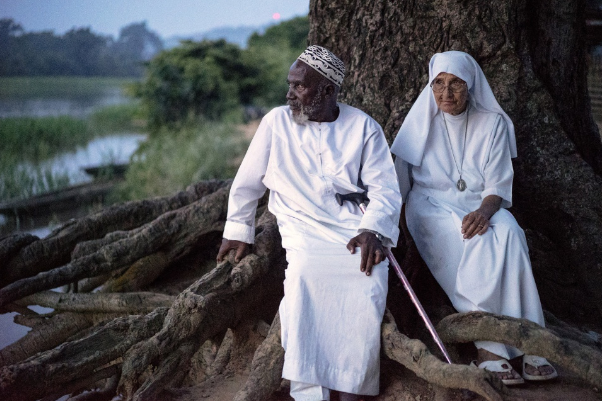 "I appeal to the UN and all international partners for the protection of Christians in the Sahel region… In many instances the church in the Sahel region is victim of religious radicalism," said Rev. Dr. Master Obolotswe Matlhaope, Secretary General of the Association of Evangelicals in Africa (AEA), on 9 December 2021 at a virtual expert discussion co-organized by World Evangelical Alliance together with Caritas Internationalis and Open Doors on the Role of Faith Communities and their Leaders in Promoting Peace and Social Cohesion in the Sahel Region. The event was organized in conjunction with the UNHCR High-Level Officials Meeting held in Geneva on 14-15 December 2021 to take stock of progress made in the implementation of the Global Compact on Refugees.
Rev. Malthaope called for collaboration towards Peace and Prosperity of the Sahel region. He stressed the importance of regional framework for transnational action by the Sahel countries that would help addressing cultural and religious relations, migrations, illicit financial flows and extractive industries, organized crime and religious extremism.
Over the past years, the Sahel region has become an epicenter of ongoing humanitarian, socioeconomic, ecological, and geopolitical crises that contributed to the displacement of millions of people within States and across borders. The Sahel region is predominantly made up of Muslim-majority countries, although there is a strong interfaith community which affords the Churches with a high level of trust and acceptance throughout the region. The purpose of our expert discussion was to relay the voice of local faith communities and faith-based institutions calling for the development of a joint strategic intervention for peace and social cohesion measures in all areas of humanitarian and development work and programs.
During the meeting, Fatoumata Lejeune-Kaba, External Engagement Coordinator of the UNHCR Office for West and Central Africa emphasized the significance of partnership with local faith-based actors and religious leaders to address root causes of forced displacement.
Rev. Matlhaope called for religious freedom in the Sahel region: He also emphasized an urgent need for help to deal with internally displaced people, "even though we know these are just symptoms of real problems, but because of the value of human life, there is urgent need that requires urgent attention." In conclusion, Rev. Matlhaope called onto all who believe in and share this vision of the Association of Evangelicals in Africa to come into partnership with AEA. "At the end, we believe that all religions and everyone, has a responsibility to build a peaceful co-existence and contribute to prosperity for all out of God's love."
Abbé Constantin Séré, Secretary General of Caritas in Burkina Faso,shared about the humanitarian situation on the ground and Caritas Sahel Peace strategy and support to local communities in promoting social cohesion and reconciliation. He cited an example of Burkina Faso as the most affected by armed attacks, extreme poverty and related humanitarian crisis in the Sahel region. "It is also fundamental to say that we also see and experience humanity, through the solidarity and hospitality of the host communities. They are the first to provide emergency aid, with the material, human and spiritual means at their disposal. These values are the very elements that underpin social cohesion and guide these life-saving actions," he noted.
Sani Hassane,  Religious Affairs Officer of Niger's Committee for Inter and Intra-Religious Dialogue (CIIDR), shared about Niger's uneven path towards peaceful inter-relegious cohabitation. He cited the example of the CIIDR that covers the country's all 8 regions and over 160 municipalities. "CDIIR is a purely local initiative inspired by a successful experience initiated in the north of the country" and "a young structure, working with limited resources". "It is a long-term fight that requires the pooling of resources, exchange of experiences," he concluded.
The event's moderator llia Djadi, Open Doors Senior Analyst on Sub Saharan Africa, invited everyone to reflect on how to translate existing peace and social cohesion initiatives into concrete actions and joint commitments to prevent forced displacement. Progress made in these directions would then be presented at the next Global Refugee Forum in 2023.
WEA, Caritas Internationalis and Open Doors agreed to continue engage with participants to encourage commitments to integrate peace and social cohesion measures into all areas of humanitarian and development work, projects, and programs by engaging religious leaders. The organizers hope to build a network of organizations dedicated to the intentional engagement with religious leaders in the Sahel region in the lead-up to the next Global Refugee Forum in 2023.