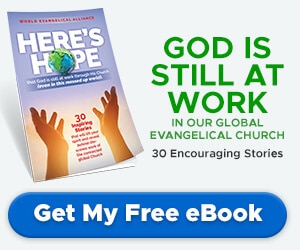 As we face rising inflation, as you and I have lived with separation from family and friends, and now as we are subjected to a daily feed of stories of war and global dislocation, I want to assure you that hope is real and available.
Rather than be depressed by a continuing stream of bad news, I want to offer you some good news, news made alive by the Gospel of hope, stories that come from my travels around the globe.
As Global Ambassador for the World Evangelical Alliance (WEA), in travelling the world, I've met courageous believers and witnessed the hand of God powerfully ministering to people during their suffering and challenges.
These encounters bring me great hope and in reading them, I think it will you too.
I've assembled 30 stories for your reading, from 30 different countries. They include:
Turkey – Where Faith Was Almost Snuffed Out
Kenya – A Canary in a Mineshaft
Ukraine – Which Road Ahead?
Palestine – Political Complexity is Not its Only Story
Nepal – A View From the Top of the World
Enjoy Here's Hope – a gift for you from the WEA, the global network of 600+ million evangelicals.
Sincerely,


Brian C. Stiller, Global Ambassador
World Evangelical Alliance
Author, Here's Hope