Bonn, Germany, 12 October 2022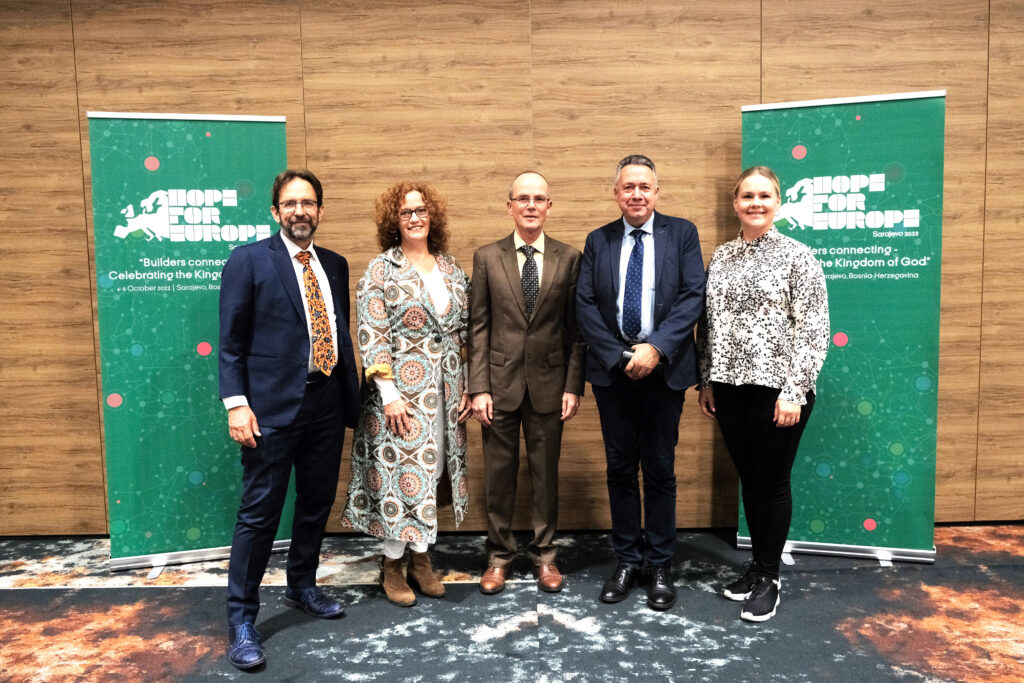 On Wednesday evening, 5 October 2022, long-time EEA General Secretary Thomas Bucher (Switzerland) officially passed the baton to the new leadership team of Connie Main Duarte (Portugal) and Jan Wessels (Netherlands). At the handover ceremony, EEA President Frank Hinkelmann gave the ceremonial address for Thomas Bucher and thanked him for his commitment to the EEA and the Evangelical movement in Europe.
The handover ceremony was part of the Hope for Europe 2022 Experience ("HOPE 2022"), in Sarajevo, Bosnia-Herzegovina. The special gathering, hosted by the European Evangelical Alliance, normally takes place every three years (last in Tallinn, Estonia in 2018, Covid resulted in a postponement of one year). It convened hundreds of evangelical leaders from across Europe to share strategies, best practices and valuable insights and to collaborate. The motto of HOPE 2022 was "Builders connecting – Celebrating the Kingdom of God".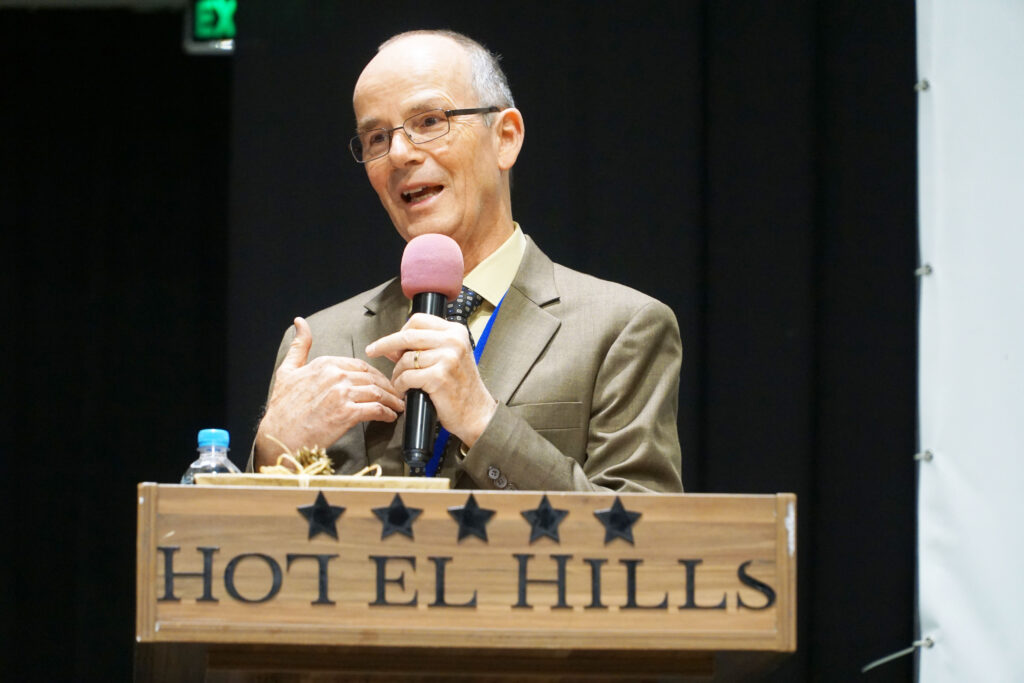 During the handover ceremony, Thomas Bucher responded to the laudatio that was given to him. Among other things, he said: "When I address all of you, it shows something of the richness of relationships in the EEA. It makes my heart thankful and humbles me. So many people are journeying together. Let me use my special picture once more: so many people coming to the dance floor and dancing together. So many united in the task to build God's kingdom in Europe and beyond."
Thomas Bucher also did not spare thanks to his long-standing colleagues and companions: "I want to thank all of you for how you have faced all of this with creativity, diligence and with much sacrifice. At this point I want to especially thank the EEA staff who have faithfully served and made possible what has been perceived as a benefit by many. Thank you, Julia [Doxat-Purser], Arie [de Pater], the Bonn office with Matthias [Boehning], Elisabeth [Doergeloh], Tanja [Dielmann] and others and Vitaly [Vlasenko] for bringing in the Eastern perspective. Thanks as well to the EEA board for all your support. I could go on and on in mentioning people who have made my EEA journey possible. There is not enough time for it. But I want to thank one person in particular: My wife Margrith. You have not only provided much appreciated support. You have been a companion. You have encouraged me when I was disheartened, you were a listening ear when I struggled with challenges and you were patient and encouraging when it felt like mountains falling on me. Thank you for your love and for your prayers!"
Thomas Bucher concluded his speech by saying: "To my successors, Connie and Jan, I wish joy, wisdom and strength and the knowledge of the presence of our Almighty God. The one who gave the EEA a unique task, the one who has sustained us and who will open up new horizons."
The full speech by Thomas Bucher can be read on the EEA website.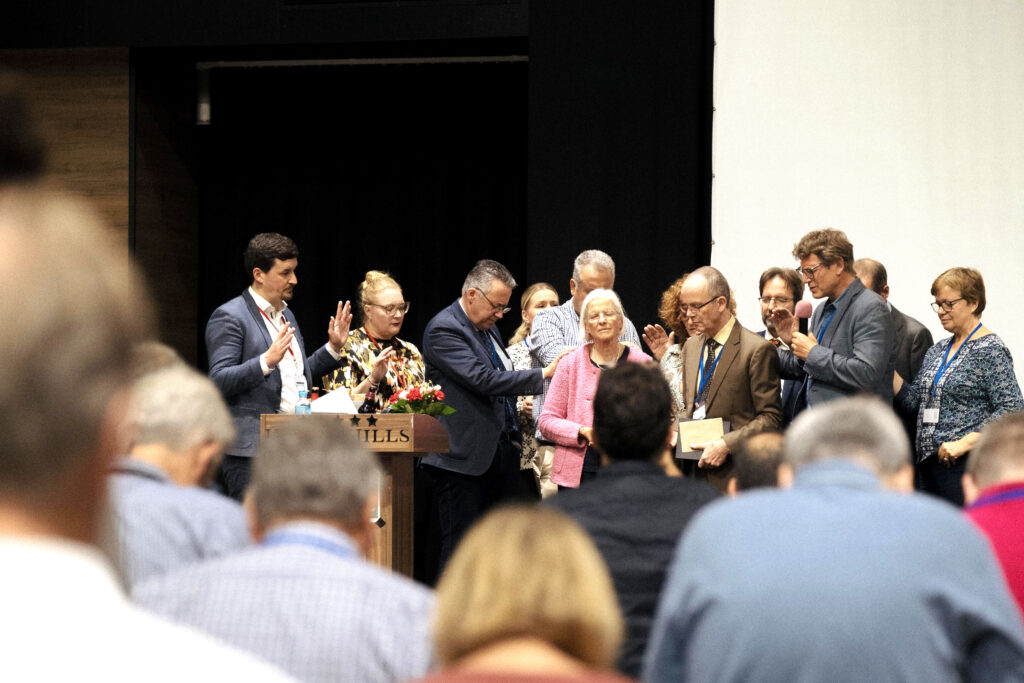 In their opening statements as the new General Secretaries, Jan Wessels began by saying, "We are still striving to see movements of Jesus followers glorifying God and serving people across Europe together, as Jesus didn't only give us the Great Commandment and the Great Commission, but also left us with the Great Commitment; to be one, so that the world will see and believe in Jesus as the Christ." Connie Main Duarte added, "We are incredibly grateful to Thomas and the staff team for working hard on the mission of the EEA and making it a reality. Our task now is to take the mission farther by looking closely at three areas; Connecting, Equipping and Representing, and asking key questions that will help us move forward in the coming year."
Links:
EEA website: http://www.europeanea.org
EEA Facebook page: https://www.facebook.com/EuropeanEA/
HOPE 2022 website: https://hopeforeurope.org/
HOPE 2022 Program:  https://hopeforeurope.org/programme
HOPE 2022 Speakers: https://hopeforeurope.org/speakers/