New York, NY - October 23, 2014

Mr. Edward Ong, Founder of the Sutera Harbour Resort & President of OCK Group, received the 2014 Entrepreneurial Leader of the Year Award at the annual Entrepreneurial Leaders Conference in Vancouver, Canada. The award that is sponsored by the Entrepreneurial Leaders Organization (ELO) and the World Evangelical Alliance (WEA) recognizes an individual who has exemplified Christian ethical behavior in the marketplace and has had a significant impact not only in the business community but society at large, locally and internationally.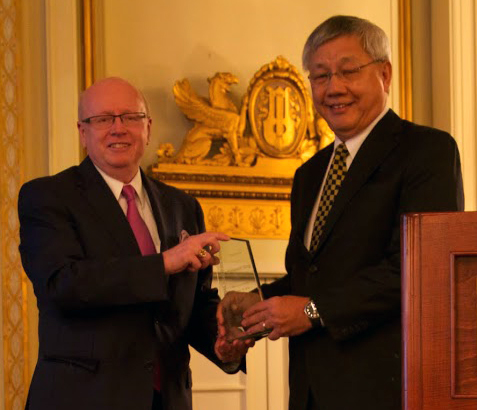 Dr. Geoff Tunnicliffe (left) presents the 2014 Entrepreneurial Leaders Award to Dr. Edward Ong.
Dr. Geoff Tunnicliffe, Secretary General of the WEA, said: "Dr. Edward Ong epitomizes the very essence of the Entrepreneur of the Year award. He is a man of great integrity and Christ-like compassion. Dr. Ong has clearly demonstrated his capacity to integrate his faith and business for the good of the greater society."
Mr. Ong is an accomplished builder and property developer. Through his OCK group in Singapore, he has completed numerous highly acclaimed projects including a hospital, hotels, condominiums and civil engineering works in three Mass Rapid Transit ("MRT") stations. The group operations also covered projects and assignments in Malaysia, Burma and the Commonwealth of the Northern Mariana Island – Saipan and Guam.
Currently, Mr. Ong is developing a resort in Dili, Timor-Leste that is expected to employ some 1,200 staff at completion. It will be a project focused on giving back to the society, to provide training to the local community and with the skills learned, to give them a chance of a better life for them and their families.
ELO and WEA established an annual Entrepreneurial Leader Award in order to acknowledge and celebrate the noteworthy and inspirational contributions of individuals to making faith-inspired difference in their communities.
A receiver of the award has to be an international stature with significant influence, who exemplifies the qualities of entrepreneurial leadership in a Christian worldview. A lifetime of achievement of influence in their chosen profession that is directly or indirectly related to Christian ministry and an outstanding reputation for integrity in terms of living out faith shall serve as role model to inspire other entrepreneurs to greater heights of significance.
"I am humbled to receive the Entrepreneurial Leaders Organization award knowing that there are many unsung heroes out there in the world that have dedicated their lives to seeking first the Kingdom of God and His righteousness in the marketplace and I wish to dedicate this award to these unsung heroes for their obedience," Mr. Ong said upon receiving the award. "To quote my mentor Rev Edmund Chan, 'Our ultimate goal in the market place is to glorify God, indeed our work is defined by our worship, distinguished by our walk and directed by His Word.'"

###

MEDIA CONTACT:
[email protected]
+1 212.233.3046


The Entrepreneurial Leaders Organization (ELO) is a network that aims to equip & inspire Christian entrepreneurial leaders through publications, conferences, and seminars & courses. The vision of ELO is to become the world's leading organization in this realm. For more info e-mail us at [email protected] or go to Eleaders.org.
Over two billion Christians in the world today are represented by three world church bodies. The World Evangelical Alliance (WEA) is one of those, serving and representing more than 600 million evangelicals. Launched in 1846 to unite evangelicals worldwide, the WEA continues to be a dynamic movement with 7 regional and 129 national Evangelical Alliances, and over 150 member organizations. WEA's mission is to speak as a trusted voice, to equip members and leaders for global impact and to connect its members and others for common action in the furtherance of God's reign. For more info e-mail at [email protected] or go to Worldea.org.