The vision of the Association of Evangelical Pastors of Paraguay (APEP) is to become an association focusing on strong Christian leadership, unity in the Spirit under the bond of peace, unity in faith and the knowledge of Jesus Christ in order to fulfill God's purposes. Our mission is to provide a support platform that may aid, recognize, document, reconcile, train and ensure that ministers associated to the gospel may fulfill their vocation to which they were called.
What can we thank God for in relation to the Association, from this last month (or year)?
At APEP, we thank God for the project called "Literature with a Purpose" which consists of training sessions for pastors and leaders. Also for the program called "Healthy Pastoral Family" which provides support and assistance to pastoral marriages and the Chaplaincy Evangelical ministry that is being installed in the public forces of the nation.
Could you share some examples of the positive impact the Association is causing in your region?
We can share that currently more motivation with respect to the ministry has arisen. APEP has helped to impact the region actively in several areas including marriage and family. For example, there were pastoral families about to break but in the end God healed on their marital relationship and also their relationship to their children.
Could you share some examples of the involvement and commitment to the public in their local community?
In the city of Villarrica a pastor and APEP representative for that city was recognized by the authorities of the city government as a benefactor and a role model for his charity work of building a foster home for street kids.
What are some of your prayer requests that we can publish on the site?
As a prayer topic, we request intercession so that Paraguay may further grow in unity among its pastors and churches.


Santiago Maldonado, President of the Association of Evangelical Pastors of Paraguay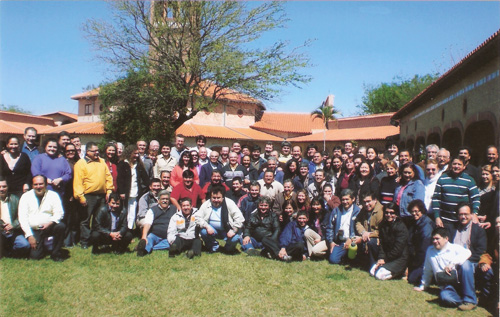 A Collective Photo Pastors Associated to the Association of Evangelical Pastors of Paraguay