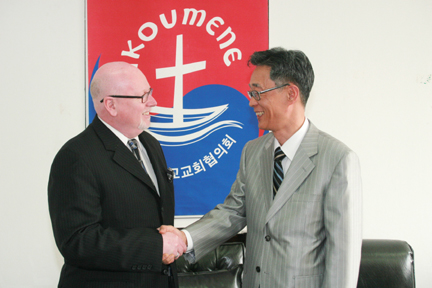 Geoff Tunnicliffe, International Director of the World Evangelical Alliance (WEA), returned to Canada Sunday, after completing his trip to East Asia .

The trip to East Asia began on May 7 in Thailand, where Tunnicliffe met with the leaders of the Evangelical Alliance regarding its preparations for the General Assembly 2008.

The tour then continued to Korea on May 8, where Tunnicliffe, accompanied by Dr. David Jang who serves as a member of the WEA's North American Council, met with South Korea's top Christian leaders in an effort to unite and build partnerships between the WEA and the churches in South Korea, which contain some of world's largest congregations.

The three main Christian organizations that exchanged greetings and collaboration proposals with the WEA are the Christian Council of Korea (CCK), the Korean Evangelical Fellowship (KEF), and the Korea National Council of Churches (KNCC).
In all of these meetings, Tunnicliffe met and conversed with key representatives about each other's ministries, as well as sharing their views on the world evangelical movement and touching on global issues such as poverty and AIDS.
"I was very encouraged by my visits and dialogues with the senior Christian leaders in Korea," said Tunnicliffe. "We are looking forward to ongoing strong ties with Korean evangelical community. We believe that the Korean churches have a very significant role to play in global Christian community and look forward to their full participation in the WEA. I deeply appreciate the wonderful hospitality of the Korean churches."
The WEA International Director then left on May 11 for Japan, where he met with the new chair of the Rev. Dr. Tatsuhiro Mineno."In a brief meeting with the new chair of JEA, I was impressed with the growing vision of Japanese Church to engage in a global transformational ministry," said Tunnicliffe and added, "I look forward to returning to Japan in September for strategic conversation with Japanese evangelical leaders."
World Evangelical Alliance (WEA): World Evangelical Alliance is made up of 128 national evangelical alliances located in 7 regions and 104 associate member organizations. The vision of WEA is to extend the Kingdom of God by making disciples of all nations and by Christ-centered transformation within society. WEA exists to foster Christian unity, to provide an identity, voice and platform for the 420 million evangelical Christians worldwide.