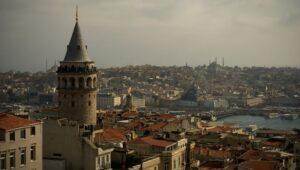 In the List of issues to be raised with the Turkish government, recently adopted by the UN Human Rights Committee at its 132nd session, the Committee experts have reflected some of the World Evangelical Alliance (WEA) concerns about the situation of evangelical Christians in Turkey.
The WEA report was submitted, along with the Turkish Association of Protestant Churches and the Middle East Concern in March 2021 to the attention of the experts, prior to their review of Turkey's compliance with its obligations under the International Covenant on Civil and Political Rights.
"We see the attention our reporting gained at the Committee as quite positive outcome, but of course are looking forward to the response of the Turkish government to the issues raised in the Committee's list", stressed the evangelical organisation.
Travel bans and deportations
The UN Human Rights Committee underscores the WEA's complaint on the travel bans on and deportations of non-Turkish Protestant religious leaders.
This was not the first time that the global evangelical body spoke about this issue in a UN Human Rights Council session. They already did so in 2020.
In the 2021 report, the evangelical entity had denounced that "since 2019 there has been a systematic campaign to label foreign Protestants as security threats. Victims learn either through the renewal process for their residency or when leaving the country, that they have been refused residency and re-entry into Turkey without prior approval,which is consistently refused".
"The restrictions have been issued by the Directorate-General for Migration Management, based on files submitted by Turkish Intelligence (MIT). The affected individuals and their legal representatives have not been granted access to MIT files, in violation of due process of law. None of the Christians denied permits and expelled has been convicted of committing any specific crime", the report says.
The WEA also explains that "most of the recipients of immigration restrictions were attendees at a completely legal Christian conference. It is assumed that foreign attendees were automatically put on a blacklist".
"Many have begun appeals, but Administrative Courts, as well as the Constitutional Court hearing appeals from Administrative Courts, have so far been unwilling to overturn the orders".
Taking all this into account, the UN Human Rights Committee has asked the Turkish government to "clarify which religions are recognized under the Government's interpretation of the Lausanne Peace Treaty, of 1923; and to respond to reports of travel bans on and deportations of non-Turkish Protestant religious leaders".
Protecting the minorities
The Committee has also raised WEA's general long-standing concern with regard to reservation to article 27 of the International Covenant on Civil and Political Rights (ICCPR).
The WEA report pointed out that "Turkey ratified the ICCPR, including article 27,which says that in those states in which ethnic, religious or linguistic minorities exist, persons belonging to such minorities shall not be denied the right, in community with the other members of their group, to enjoy their own culture, to profess and practise their own religion, or to use their own language".
However, they were concerned because "Turkey made a reservation to article 27, stating: it reserves the right to interpret and apply the provisions of Article 27 of the ICCPR in accordance with the related provisions and rules of the Constitution of the Republic of Turkey and the Treaty of Lausanne of 24 July 1923 and its Appendixes".
According to the WEA, "the reservation concerning Article 27 results in minority communities, not specifically mentioned in the 1923 Treaty of Lausanne, being marginalised and subject to the whims of national and local authorities. This applies to the Protestant community in Turkey".
That is why the UN experts have called on the Turkish government to "provide information on progress in withdrawing the reservation to article 27 of the ICCPR", in order to "ensure that all persons belonging to a minority are effectively protected against any form of discrimination, and can fully enjoy their rights under the ICCPR".]]>


<![CDATA[_en]]>
<![CDATA[field_5d8bb55cbfecb]]>


<![CDATA[es]]>
<![CDATA[]]>


<![CDATA[_es]]>
<![CDATA[field_5d8bb563bfecc]]>


<![CDATA[fr]]>
<![CDATA[]]>


<![CDATA[_fr]]>
<![CDATA[field_5d8bb569bfecd]]>


<![CDATA[_aioseo_title]]>
<![CDATA[]]>


<![CDATA[_aioseo_description]]>
<![CDATA[]]>


<![CDATA[_aioseo_keywords]]>
<![CDATA[]]>


<![CDATA[_aioseo_og_title]]>
<![CDATA[]]>


<![CDATA[_aioseo_og_description]]>
<![CDATA[]]>


<![CDATA[_aioseo_og_article_section]]>
<![CDATA[]]>


<![CDATA[_aioseo_og_article_tags]]>
<![CDATA[]]>


<![CDATA[_aioseo_twitter_title]]>
<![CDATA[]]>


<![CDATA[_aioseo_twitter_description]]>
<![CDATA[]]>


<![CDATA[_wp_old_date]]>
<![CDATA[2021-09-01