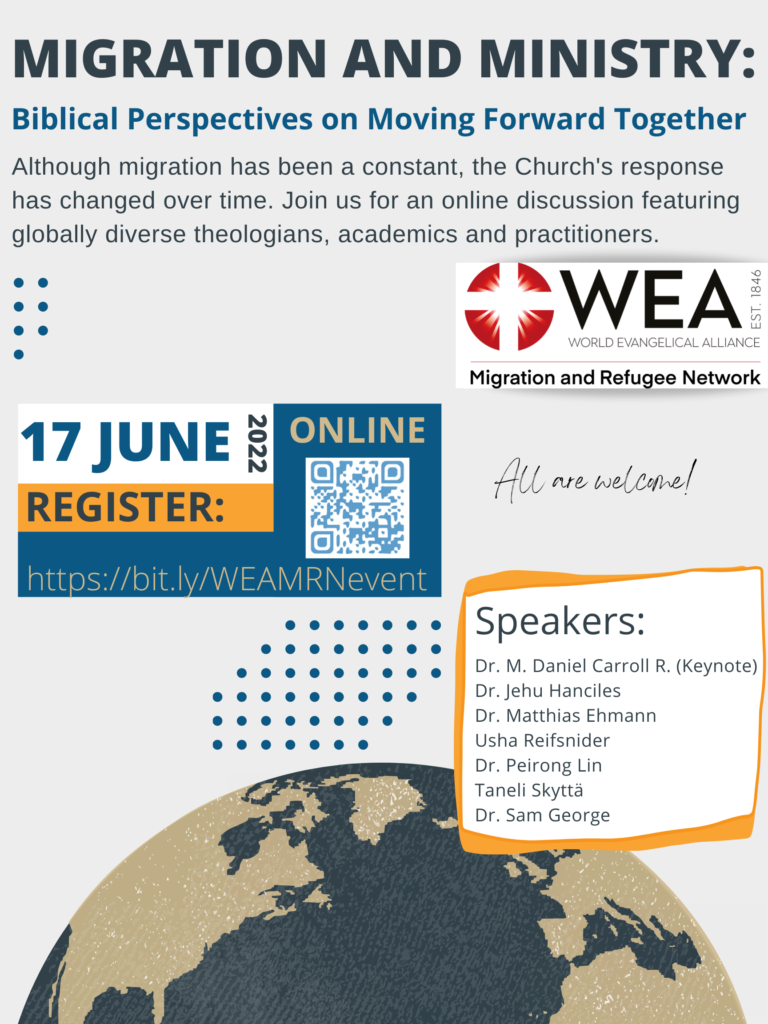 There is no one evangelical perspective on immigration. Human movements (forced and voluntary) are on the rise, and Christians and the church are increasingly divided in their response. The WEA Migration and Refugee Network (MRN) will convene an online conversation to share collective learnings and perspectives on ministry with diasporic people groups, on June 17th, ahead of World Refugee Day and World Refugee Sunday.
Date: Friday, June 17, 2022
Time: 9am-12pm (ET); 8-11am CDT, 1-4pm GMT; 2-5pm BST(UK)/WAT; 3-6pm CEST; 4-7pm EET; 6:30-9:30pm IST; 9pm-12am SGT
Understanding that the Bible is itself, a story of people on the move, the keynote and roundtable will unpack what the bible has to say about welcoming the "stranger", "soujourner", or "foreigner" in our midst. How can the church community come together to understand Jesus' teachings around (im)migration? The event will gather theologians and practitioners to
(i) share their diverse perspectives on ministry and humanitarian work with diaspora,
(ii) synthesize these offerings to arrive at some common understanding of the biblical call for attention to this area of ministry, in the hopes of moving forward together,
(iii) co-create a theological statement based on the conversation and consensus.
This will guide the development of resources to strengthen local congregations to receive and engage with migrant communities.
Purpose: To formulate a common theological framework that will be foundational to a Charter that will guide the work of the Migration and Refugee Network (MRN) of the World Evangelical Alliance and the resources, training and partnerships it will develop.
Structure and Speakers:
Dr. M. Daniel Carroll Rodas (Wheaton College) – Bible and Borders;
Dr. Sam George (Global Diaspora Network) – Diaspora Missions and Missionaries;
Taneli Skyttä (Kylväjä) – Practitioner perspectives on the context of reception and the role of the Church;
Dr. Jehu Hanciles (Emory University) – Migration and Early Christianity;
Dr. Matthias Ehmann (T. H. Ewersbach) – Spirituality of Migration and the place of Proselytism;
Usha Reifsnider (Lausanne Movement Europe) – Decolonial and Cross-cultural Missions;
Dr. Peirong Lin (WEA) – Migrants as Kingdom-Builders and the WEA approach.
Breakout rooms will be facilitated on each theme and these discussions will form the foundation of the theological framework.