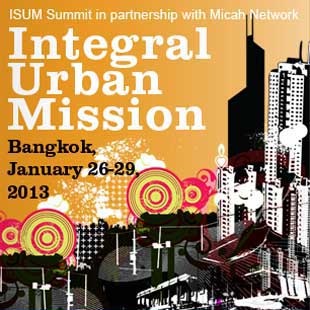 The first annual International Society for Urban Mission (ISUM) Summit will be held January 26th-29th, 2013, in partnership with the World Evangelical Alliance Theological Commission and Micah Network, a WEA global partner. This year's theme is "Integral Urban Mission".
Hosted at the Evangelical Church of Bangkok, the conference will be an interactive, participatory, four-day experience including hands-on, immersion opportunities and lectures, workshops and keynotes.
"We are looking forward to meeting together to build trust, wisdom and be inspired to better engage our new urban world! Through this Summit, our hearts are to "seek the peace of the city" (Jeremiah 29:7) for our various urban cities scattered around South East Asia and the globe," ISUM writes.
Key practitioner themes, best practices, reflective prayer, active bible studies, calls for collective action and case studies/story telling are some of the key features of the summit. Several of the speeches will also be used in the New Urban World journal.
The WEA encourages all national and regional alliances, along with partner organizations and evangelicals worldwide to get involved with ISUM and to share and learn from this important event.

Some of the keynote speakers and participants include:
Shane Claiborne – The Simple Way, Philadelphia
Dr. Ruth Callanta – Center for Community Transformation, Manila
Dr. Sonny Tha Nyan – General Secretary YMCA, Yangon
Dr. Ash Barker – Urban Neighbours of Hope, Bangkok
Wallace and Mary Kamau – Missions of Hope International, Nairobi
David Bussau – Founder, Opportunity International; President, Wholistic Transformation Resource Center, Manila
Dr. Rosalee Velloso Ewell, Executive Director – World Evangelical Alliance: Theological Commission, San Paulo/Birmingham
Dr. Viv Grigg, International Director of MA in Transformational Urban Leadership – Azusa Pacific University, Auckland/L.A.
For more information, go to www.newurbanworld.org/summit/ or read the online brochure. Register for the summit at www.newurbanworld.org/summit-registration/.