By Evangelical Focus
The European Evangelical Alliance wants to "promote and live diversity because we know that our mission requires perspectives and contributions from all spheres of society", it said as this year's General Assembly was announced.
"Only in this way can we see God's kingdom come to this continent in all its beauty and power", believes the leadership of the body representing around 23 million evangelical Christians in Europe.
From Monday 7 June to Thursday 10, "we will go in search of talents, in and outside our daily environment, and reflect together on what the other can contribute to our common mission and how we can work side by side in our ministries".
The annual gathering connects leaders of national Evangelical Alliances in the continent, affiliate organisations and the known as Hope Networks.
The online event will include Bible studies, thematic lectures, input from projects in different countries, and times to share and meet new people doing mission in Europe.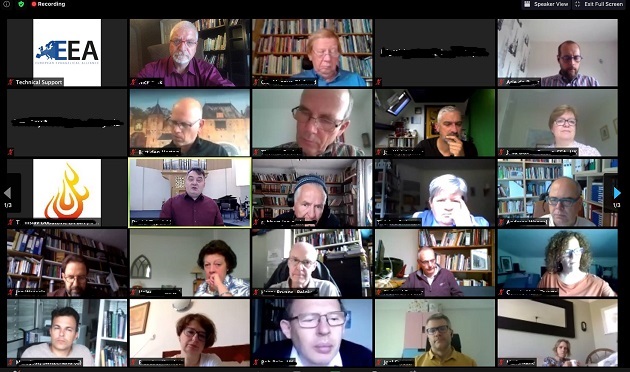 The 2020 General Assembly was held online as well. / Photo: EEA
It is also a chance for any evangelical Christian with a desire to know more about to join the conference and get a continental vision of Evangelical Movement.
"Building the Kingdom of God in Europe is a mission we can only accomplish together – all generations, social milieus, and cultures hand in hand".
Learn more details about the 2021 EEA General Assembly and how to register here.]]>


<![CDATA[_en]]>
<![CDATA[field_5d8bb55cbfecb]]>


<![CDATA[es]]>
<![CDATA[]]>


<![CDATA[_es]]>
<![CDATA[field_5d8bb563bfecc]]>


<![CDATA[fr]]>
<![CDATA[]]>


<![CDATA[_fr]]>
<![CDATA[field_5d8bb569bfecd]]>


<![CDATA[_aioseo_title]]>
<![CDATA[]]>


<![CDATA[_aioseo_description]]>
<![CDATA[]]>


<![CDATA[_aioseo_keywords]]>
<![CDATA[]]>


<![CDATA[_aioseo_og_title]]>
<![CDATA[]]>


<![CDATA[_aioseo_og_description]]>
<![CDATA[]]>


<![CDATA[_aioseo_og_article_section]]>
<![CDATA[]]>


<![CDATA[_aioseo_og_article_tags]]>
<![CDATA[]]>


<![CDATA[_aioseo_twitter_title]]>
<![CDATA[]]>


<![CDATA[_aioseo_twitter_description]]>
<![CDATA[]]>


<![CDATA[_wp_old_date]]>
<![CDATA[2021-06-07