By Rev. Dr. Brian Winslade, Deputy-Secretary-General, World Evangelical Alliance
As some countries around the world feel like they're turning the corner on Covid-19, others are plunging into deep despair and chaos. One of those is the nation of Nepal, nestled in the foothills of the Himalayas.
World media has rightly focused on the devastation Covid is reeking across neighboring India, as it grapples with a lack of oxygen and ICU beds. Perhaps forgotten are nation-states on either side of its borders, where exported infections are rampant and health care infrastructure weaker. Nepal is one of those and the projections on how it will fare are dire.
The situation in Nepal became personal for me the other day as news arrived of the death of a dear friend and pastor of an influential church in Nepal. Pastor Amber Thapa, the founding pastor of the Stuti Prashansa Church in Lalitpur, Kathmandu, was hospitalized and lost his battle with Covid-19. Not even five feet tall, he was a "giant of a man" in the Lord – having formerly endured imprisonment for preaching the gospel. But Covid is no respecter of persons, and many churches are likewise experiencing the tragic loss of their shepherds, at a time when the church needs its leaders.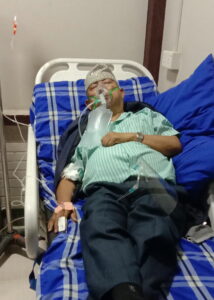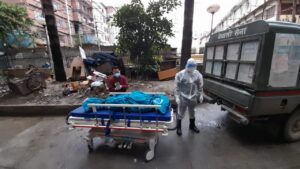 The first wave of Covid primarily struck its major cities; a second and more deadly wave is sweeping through the villages where most of the population lives. Having lost work in urban centers and neighboring India, many Nepalis returned to their village homes, bringing Covid with them. The impact is predicted to be devastating as lack of medical infrastructure, let alone well-equipped hospitals to treat infected patients, is a recipe for disaster on an unprecedented scale. The bodies are literally piling up. Those of Christians are often treated even worse. My dear friend Pastor Thapa's body was bagged, tied up with rope and incinerated by the army.
Nepal is a special country for me. Having visited there six times in the last six years, it is an amazing case study of how the Christian gospel spreads. In the 1960s the number of Christ-followers numbered a handful at best. Today, in the space of two generations the number of Christians is estimated at around three million – roughly ten percent of the entire population. Nepal is arguably the fastest growing church in the world, and largely without the imposition of foreign mission agencies and denominations exporting their models. The Christian church in Nepal is not only viable but thriving. And they are committed to serving their poor and suffering in the Name of Christ, seizing this opportunity as the church's finest hour.
WEA is supporting the National Churches Fellowship of Nepal (their national evangelical alliance member), and its sister organization, the Nepal Christian Society, in an ambitious plan to provide help to thousands of families devastated by Covid. Between these two organizations, ninety-five percent of Nepal's churches are represented. Rev Hanok Tamang, Chair of NCFN, describes the situation in Nepal as "getting worse each day, escalating number of positive cases with rising death toll." He described the situation as being "horrendously excruciating, we have many pastors in hospital beds, in ICU Wards, and on ventilators." However, the number of available medical resources is simply insufficient for current and expected needs.
Rev Hanok recounted a phone conversation with the pastor of a growing church that epitomizes both the dilemma they face and their resolve to serve: 
"[We have] no idea, what transpires in next hours or minutes; God only knows. But let us seize every moment available, to be resourceful to help people in need. This morning we saw a tragic scenario of several people in hospital beds, struggling with death and life, asking and seeking for oxygen . . . if [the] current situation continues for few more weeks, cities can become [like a ]graveyard with pin-drop silence."
Rev Mukunda Sharma, Secretary of Nepal Christian Society, outlines their plan to help families devastated by Covid. Household food supplies, along with health and PPE resources, are planned for as many as 10,000 households at a cost of around US$35 a package. As funds permit, they also have plans to purchase oxygen and medical supplies and pay hospital doctor and ambulance fees in a bid to save lives including those of pastors who have been leading this explosive church growth. But the church in Nepal stands ready to do what it can to serve those they can with the practical love of Christ. The WEA invites the world to partner with the church in Nepal in this twenty-first century parallel to how the New Testament church responded to a famine in Judea, where many from far and wide partnered with the church amid the crisis.


But the devastation of Covid-19 is not the only threat to the Christian community in Nepal. The current Nepali constitution renders it technically illegal to proclaim the gospel, which could even be as loosely understood as walking down the street carrying a Bible. Those guilty of solicitation can face a fine of up to US$5000 or five years imprisonment. This is not the first time restrictive legislation has been imposed in Nepal, influenced by militant Hindu politicians on both sides of the Indian border. But the Christian community is undeterred in its resolve to preach the gospel. 
In early April, Hindu nationalists circulated a forged and fake document on social media alleging Christian groups have outlined a plan to cause ethnic rifts among Hindus to convert them. Pro-Hindu Rastriya Prajatantra Party (RPP) leaders stated: "Organized conversion is punishable under the constitution. Such acts that destroy national identity and disrupt cultural harmony should be dealt with immediately in accordance with the law." The WEA Global Advocacy department is taking up this flagrant abuse of human rights and religious freedom through its representation to the United Nations and other diplomatic channels.
The church in Nepal desperately needs our prayers and our practical support. The challenges they face are daunting. As the apostle Paul encouraged us in his seminal description of the body of Christ, " If one part suffers, every part suffers with it." (1 Corinthians 12:26)
]]>


<![CDATA[_en]]>
<![CDATA[field_5d8bb55cbfecb]]>


<![CDATA[es]]>
<![CDATA[]]>


<![CDATA[_es]]>
<![CDATA[field_5d8bb563bfecc]]>


<![CDATA[fr]]>
<![CDATA[]]>


<![CDATA[_fr]]>
<![CDATA[field_5d8bb569bfecd]]>


<![CDATA[_aioseo_title]]>
<![CDATA[]]>


<![CDATA[_aioseo_description]]>
<![CDATA[]]>


<![CDATA[_aioseo_keywords]]>
<![CDATA[]]>


<![CDATA[_aioseo_og_title]]>
<![CDATA[]]>


<![CDATA[_aioseo_og_description]]>
<![CDATA[]]>


<![CDATA[_aioseo_og_article_section]]>
<![CDATA[]]>


<![CDATA[_aioseo_og_article_tags]]>
<![CDATA[]]>


<![CDATA[_aioseo_twitter_title]]>
<![CDATA[]]>


<![CDATA[_aioseo_twitter_description]]>
<![CDATA[