September 7, 2017
The World Evangelical Alliance (WEA) successfully concluded the first Fellowship of Emerging Leaders (FEL) training program, held at its Evangelical Center in Dover, New York. Ten younger leaders from eight African and Asian countries participated in the 12-week pilot-program focused on equipping a new generation of Evangelical Alliance leaders, featuring lectures, internships, special projects and field trips.
Upon completing the program, the participants from Burkina-Faso/Kenya, Ghana, Guinée-Conakrie, India, Madagascar, Myanmar, Pakistan, and Sri Lanka were presented with certificates. Their respective supervisors then prayed for them and sent them off to their respective Evangelical Alliances to each apply their training in their own settings.

FEL participants each received their certificates of completion during a closing ceremony.
"We are very pleased with the results of this pilot-run of the FEL program. We had outstanding participants who accomplished a lot in these three months and have visibly grown in their stature as leaders," commented Bp Efraim Tendero, Secretary General of the WEA. "Their level of engagement, the quality of their work, and the depth of our conversations we had all make me confident that these young men and women are poised to be mature and effective leaders not only in the future, but already in the present."
The FEL program featured over twenty interactive lectures on different aspects of leadership delivered onsite and online by a variety of speakers, including Regional and National Alliance leaders, heads of WEA Commissions and other subject matter experts. The internships gave them opportunities to work alongside WEA leaders and staff in public engagement, communications, administration, membership, and women's issues, allowing them to gain hands-on experience in serving Evangelical Alliances at the global level.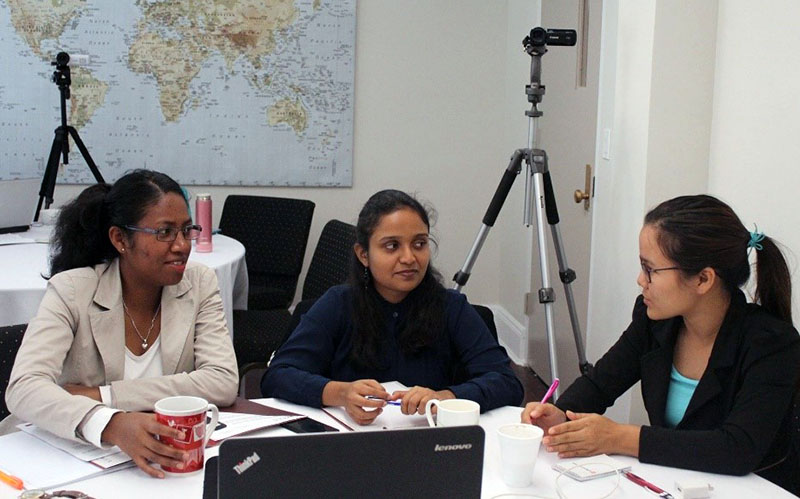 Each lecture featured interactive times of discussion and group activities to apply what they learned.
Part of their week was focused on team-work on special choice projects, which included a new online resource site for WEA (wea-library.org), a national Alliance mapping project (not yet public), and an exciting project to promote a global young evangelical identity called #WeAreEvangelicals (weareevangelicals.org).
Field trips were organized to New York City, including a visit to the United Nations Headquarters, and several days in Washington D.C. They met with leaders of the National Association of Evangelicals, WEA's national member body in the United States, and got to enjoy a media work shop by the Christian Media Corporation that provided them with insights into how Christian and secular journalists work and how they as leaders can best engage with media professionals.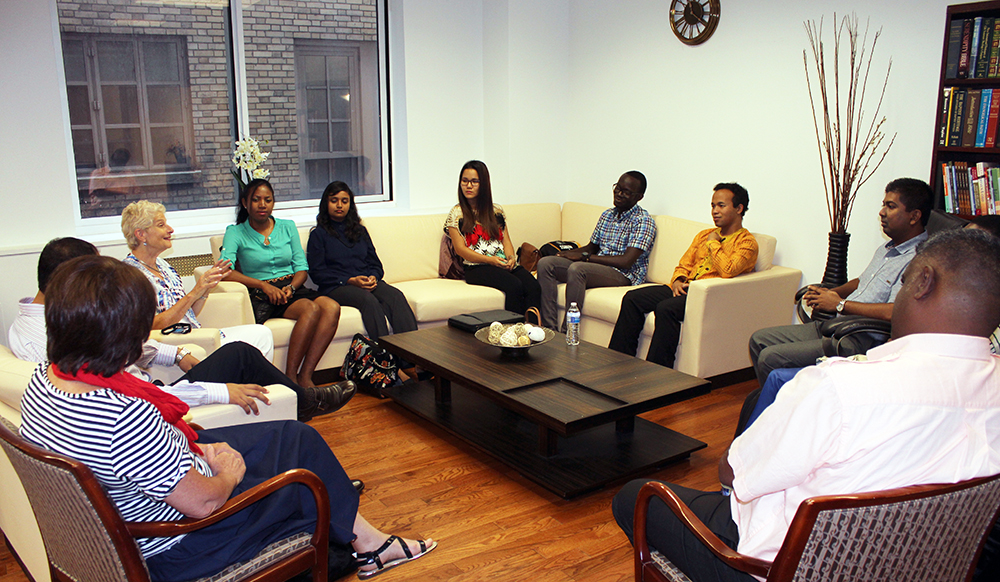 Meeting at WEA's New York City office, Comm. Christine MacMillan, Associate Secretary General for Public Engagement, explains WEA's engagement at the United Nations and challenges participants to reflect on public engagement from a Biblical perspective.
Living together in a large guesthouse, participants spent considerable time in community, which allowed them to build strong relationships and get to know different cultures close-up. Morning devotionals, worship and prayer times, and visiting local churches in the area on Sundays provided a spiritual foundation.
"The summer passed quickly and these excellent, hardworking, and studious interns will be missed in the WEA office as they return to continue to serve and impact the Evangelical Alliance in their countries," Dr. Rob Brynjolfson, WEA's Director of Leadership Development, commented. "I am confident that gaining a global vision for the work of our Evangelical Alliances, developing a network of like-minded younger leaders, and learning in the FEL community will prove to be a memorable investment for these younger leaders and for the Alliances they serve in their home countries."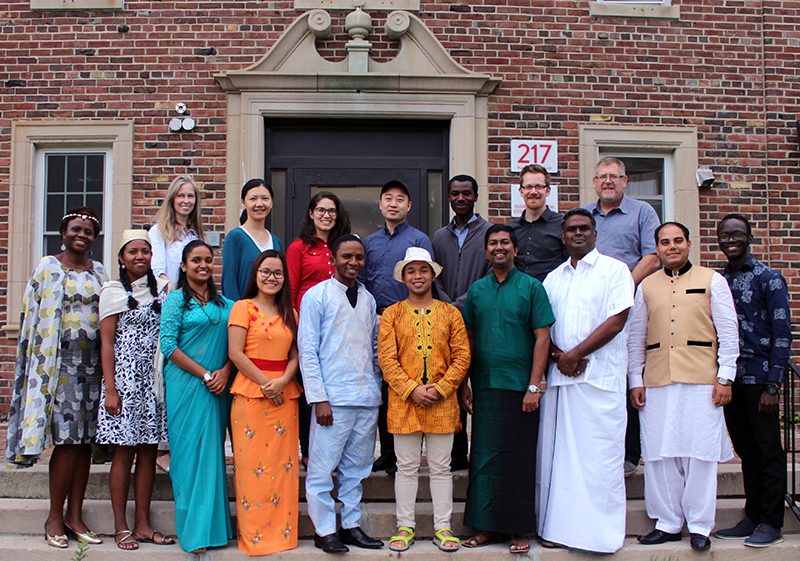 FEL participants (front row) with WEA staff (back) at the Evangelical Center in Dover, NY.

See also:
– WEA Pilots Fellowship of Emerging Leaders Program at the Evangelical Center
– FEL2017 Facebook page, with pictures and videos
– wea-fellowship.org, for more information about the program

###

MEDIA CONTACT:
Timothy K. Goropevsek
[email protected]
+1 212.233.3046

Over two billion Christians in the world today are represented by three world church bodies. The World Evangelical Alliance (WEA) is one of those, serving more than 600 million evangelicals. Launched in 1846 to unite evangelicals worldwide, the WEA continues to be a dynamic movement with 7 regional and 129 national Evangelical Alliances, and over 150 member organizations. WEA's mission is to establish and strengthen regional and national Evangelical Alliances, who in turn enable their national Church to advance the Good News of Jesus Christ and effect personal and community transformation for the glory of God. For more info, e-mail [email protected] or go to Worldea.org.