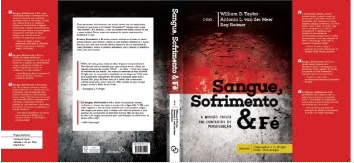 PRESS RELEASE
Sorrow and Blood awarded for excellence at International Christian Book Fair
August 2015
The Brazilian version of the WEA MC Publication Sorrow and Blood, Sangue, Sofrimento e Fé, was presented at the International Christian Book Fair (FLIC) in São Paulo, a strategic event for Christian Publishers. It received the Aretê Premium on the evening of the 12th of August, for the best book in the area of Mission.
The conception of the book goes back to the missiological consultation in Iguassu, 1999. The editorial team of William Taylor (USA), Tonica van der Meer (Brazil), and Reg Reimer (Canada) worked over six years to compile this unique Biblical, historical and case study anthology. The book is the product of the WEA Mission Commission's global missiology task force and a worldwide team of committed colleagues and writers. Some 62 writers from 23 nations have collaborated to generate this unique global resource and anthology. Ajith Fernando of Sri Lanka and Christopher Wright of the UK each wrote prefaces to the book.
"For most of us it is incomprehensible the suffering that our sisters and brothers have endured in many places around the globe for the sake of the Gospel. Sorrow and Blood is the best effort done by evangelical reflective practitioners to provide a comprehensive description and a deep analysis of what Christian suffering and martyrdom mean and what the situation looks like today. This is not just another book produced by the Mission Commission of WEA, but one of the most profound and challenging to read, particularly if you do it with an open mind and a warm heart," said Bertil Ekström, Executive Director, WEA Mission Commission
It was translated into Portuguese under the title Sangue, Sofrimento e Fé. The translation and revision for the Portuguese version was coordinated by Tonica van der Meer, with the invaluable help of Marta Carriker, Lícia Rosalee Santana, Enedina Sacramento and a few other volunteers.
"The production of mission books in Portuguese has grown amazingly the last years. The Aretê reward is the highest recognition in Christian spheres of excellence and relevance. The fact that the Portuguese version of Sorrow and Blood (Sangue, Sofrimento e Fé) received the premium this year is not a surprise though. The book really deserves the recognition, owing to the importance of the theme and the global diversity of highly qualified authors," Ekström added.
To order a copy of Sorrow and Blood, or its translations, please refer to the website: http://www.sorrowandblood.com/
Ends