The Global Task Force on Human Trafficking of the World Evangelical Alliance (WEA) will be meeting in Canada to further strategize it's objectives. By intention it does not meet behind closed doors exclusively. Within the community where the meeting takes place, an invitation was extended to local churches to co-sponsor an awareness day under the banner: "What's Human about Trafficking?"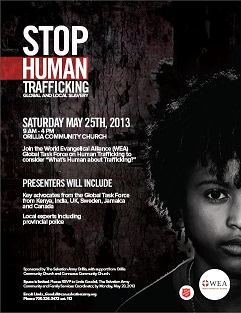 Speakers from the Global Task Force will share means of intervention in exposing a light on the hidden atrocities of trafficking from all continents. Local speakers have been selected to empower their community to respond with the knowledge of awareness. Participants on the day will express concern through a multi-sensory lens of creativity.
A young teenager will present her slam poem on labour trafficking and youth musicians will call us all to join our voices in lament with determined effort. Speakers of experience from the police force to a men's movements against human trafficking will point to a collaborative ground swell of addressing the issue with strategic compassion.
Already the newly formed committee under the supportive direction of Commissioner Christine MacMillan, Chair of the WEA Global Task Force, is making news in the local media. Plans have been set to build the Awareness Day from talking about trafficking to further equip it's neighbourhood to pursue alternatives where trafficking diminishes the dreams and dignity of it's victims.

Christine MacMillan, Commissioner
Chair, Global Task Force on Human Trafficking
World Evangelical Alliance

The event takes place on Saturday, May 25th, 2013 from 9am-4pm at Orillia Community Church, ON, Canada. Download the flyer for the event here.
Space is limited. Please RSVP to Linda Goodall, The Salvation Army Community and Family Services Coordinator, by Monday, May 20, 2013. Email: [email protected]; Phone: 705-326-3472 ext. 112