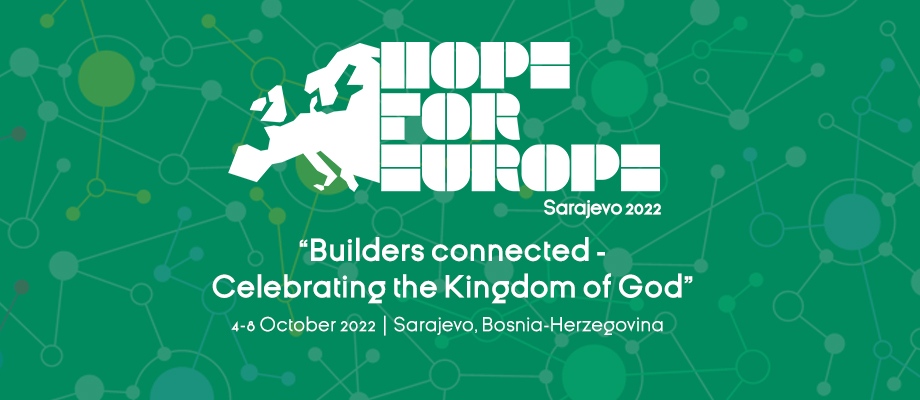 By European Evangelical Alliance
From 4th to 8th October 2022 the next HOPE conference under the title "Builders connected – Celebrating the Kingdom of God" will take place in Sarajevo / Bosnia-Herzegovina. The conference is being organized by the European Evangelical Alliance (EEA) together with partners and other co-organizers. Over the course of the next months, we will gradually provide further preparatory information and a registration option on the EEA website.
The EEA team is super excited and looking forward to this major event – hopefully with many of you participating. At the HOPE conferences we celebrate the whole spectrum of the European Evangelical Alliance Movement. We look forward to participants from all European countries and from a wide variety of working/ministry/mission backgrounds: representatives of the National Evangelical Alliances, representatives of the thematic EEA Hope for Europe networks, representatives of the EEA Affiliate Members (organizations and ministries active across Europe) as well as mission-oriented believers from all walks of life.
The HOPE conference in October 2022 is planned as a hybrid conference, so that large parts of the program can also be experienced decentrally via digital channels. The physical part of the conference will take place in Sarajevo / Bosnia-Herzegovina. Ringed by mountains, Sarajevo is a singular city with an enticing East-meets-West vibe all of its own. It was once renowned as a religious melting pot, earning it the epithet 'the Jerusalem of Europe'. Within a few blocks you can still find large Catholic and Orthodox cathedrals, Ashkenazi and Sephardic synagogues, and numerous mosques. However, the Jewish population was decimated during WWII and Sarajevo is now a divided city, with most of the Orthodox Christians living in Istočno Sarajevo (East Sarajevo) on the Republika Srpska side. Not least against this background, Sarajevo appears to us to be a very suitable place to host the HOPE conference. In addition, the city's central location in the Balkans offers many of our friends in Eastern Europe and Southeastern Europe the opportunity to participate personally by rather short journeys to and from the conference.