Ten days after the war broke out, a mostly female team of Children's Mission – a Ukrainian NGO tasked with training and equipping ministers for serving children, gathered to decide what they can do to help. They had no resources to evacuate refugees or provide humanitarian aid, but what they did have was unique expertise and dedication to serving children. Soon after, they started to release weekly Bible lessons for young kids – to assist many ministers who, among the chaos and rush to help refugees, did not have the time or emotional capacity to prepare their own lessons. Even those who stayed close to warzones, where almost no children remained, said that the weekly publication gave them a sense of stability – even in all the pain and destruction of war, someone was releasing Bible lessons!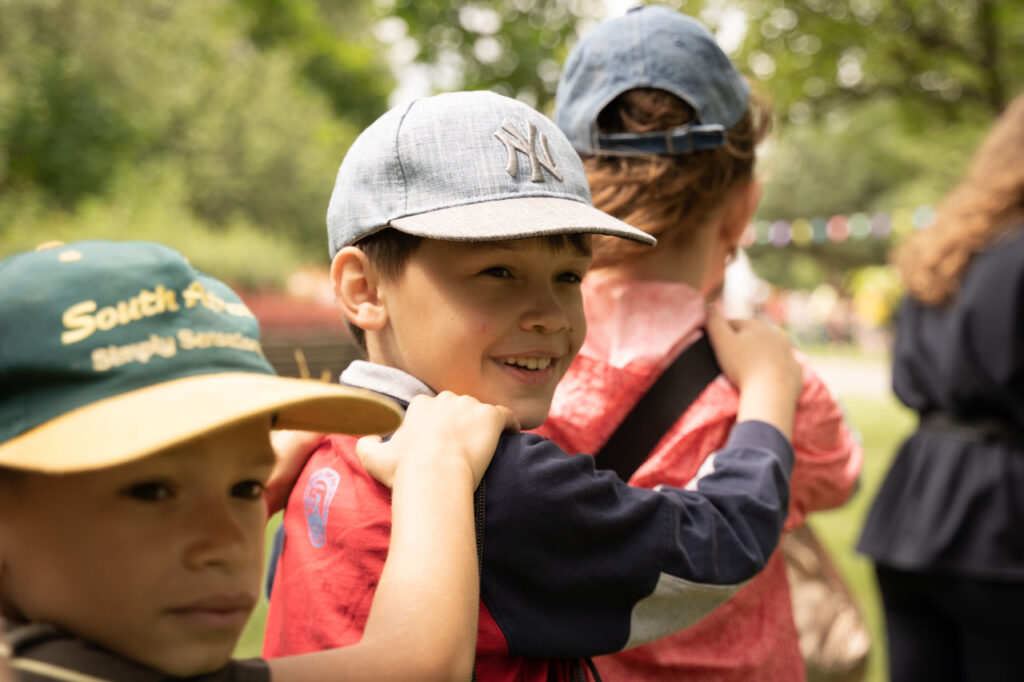 Behind the scenes, there was another project developing. In the first days of the war, the leader of Children's Mission, Lyudmila Bryn, was asked to give a professional assessment of the OpSafe trauma care camp initiative – a framework of 5-day day camps, focused on providing psychological first aid to young (6-12 years old) children who suffered from traumatic events, such as natural disasters – and war. While reading their program, she became interested in implementing it in Ukraine. Soon after, she contacted the author of the program, Jonathan Wilson, and their cooperation began. In the following months, the Children's Mission team was discussing and preparing to use this program in Ukraine.
At the same time, Marina, a young art manager from Western Ukraine got a call from her friends who were aware of Children's Mission's plans to start a trauma care program in Ukraine. They knew she would be interested – she loved working with children, having experience with schools and church camps. Marina agreed to participate and went to Krakow with the Children's Mission team to receive training from OpSafe.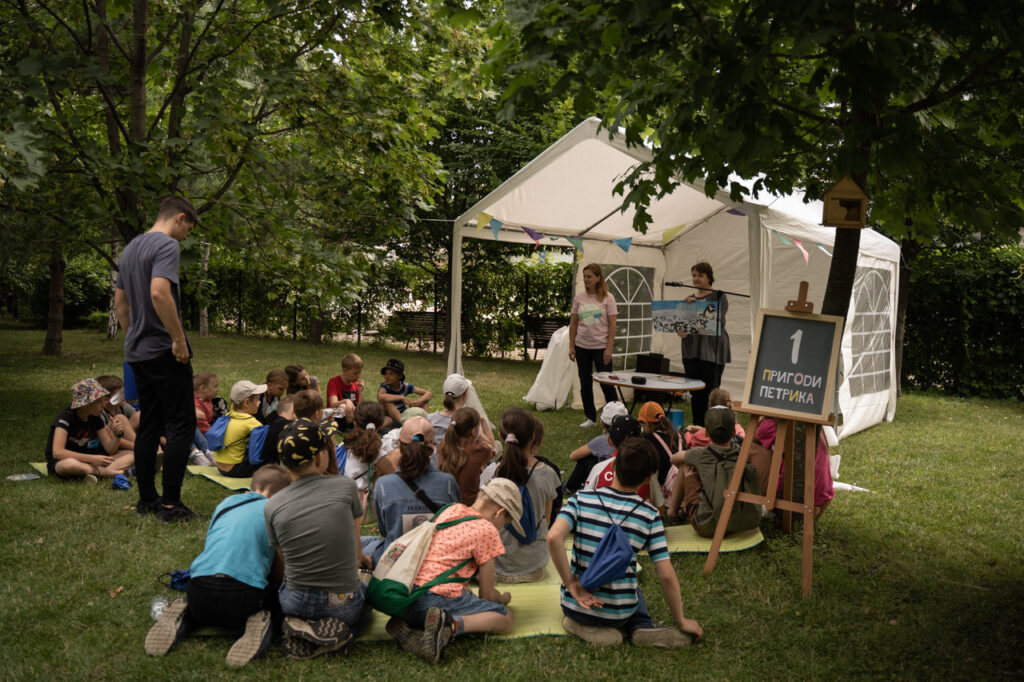 OpSafe camps are organized in a format of a 5-day Vacation Bible School, located in a population center, where children usually spend up to 4 hours a day. However, in Ukraine's case, the camps went on for longer – it was not safe for children to go home by themselves, so they often stayed for up to a full day, causing teams to extend and supplement the program as they progressed. In the camps, children are split into small groups, and each group is assigned a mentor who helps children throughout the camp. The 5-day program follows a specifically designed therapeutic story – an illustrated journey that follows neutral animal characters. Every day, there is an underlying theme, called "Truth of the Day", a featured story character, and 6 "stations" the children go through to deepen their understanding of the Truth. Among them, there is a Bible station, where children have a Bible lesson with their mentors, and a Heart station, where they are taught therapeutic stress relief exercises.
In late May, OpSafe finished training the Children's Mission team alongside other volunteers – Marina among them. The CM team returned to Ukraine and began training independent teams from all around the country. Simultaneously, Marina sprung into action. Her church had a center for internally displaced people, and she immediately began organizing a camp for them and other children from her church. In mid-June and early July, she prepared and conducted two camps for IDPs and local children – one was held as a full-day camp in the mountains, reaching 35 children, and the second one – as a half-day camp for a local IDP shelter. While the first camps were especially hard – Marina recalls – she was absolutely astonished by the amount of interest children had in the therapeutic story – "…they were absolutely fascinated." Marina also shared the most common emotion of IDP children – "Most often, children are worried about their relatives who remain on occupied territories and their pets – a lot of elder people refused to leave, and sadly most families did not take their pets. Children were mourning the loss of their pets, those feelings were very deep."
Marina was one of the first volunteers to organize a camp, but she wasn't the only one – Olga, a refugee from Mariupol who managed to miraculously escape just months before and now lived in Lviv, has decided to join the effort. She was trained and assisted by CM mentors, and in mid-summer, she organized her first camp for 15 children refugees from Eastern Ukraine. At first, Olga was not convinced non-believer kids would be interested in the Bible-based program – "I was not sure that people from non-believer families would want to repeat Bible verses so many times. I was thinking it would be boring for them. CM taught me how to make it interesting, and I saw non-believer families repeat 5 Bible verses simultaneously. I saw a child from a totally agnostic family impatiently say, "let's pray now!". The camp was a success, and they decided to hold another one in late August – for another community of IDPs in a nearby village, totaling 30 children.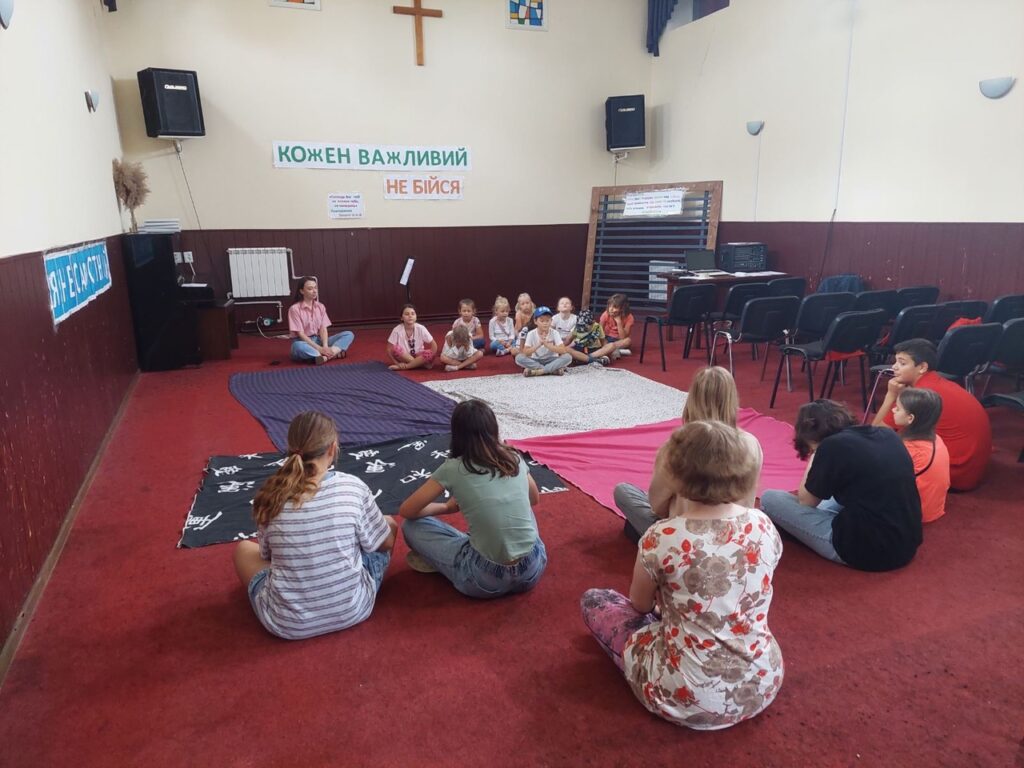 During the summer, teams that were trained, assisted, and supervised by Children's Mission organized 31 camps, reaching over 1700 children. According to Children's Mission, 80% of children complete the camps with little issues, returning to their childhood and working on their trauma. 15-20% of children discovered deeper trauma, and 2-5% require more complex psychological help and are being directed to local certified professionals. Olga, Marina, and Luydmyla all came to the same conclusion after organizing their own camps – children are engaging, healing, and slowly returning to their lost childhood.
The next challenge for OpSafe and Children's Mission is the school year – the format of education is still undecided, and will likely vary between different schools, cities, and regions. Children's Mission is looking into opportunities of organizing the next camps during fall break and is working on the possibility of getting approval from the Ministry of Education to implement camps as afterschool programs.