By Brian Stiller, WEA Global Ambassador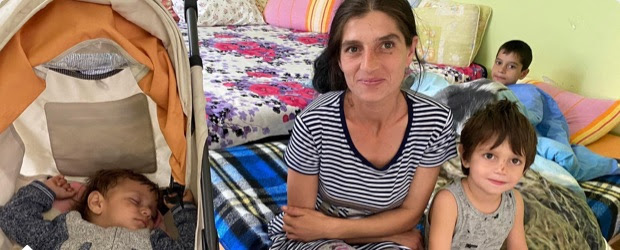 A small Baptist church in a majority Catholic country seemed so insignificant. Yet here in Budapest, a few hours drive from the Ukraine border, a small congregation is opening their arms to Ukrainians fleeing their land.
11 million displaced people — 4 1/2 million have left and 7 remain — is a number too big to comprehend: more than anything since the WWII. What then can a small Baptist Church do?
It didn't take me long to find out. Courteous and happy, the pastor hugged and welcomed me. This congregation of 40 members decided on the Sunday after February 24 they would do something. I'll get to that but first let me introduce you to a family of six: mom and her five children.
Of the 570 refugees this church has cared for in the past five weeks, this little family is roomed in the basement of the church. A baby is in the stroller, two are playing and two under the covers: unwell. I asked the mother if I could pray and in my tear-ladened voice, I did just that. I didn't know where the father/husband was, but what I did know was this little family is surrounded by love and protection. I asked if I could take a picture and show them to you and she said I could.
I'm visiting churches in countries west of Ukraine. I've seen the large ministries at work but I wanted to see what a local church was doing. There are only a few hundred evangelical churches in Hungary.
Hungarians and Ukrainians have had their differences, but when this church heard of the war they went to work. They began by meeting those fleeing, right at the border. Their members housed the families, mostly mothers with children. Then they requisitioned an empty building nearby to store goods, food, medicines.
What strikes you when you hear their stories is the debilitating presence of fear; they hear of women being raped, which leads them to ask, who do I trust? Traumatized by bombing of their homes, they run for a train or bus, alone with their children, as their husbands, by government mandate, are sequestered to stay in country and fight.
It's to these fearful and anxious families members that this Baptist church said "we love you."
Major organizations are at work. But I wanted to see those who simply respond to need out of a loving heart. This story can be replicated across Poland, Hungary, Slovakia, Romania and Moldova where people give without help, without guidance, without rules or regulations, but simply go to the border, put their arms around those frightened, taking them, assuring them of trust and care.
What speaks of the power of the gospel? Jesus was unequivocal: 'Truly I tell you, whatever you did for one of the least of these brothers and sisters of mine, you did for me.' Matthew 25:40
Most who read this will know where you'll sleep tonight. Noise of bombs are only as close as your tv news. It is impossible to imagine what it's like for a mother with her children to be at the mercy of strangers.
What I can tell you is that Christian sisters and brothers are acting in our place loving the stranger. Our part in this action plan is to help them with our resources.
Let your heart feel joy as you give more generously than you've ever imagined. There are a number of organizations that you can trust who will wisely take your funds for the care of people.
I pray you will know the power and resilience of faith as you enable someone, somewhere in this war-torn region, to be your hands and your heart helping parents and children survive and thrive in the midst of this calamity.
Brian C. Stiller
Global Ambassador
The World Evangelical Alliance