March 20-31, 2022
SITUATION IN COUNTRY
Since the beginning of military conflict in Ukraine have passed a little over a month. During this period over 4 million Ukraininans have left country, looking for refuge in the neighbouring countries, and around 6,5 million been displaced within the Ukraine. In the period 24.02 – 31.03 in Moldova have crossed 390 239 refugees (out them Ukrainians are 355 133 people and 35 106 non-Ukrainian citizens). Out his influx – 75,6% has used Moldova as a transit zone with time of stay up to 72 hours. Rest of 24,4% refugees from Ukraine (95 312) decided to remain in Moldova for an indefinite period of time. 49,7% of the remaining refugees are minors.
During the past 10 days there were significant drop of refugee influx in Moldova (80-86,6% less than in the first three weeks). The majority of remaining refugees in Moldova are hosted in private sector (homes of Moldovans, churches, community placement centers, rented facilities) – 70%, and in 30% in public sector (state and municipal placement refugee centers).
OUR RESPONSE
BOL and Light to the World church in partnership with other churches, is engaged in addressing this crisis in a holistic manner. During the last 10 days there were provided following emergency assistance for refugees:
– There is working 24/7 helpline for refugees. 
Number of people who addressed to our helpline during the last week was significantly smaller in comparison to previous weeks, due to slowed down influx into Moldova. As well the specific of requests from the refugees has been changing towards longer-term needs (as housing rent, spring clothing and shoes, educational options and documentation). So we have been able to assist around 85 women and children, and through our partnering churches have assisted about 300 people both in home of church members and their reception centers organized in church' facilities. There were also coming the all about lost people and suspicious case which we connected to police and special services.
– Transportation for refugees
There were around 165 people who have been transported within the country (both from the border checkpoints and between communities.) There were a bus and about 9 cars, which has been picking people and driving them to placement centers as well as railway and bus terminals. As well, there were offered tickets for bus and train to those who wanted to leave the country to Romania, Poland and Germany.
– Support of refugee assistance at the border points. Taking into consideration the drop of influx of refugees our presence at the border points was stopped, but with the potential to activate it again in the case of the need. The equipment purchase for this service remain in local churches.
– Supplying refugee placement centers and accommodations in the families
There were supplied a placement center in the town Taraclia, where in the college dormitory as well as local homes are living around 400-450 refugees. By the request of local mayors' council, BOL has provided food, hygiene and sleeping supplies. As well the sleeping supplies has been provided for other two communities on the South. As well there were 47 who received food and hygiene supplies on personal request.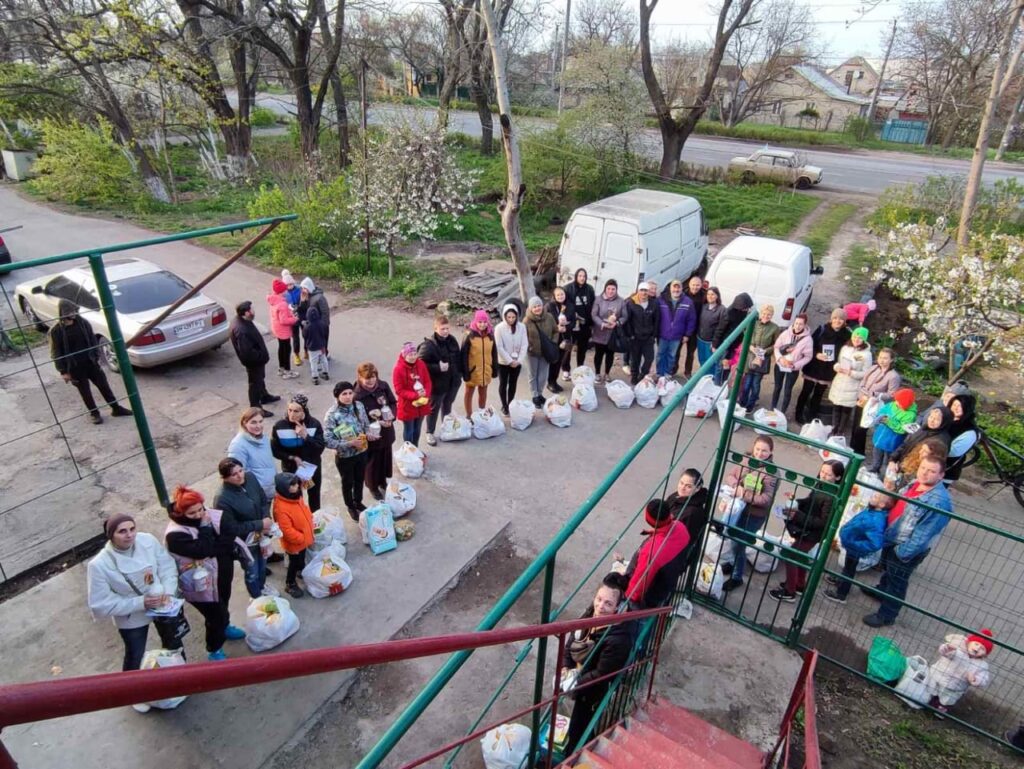 – Serving in municipal placement centers in Chisinau
BOL and Light to the World church is taking part in a "Christian Help for Refugees" (www.acr.md), which represents free and joint initiative of evangelical churches and organizations in Moldova. Within this initiative we offered our services for women and children at "MoldExpo" State Refugee Center, where were living at the moment 310 people. We have provided and carried out, together with the team of volunteers from CHR, open air playground zone for children. As well there was received a request for art therapy for women within MoldExpo.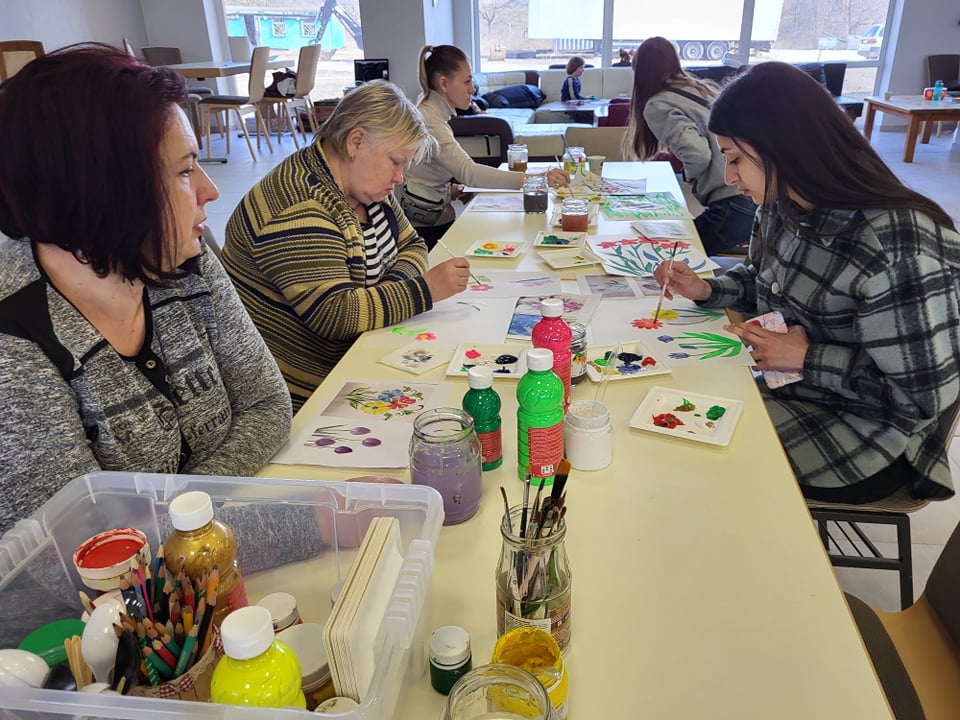 As well mobile team from BOL continued to serve on a weekly basis – 35 children and their moms, in Reception center for refugees in Baltsata where are hosted around 200 people (organized by Union of Baptist Churches).
– Serving to refugees in BOL centers
During the last two weeks there were 30 phone calls from people who have asked if they can come with their children and integrate them into BOL programs (Early Child Education Center Urban Kids, as well as Outreach Clubs – Urban Teens and Urban Youth. So in result those refugees who stay longer started to attend BOL and church programs. And the demand was so high that there was opened a new group for refugee moms with their little children. Psychological Art Studio continued to offer individual counseling taking into consideration trauma these women and children went through. Also during the week there were carried out meetings of School for Parents, as well as weekly bible study groups and Sunday church services, where refugees were able to take active part.
FEEDBACKS and STORIES
"We are so thankfull that we have brothers and sisters who invested so much time and energy in serving children and broken women, what they can use now, during this crisis. Many others needed to change their approach and programs while BOL team was already doing that. Thank you for helping us here…" –
Anna Petrenko, coordinator of children's engagement at Baltsata Refugee Center
"I was crying when saw how 9-years-old boy at the border replaced his father and was taking care of his mom and sisters. These children are so brave..." Eugene S.
"It was so exhausting months. I was weared out emotionally, could sleep due to constant phone calls and talks. But I am so happy to be part of this God work with people in such a great need…" – Anna U.
Story of Nastea
From the first day this week we came at MoldExpo Refugee Center there appeared a little girl, about 11-12 years old, who was hanging around our team all of the time we were there. I have noticed this child in the crowd of other children who were playing in the playground we brought there. She tried to help us, and be as closer as possible. And when it was possible who tried to get a hug from the team members. She was very quite and shy, but in her eyes anyone could easily read deep pain. We spent some time talking with her and she shared with us what she and her mom and little brother went through these weeks.
"We were living in small room in dormitory in Kharkiv. I was attending school and my brother was preparing to go to school this year. When we heard a strong sound outside in early morning, mom told me, that probably something happened at the factory. But little after we heard many of those explosions, And women in the corridor were saing that the war has started, and we all need to run away from here. Mom took us to the basement of the house, because there were explosions happening very close to our district. It was scary when something blown up very close and people around started to scream and cry. Then soldier helped us to get out of the basement and we seat in a bus and left home. We were sleeping several days in different places. And after, we got to the big crowd of people who were walking slowly somewhere. Mom said to me we need to walk too with them all. It was so cold outside and I was very tired, Misha was crying.
At the border a woman gave us bananas and juice, which I liked much. And a bus drove us to this place. We leave here in a small room in big pavilion. I was so happy when so through the window how you began to inflate your castle with air. It reminded me how we were last summer in a park for children in our hometown. It was so funny to see boy falling down from the trampolines. I would love to take my mom here, because she is often crying. I don't know where we will go… And when I will see my father and grandma… And my cat."
Nastea is one of those thousands of children that are suffering from this war and God's love and a hug.
Thank you for supporting our country and our team in prayers. God bless you!