Deerfield, IL – October 16, 2021
The World Evangelical Alliance (WEA) joins other global faith bodies and organizations in calling for prayer and action against hunger on World Food Day, October 16. The statement comes in the context of a larger campaign to raise awareness on the growing issue of hunger and emphasizes that while almost every country is affected, famine is preventable even in the worst affected countries.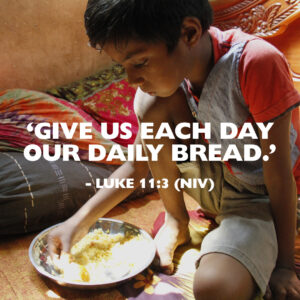 Commenting on the initiative in general and the statement in particular, Dr Janet Epp Buckingham, Global Advocacy Director of the WEA, said: "On World Food Day, we recognize the suffering of those who go to bed each night without enough to eat. Jesus calls us to care for the poor and the vulnerable. As Christian communities, we provide humanitarian assistance, but that is not enough. We therefore call on governments to ensure that there are no barriers to this assistance being delivered. But also, the underlying causes of poverty and hunger need to be addressed. Poverty and hunger are global problems that need global, regional, national and local solutions."
As people of faith, we join in committing to pray and act against hunger at this time when 811m people worldwide go to bed hungry each night, hunger has increased globally by 25% since 2019, and across the globe more than 41m people – around half of them children – are at risk of falling into famine in 43 countries, the statement reads. It continues by highlighting that the converging causes of this crisis include conflict and violence, poverty and inequality, disasters and the impacts of climate change – compounded by the COVID-19 pandemic – which has disrupted food production and supply chains, and reduced incomes.
While calling on G7 governments to urgently disperse the US$7 billion they committed in response to famine and humanitarian crises and for removing any restrictions on humanitarian access to all populations by conflict, famine risk and acute food insecurity, the statement also emphasizes the need to tackle the underlying issues that drive hunger and food insecurity in the first place.
It calls for greater focus on and investments in peace-building, responses to climate change, sustainable food systems, among other efforts. We believe that our world has enough for all, the statement concludes, inviting people of goodwill to join in efforts aimed at preventing more people from going hungry.
Read the full statement here.
Visit the WEA's resources site for World Food Day